Home prices continue to fall in Southern California during a time of the year when you would normally see a healthy bounce.  Clearly low mortgage rates and glossy looking television ads are not enough to inflate home values.  You notice how banks have a clear thick glass paneling keeping you away from your money but you are more than welcome to sit face-to-face with a "personal banker" for a gigantic back breaking mortgage?  Even with lower priced inventory growing, home sales still remain anemic.  The large issue at hand is the lack of household income growth.  The reason we still have housing market problems four years later and trillions of dollars in the hole is because we allowed the banking sector to handle the "recovery" which clearly never materialized.  This should all be rather obvious to all of you and isn't some kind of conspiracy theory.  It is merely fact.  So it is no surprise that even here in September of 2011 we still have over 6,000,000 homes lingering in the shadow inventory.  Ironically we know that lower home prices will move inventory and we have seen this in beaten down markets in Florida, Nevada, and even here in our Inland Empire.  Make no mistake, simply increasing sales does not mean that prices will somehow run back up as we will highlight.  Yet creating a healthier market requires this painful progression, including banking failure.  The problem of course is that the entire bailouts were banking-centric and this crisis was banking-centric.  I wanted to examine some data on California housing not examined anywhere else.
California inflation versus home price changes – the 11 year review
Given the dismal income data released by the Census and the grim reality it paints for California, I wanted to look at what has transpired since 2000.  There has been absolutely no income growth over this time so I wanted to look at home prices and also factor in statewide inflation.  Let us first look at the largest counties in Southern California:

We've already discussed the faux-bounce that occurred in the summer of 2010.  The data is already showing that every single county is now negative year-over-year for price.  All those folks who bought with 3.5 percent down FHA insured loans are now all fully underwater.  Keep in mind sellers pay the commission on selling a home so they are more underwater more than they think.  Hope those fancy marketing brochures were worth the tens of thousands that just evaporated over the last 12 months.   Setting that aside for the moment, I also gathered nominal home price information going back to August of 2000.  This is where we really can find some interesting trends.  As you will notice, both Riverside and San Bernardino are virtually back to the prices they last saw in August of 2000.  San Bernardino is up 2 percent from the median price back in 2000!  11 years and a home has only gone up 2 percent in value.  The same can be said for Riverside County.  Both of these areas have massive lost decades.
Los Angeles and Orange County both are up 53 percent over this 11 year timeframe.  Some will argue that we need to examine and factor in inflation.  We can do that: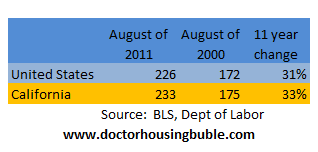 Over this same 11 year timeframe overall inflation for California has gone up by 33 percent.  Since incomes adjusted for inflation are now back to 1990s levels, we should use an inflation adjusted price to see where our new baseline would be:
August 2000 (LA):                                                                             $205,000

August 2011 (LA growth with overall inflation):                 $272,650

August 2000 (OC):                                                                            $274,000

August 2011 (OC growth with overall inflation):                                $364,420
Now this is simply assuming that home prices tracked inflation over the last 11 years (which they should).  Based on this the median home price in Los Angeles needs to fall by $42,350 and fall by $55,580 in OC.  Will this happen?  Hard to say.  But given the kind of income growth we have seen this isn't farfetched: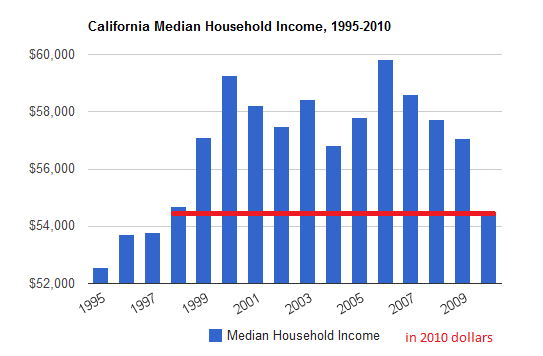 Now some may look at the above and think that we are closer to a bottom.  Keep in mind the peak for L.A. County was $550,000 and for Orange County it was $642,250.  In other words we have already wiped out $200,000 from the peak price in both counties.  With the enormous amount of shadow inventory in these markets I would expect that home prices trickle lower or simply stagnant and have prices get eaten away via inflation.  The problem however, because of the economy, is you have people unable to make their payments so foreclosures continue to grow.
Over half the sales last month in SoCal came from distressed inventory:
August 2011

Foreclosure resales:                       34.6

Short sales:                                         17.9
Now this is interesting because we are having a large amount of one and done sales.  In better days, you will have a non-distressed seller selling their home and moving up in the musical chairs that is the California housing market.  In other words, people would upgrade.  So virtually every transaction involved two home sales versus one.  Today, those foreclosure resales are one and done.  I doubt short sale sellers are in the game to purchase another home because of short-term credit issues.  Next, you have a large number of people paying all cash for homes.  28.5 percent of all sales last month were for all cash.  Another one and done group here.  Before people start thinking these are high rolling foreigners the median priced paid by the all cash group was $210,000.  Try finding something like that in your prime markets.  These folks are likely to be investors going after places in the Inland Empire or lower priced cities in L.A. or OC.  And what a shocker that sales are jumping there:
"(LA Times) Among the states with the highest foreclosure rates, California led the pack in new foreclosure proceedings with an increase of 55% over July, according to data from Irvine-based RealtyTrac. Metro areas in the inland parts of California posted big jumps, with Riverside and San Bernardino counties soaring 68%, Bakersfield 44% and Modesto 57%, the real estate information company said.

A separate report found crosscurrents in Southern California's housing market during August, with sales increasing but prices continuing to fall.

Sales were up 8.6% from July and 6% from August 2010, with a total of 19,654 properties selling across the six-county Southland in August, according to DataQuick of San Diego. The jump in sales was driven partly by a quirk of the calendar that left August with more business days than usual."
Foreclosure resales are likely to be cheaper and FHA insured loans made up nearly 32 percent of all sales when typically this figure is in the single digits.  In other words, people are stretching their budgets.  And we even see this when we look at the monthly nut: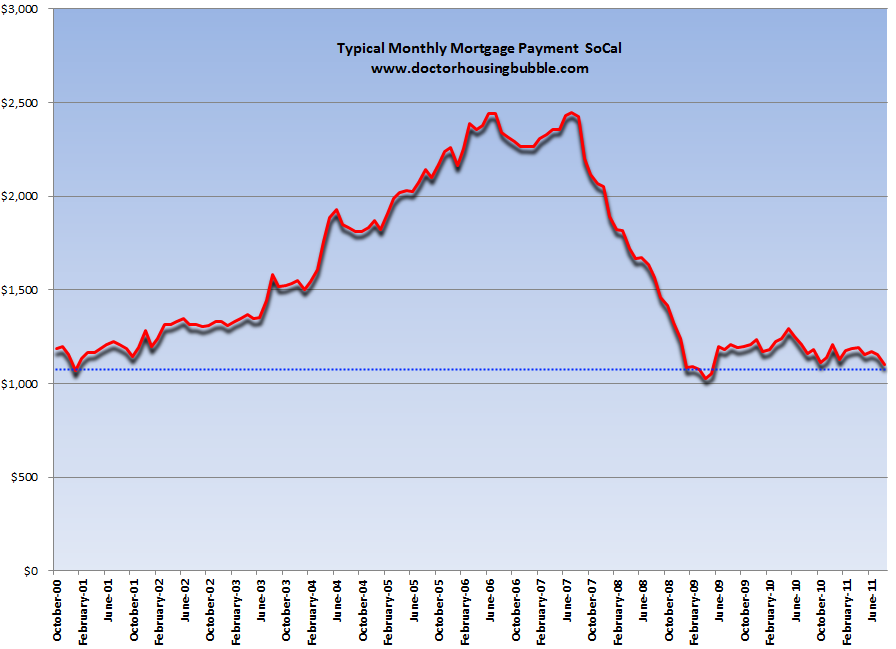 Source:  DataQuick
This I found fascinating.  The typical monthly mortgage payment in SoCal is now the same as it was in 2000.  In other words, the low mortgage rates are like a piece of duct tape holding up a dam of toxic assets and banking graft.  Clearly people can only afford lower priced homes to reflect lower incomes.  This is the larger trend at play here.  Some will argue that prices now make sense because of current mortgage rates.  Yet mortgage rates are artificial and reflect unreal risks that the market is having.  It is unsustainable and Europe is finding out what occurs when you have spendthrift nations attached to thrifty countries.  Right now our Greece is the banking system.  Bailout after bailout but that doesn't change the fact that they are insolvent.  They also enjoy hiding assets (i.e., shadow inventory).
Sure some want to buy in Bel-Air for a few dollars but come on, that isn't going to happen.  Even if a home goes from $5 million to $2 million this is only a market for big incomes.  The big change that we are seeing is we are starting to wash out the posers who were able to use Alt-A or option ARMs and leveraged their way into the good life.  Those living in prime markets with large mortgages should have been booted out of their homes years ago.  This isn't a poor grandma in a $75,000 home in Indiana but Real Housewives material in OC and LA.  Here is a simple rule of thumb; how about those who have a mortgage below the median national home price get some mortgage assistance while those above it get none?  Of course we are now trillions of dollars in the hole and four years into the crisis so any sensible policy would require clawing back bonuses and gains from the bankers who clearly did not help in the recovery aside from lining their own pocketbooks.

Did You Enjoy The Post? Subscribe to Dr. Housing Bubble's Blog to get updated housing commentary, analysis, and information.