You have an interesting dynamic unfolding in the United States.  Recent data shows that the shadow inventory figure is starting to decline nationwide.  However in high priced markets particularly in California there is little movement in the shadow inventory.  To the contrary, notice of defaults for California raged up nearly 70 percent in the last month of data.  In other words while the pipeline nationwide for shadow inventory may be declining at a slow turtle like pace, little of this is happening in high priced markets with absurd levels of hidden inventory like in Beverly Hills or Culver City for example.  Adding fuel to the fire, the incredibly high mortgage limits are set to expire which will keep the faux-bourgeoisie from buying their $1 million shack in a preferred zip code simply by going into massive debt.  They will now need to come to the table with some solid cash and a respectable income.  Realtors are bemoaning this and trying to fight tooth and nail to keep it in place because they realize how phony some of these buyers are in terms of their actual net worth.
The surge in California shadow inventory
While the case can be made that shadow inventory on a nationwide basis is falling, here in California the pipeline might be filling up again:

This is not a pretty picture.  Some might think that only low income and cheap homes fall into the foreclosure process.  That is not the case.  Just take a look at the notice of default pipeline by mortgage balance:

In August alone you had 1,609 households with a mortgage of $1 million or more receive a notice of default in California!  In other words, some people aren't making their mortgage payment and probably have a Lamborghini parked in the driveway.  This is certainly the case for places like Beverly Hills.  Since the nation isn't exactly flush with cash and there is little sympathy for California jumbo home owners especially when the median home price nationwide is closer to $170,000 the odds of any help coming are slim at least at the Federal level.  We've seen dumber things so we can't rule out anything.
It is true however, that nationwide the shadow inventory has been declining: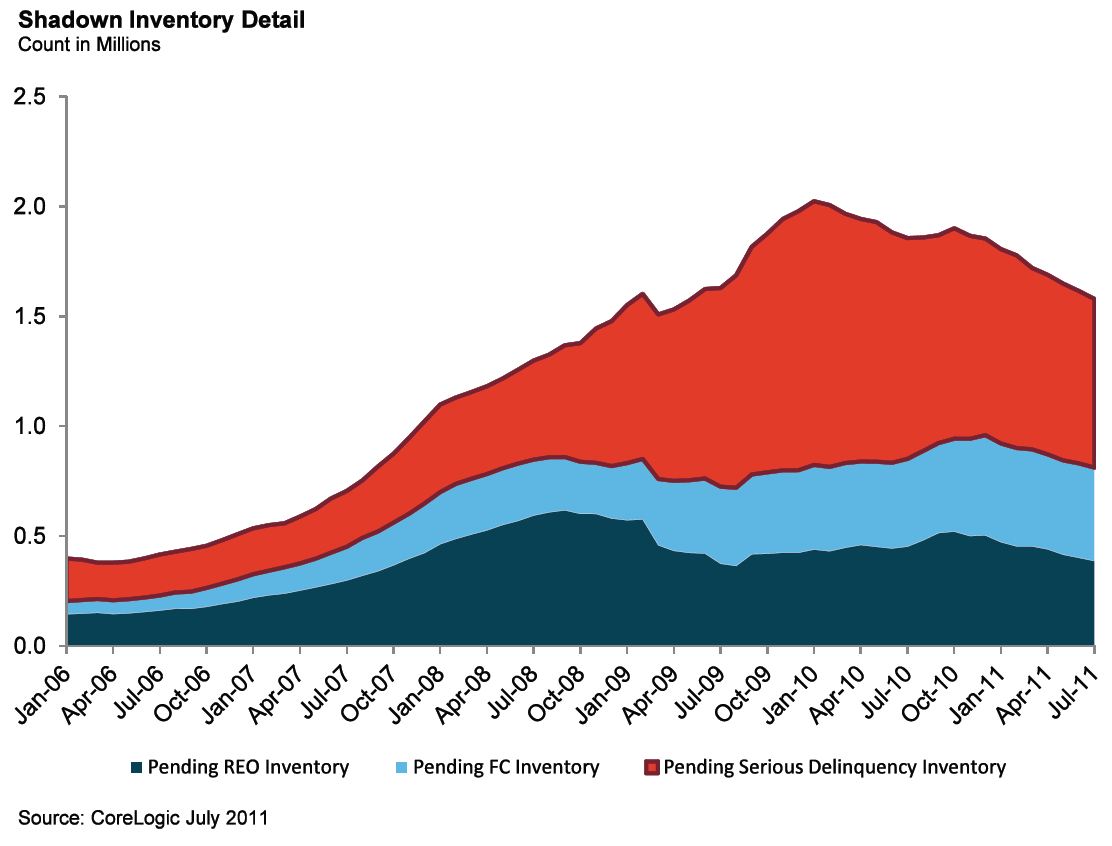 Source:  CoreLogic
The above data is the "purest" form of shadow inventory.  That is, properties not on the MLS but 90+ days delinquent and/or in the process of foreclosure.  Yet the distressed pipeline is much bigger.  In fact, the overall distressed pipeline is much larger and runs over 6 million: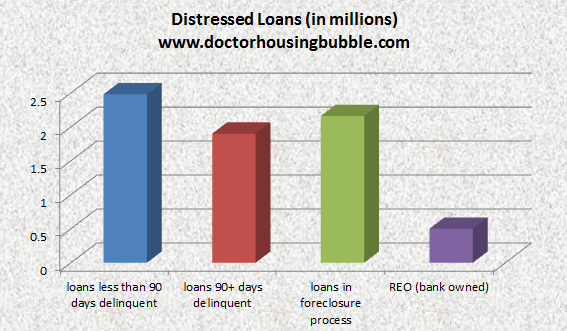 So a large piece of the picture is missing especially those early notice of defaults (that surge in California for example).  That in my book constitutes shadow inventory since 90 percent of these properties will end up in foreclosure anyway.  Nationwide this pipeline alone is over 2 million homes and recent movements from Bank of America for example show that banks are starting to foreclose on many more homes.  That is, these homes are brought out of the shadows like the surge in the chart above.
So you want an example of this.  Let us look at Beverly Hills once again for example:
Est. Payment     $3,976

HOA Dues           $502

Listed    08/24/11

Beds      3

Full Baths             2

Partial Baths       1

Property Type   CONDO

Sq. Ft.   2,123

$/Sq. Ft.               $329

Lot Size N/A

Year Built             1974
The MLS lists 11 foreclosures in Beverly Hills including the above condo.  This place last sold in 2003 for $725,000.  Welcome to a lost decade for Beverly Hills!  The current list price is $699,000.  Here is the ad:
"Prime beverly hills foreclosure opportunity to fix and save! This spacious 3 bedroom + den and formal dining room front end unit features closets galore, balcony, and fireplace, and double door entry. Quality wood flooring and crown and base moldings throughout most of unit. Unit is an as-is fixer (kitchen cabinets and appliances are removed, misc repairs needed, and may not qualify for conventional financing–check with your lender) and is in landmark building that has a beautiful and elegant lobby, pool, gym, and sauna, is close to the best entertainment venues and is in beverly hills unified school district. Please see private remarks to show, or for any questions regarding this property."
Yet the shadow inventory for this "prime" market is 9 times as large: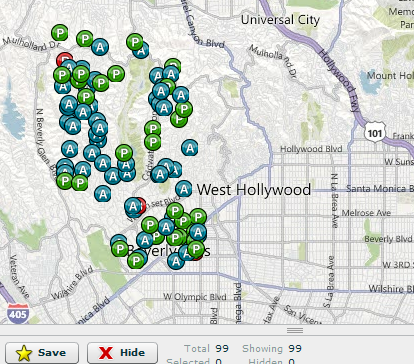 99 properties are in the shadow inventory here.  I don't doubt that places like Las Vegas or Florida that are selling foreclosures in bulk are helping lower the shadow inventory figure.  But who in the world is buying the properties in bulk in California?  The data seems to show an opposite scenario.  Too bad they don't break out the shadow inventory trends by loan balances.  Beverly Hills has 99 problems and a healthy housing market is not one of them.

Did You Enjoy The Post? Subscribe to Dr. Housing Bubble's Blog to get updated housing commentary, analysis, and information.