I think you saw this coming.  In the most e-mailed story on Friday, many of you sent in a link from the L.A. Times showing a confirmation of shadow inventory.  One home does not make a trend.  But connect that home to Bernard Madoff and you got yourself a fantastic story of absolute cronyism and corruption that we have grown accustomed to from the banking industry.  Now one home is merely an example but there have been a group of people that actually deny the existence of shadow inventory all together, an argument that makes you feel as if you are talking to someone who still believes the world is flat.
This story would be laughable if it weren't for the fact that the banking industry is an absolute corrupt industry that will bring down the real U.S. economy merely to protect itself.   In a nutshell this is what happened:
"(L.A. Times) Bernard L. Madoff's massive fraud stunned some of the wealthy denizens of Malibu Colony, especially when a couple devastated by the scheme surrendered their oceanfront home to Wells Fargo Bank.
But some neighbors say the real shocker came when they saw one of the bank's top executives spending weekends in the $12-million beach house and hosting eye-catching parties there. What's more, Wells Fargo spurned offers to show the property to prospective buyers, a real estate agent said.
"It's outrageous to take over a property like that, not make it available and then put someone from the bank in it," said Phillip Roman, an 18-year Colony resident who lives a few homes away from the property.
Residents identified the house's occupant as Cheronda Guyton, a Wells Fargo senior vice president who is responsible for foreclosed commercial properties.
Guyton could not be reached at her downtown Los Angeles office. Wells Fargo declined to discuss Guyton, saying in a statement that representatives "don't discuss specific team member situations/issues for privacy reasons." But the bank said it would "conduct a thorough investigation of the allegations" by neighbors.
The bank also said its ethics code wouldn't allow employees to make personal use of property that had been surrendered to satisfy debts."
Bwahahahahaha!  This puts an exclamation mark on prime shadow inventory property.  You have all the key players here.  You have crony bailout recipient Wells Fargo having their senior VP who is responsible for foreclosed properties using the place for "eye-catching" parties.  You cannot make this stuff up.  Early in the day, Wells Fargo stated they would "conduct a thorough investigation" but apparently all it took was a few hours for them to come out with this statement to the L.A Times:
"(L.A. Times) Wells Fargo & Co., seeking to distance itself from a company executive's alleged personal use of a $12-million beachfront Malibu home owned by the bank, said today that it would "take decisive action" against any employee "who may have violated Wells Fargo's policies."
The bank said in a statement that its rules of conduct prohibit employees from "personal use of properties held by Wells Fargo." The company reiterated that it had launched a full investigation into the allegations."
Seriously folks, all it takes is a bit of investigative journalism and my hat goes off to the L.A. Times reporters here.  But the real story is the thousands of homes sitting in the real shadow inventory in areas like Culver City, Pasadena, and other middle-class areas that will be slammed by the Alt-A and option ARM wave starting next year.  I love it how some people were saying that shadow inventory was essentially a thing of "poor" areas.  Well a $12 million beach front home in Malibu isn't a poor property in my book.  Maybe the VP at those parties was trying to figure out how to sell the foreclosure to the party guests?  Let us keep an eye on this to see what kind of "decisive action" Wells Fargo is going to do.  Seriously, Bernard Madoff is in jail while you have another crony partying in his home.  This is the proud American banking system that we have back stopped with trillions of dollars.
I dug deep into the shadow inventory data again and it is simply growing.  But in a variety of ways.  First, many banks are simply not moving on homes.  That is, you can stop making your payments and depending on which incompetent bank you may have, you probably have a fifty-fifty chance that you will have no notice of default for 6 to 9 months.  The foreclosure process now takes 18 months to 2 years.  And for those properties that are taken back, some banks are going with rent to own options.  Or in other properties, banks are merely using them for Romanesque blowout parties.  But the most common option is doing absolutely nothing.  First, let us show you how absurd things are getting in Southern California: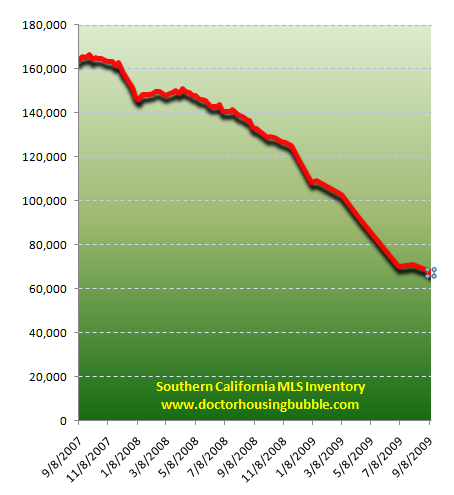 At first glance, you might interpret this as solid news.  For Southern California, public MLS properties have been on a steady decline since September of 2007.  In fact, since the start of the year the MLS inventory has fallen by 41,000.  If we use last months sales of 24,000 we have less than 3 months worth of supply in Southern California.  Run out and buy a home before all the homes are sold!  Seriously folks, this is such a joke.  Now let us run some quick numbers for distress properties this year: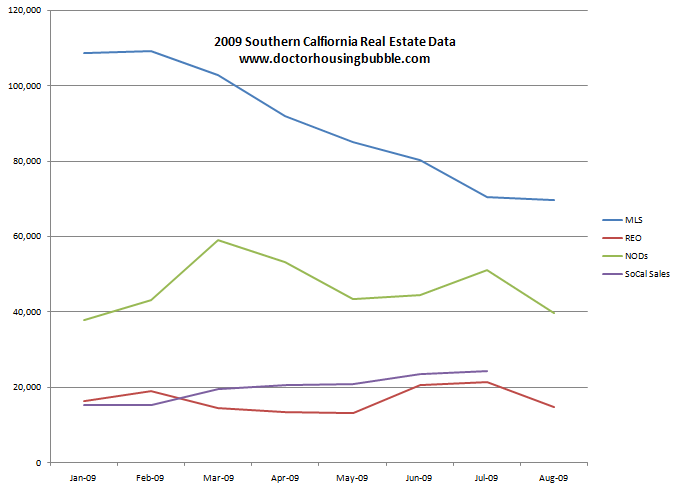 Distress property data is for the state.  As we know nearly 50 percent of all statewide sales are foreclosure re-sales.  Here in Southern California the number was 43.4 percent.  We can drill down on the data a bit:
August Sales:
Statewide:        45,709
SoCal:              24,104
Southern California makes up 52 percent of all sales in the state.  So let us apply this ratio to the data last month:
August Distress:
REOs:              14,590
NODs:             39,542
14,590 x .52 = 7,586 distress SoCal sales
Keep in mind that these are REOs going back to the bank, the foreclosure resales are happening with properties back in the pipeline from months ago.  If 43.4 percent of the properties last month were foreclosure resales that would mean:
24,104 x .434 = 10,461 properties sold from the foreclosure pile.  Let us apply this ratio for the entire REO inventory for the year:
2009 REOs statewide:
132,443 x .52 = 68,870 SoCal REOs
So by this approximate estimate, Southern California should have added 68,870 REOs as additional inventory throughout the year.  Total sales for the region:
138,599 SoCal 2009 sales x .434 (foreclosure count) = 60,151
So it does look like once the bank has the property as an REO, it is moving on it.  So all is well right?  Not exactly.  And keep in mind these are rough estimates since we are using data from various sources such as DataQuick, RealtyTrac, MLS, and foreclosure records and trying to arrive at a number.  If anything, simply looking at this tells us that yes, REOs are being moved and that isn't necessarily the big part of the entire shadow inventory. But what is occurring is this.  Regular buyers are unable to see a vast amount of this inventory on the MLS.  Here is one part of the shadow.  We just saw that last month, by actual stats some 10,461 properties were foreclosure re-sales.  As of that sales period, approximately 5,000 properties were listed on the public MLS as foreclosures.  So where is the other property listed?  Some of it is being sold in bulk to investors in depressed markets.
That part of the equation should be a lot clearer now.  But the real shadow inventory is occurring with banks not moving on non-payers.  In fact, if we look at notice of defaults we can see a major storm brewing.  I have reconstructed the chart below with an average for Q3 of 2009 since we don't have September data until October but the trend is unmistakable:
So far this year 370,000+ notice of defaults have been sent out.  Most of these as we know will end up as foreclosures.  A handful will be modified but those are crap modifications and will end up only buying a little bit more time for the borrower.  The chart above is unmistakable.  You notice that the only time that actual foreclosures increased steeply was in Q3 of 2008.  That was because of the spike in NOD from Q1 and Q2 of 2008.  But now, we have three elevated quarters of NODs running at peaks yet recorded foreclosures are still holding steady.  What gives?  Banks are not moving on the entire foreclosure process.  That is the ultimate point here.  That is why when I talked about the $1 trillion in toxic waste mortgages, much of it has been ignored.  Where do you think this property is going?  Banks are hoping for a bailout or some vehicle to dump this crap off on the taxpayer.
Looking at the chart above again, actual recorded foreclosure are going to be flat for four consecutive quarters!  Really?  This is such a convoluted mess.  The problem is we have to estimate how many people have stopped paying their mortgages.  The most recent data shows 1 out of every 10 homeowners now delinquent on their mortgage.  For Southern California, it is expected to jump to a stunning 14 percent.  So assuming that this ratio applies to California (it does and is most likely higher) that would mean of the 5.3 million homeowners with a mortgage 530,000 are now late on their payments.  That seems about right given how many people are underwater in the state: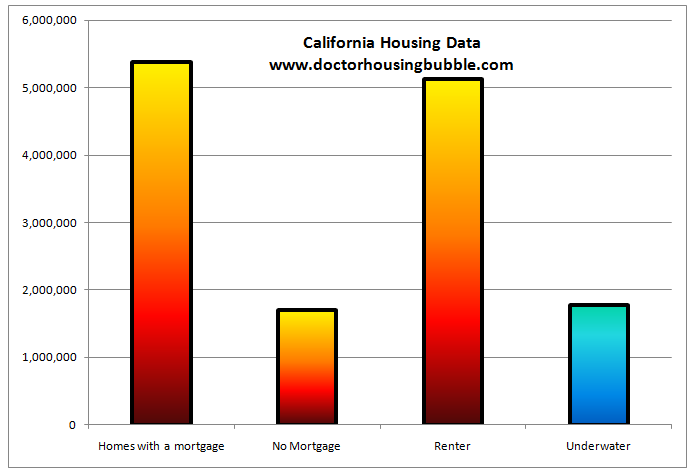 My overall point with shadow inventory would be this.  It would be an enormous mistake to conclude that this is the bottom for the state.  If you only look at MLS data and the movement with REO data on properties banks have selectively moved on, you would think the system is efficient.  It is not.  There are hundreds of thousands of mortgage holders betting on a jump up in 2010 and 2011 so they can exit left as quick as possible.  Properties would have to appreciate like they did in the bubble for these people to exit.  That is not going to happen.  Already, hundreds of thousands have stopped paying on their mortgage and no where is this data being seen publicly but the bank knows full well that they are having cash flow problems.
We made a mistake going down this road of backing the corrupt banking system.  We are going to have a Japan like scenario.  Banks will not admit the true issue of the problem.  But every so often they will be hitting up the taxpayer for additional funds.  If it isn't obvious what path we should have taken it would have been to gut the entire financial system and flush out the inventory from the market at once.  Those that didn't favor temporary nationalization now realize this one fact.  The banks are still running the show with the same cronies at the helm.  And we are still paying!  The PR on TARP repayments is such a colossal joke since they have repaid a few billion while we have back stopped the system with nearly $13 trillion.  Have things really gotten better?  Let us look at nationwide foreclosure filings: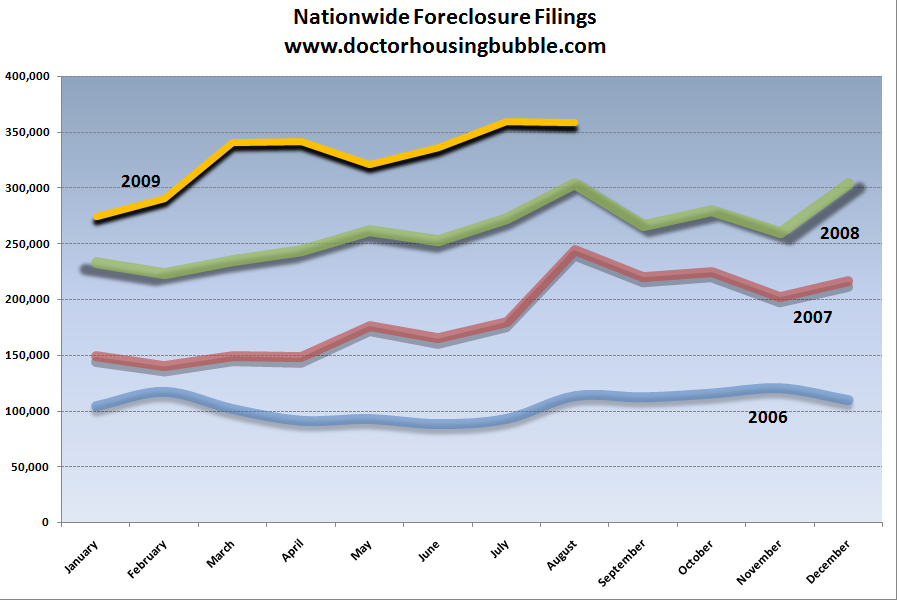 I took some heat when I recommended temporary nationalization a year ago.  This wasn't something I welcomed but our options were as follows:
1.  Nationalize and remove every banking head and claw back every damn penny once we opened up their books
2.  Give the banks every penny they ask for and trust them to do the right thing
Option 2 is the path we took and look at what it has gotten us.  And what is happening is no shock to any of us who studied what happened in Japan's lost decade.  We are now destined to a decade long malaise.  California has already witnessed a lost decade in job growth: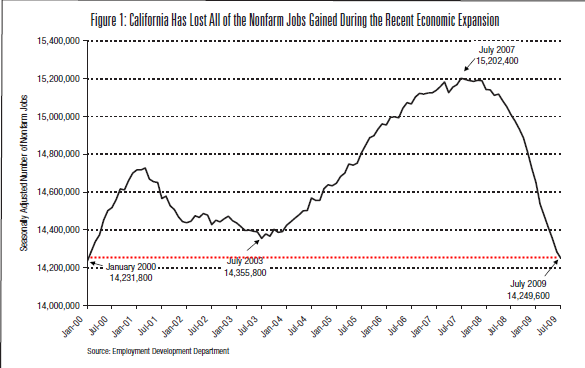 Yet people are willing to believe this is the bottom?  The only winners here are the banks and those in the real estate industry.  The major losers are the American taxpayers.  This is a story that is becoming all too familiar.
Did You Enjoy The Post? Subscribe to Dr. Housing Bubble's Blog to get updated housing commentary, analysis, and information.