I remember in the 1990s friends getting unsolicited offers for "tech" jobs where the only prerequisite was a basic understanding of computers and some common knowledge of HTML.  With these simple skills, you were on your way to tech millions.  San Francisco was at the hub of this insane mania.  Today people will argue that we now have solid companies like Google, Apple, or Facebook pumping out great jobs for great minds.  But I'm also seeing money being thrown at long-shots by venture capital just to see if something sticks.  The tech bubble was spurred on by the stock market mania where the public participated.  This tech mania is being spurred on by elite private capital.  The first housing bubble was accessible to the masses.  This housing bubble is available to Wall Street investors, uber-wealthy foreigners, and outlier households with big incomes.  The San Francisco median home price now reaches $1 million and the ultimate crap shacks are to found there.
Chasing the tech dragon
The NASDAQ is up a whopping 250+ percent from the lows reached in 2009.  Many of the tech money makers are located in Northern California and San Francisco is always seen as a tech magnet.  But it is definitely frothy at this point.  You are seeing app companies being funded for basically delivering food to your door.  Not actually a revolutionary idea.  Also, many of the products are dependent on people blowing disposable income.  That might be hard when in San Francisco rents and housing payments continue to consume a larger portion of income.
While Los Angeles County is a majority renting county with over 50 percent of households renting, San Francisco is a hardcore renting city with only 36 percent of households owning.  We should also take note that in California, housing booms and busts in regular intervals.  We are already seeing price appreciation slow down in San Francisco: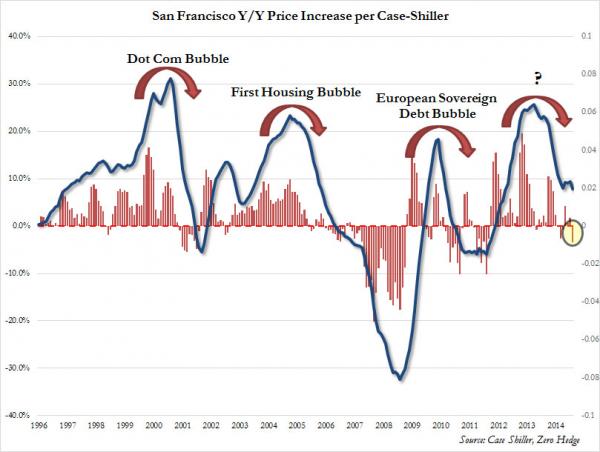 There is an odd sort of trend that unfolds here and it makes sense.  Hot money from the stock market flows into these companies that seem to rise and fall with the whims of the economy.  But for the regular grunts at these places, housing values seem so out of reach.  This one sale probably epitomizes the San Francisco market: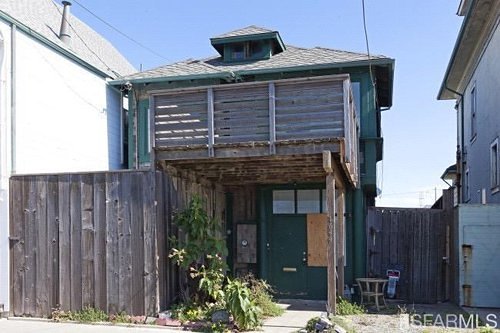 1644 Great Hwy  San Francisco, CA 94122
4 beds, 2 baths 1,832 square feet built in 1907
Set aside that this home was built 108 years ago.  The home was listed in February for $799,000.  Of course the listing warned that it would take a lot of work and that it was not for the "novice" aspiring flipper or investor.  Take a look at some other shots of the home: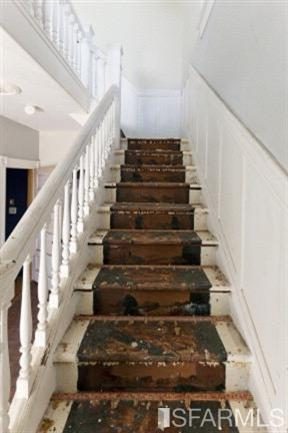 Stairway to real estate heaven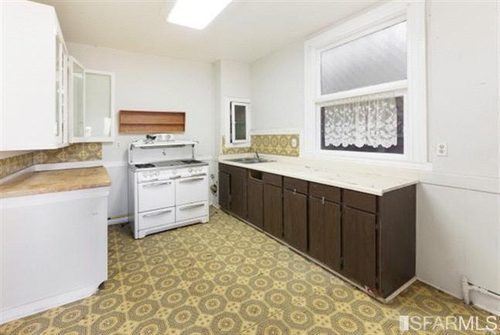 So what happened?  The home ended up selling for $1.21 million or $411,000 over asking price in March. Even a high earning household would not only have to front the cash to buy this place but the massive amount of money needed to make this place livable.  Then again, it is hilarious when you point out lower income cities in California and the comments are quick to point out "but of course!  This is a lower income area!  It will gentrify but not by me!  Taco Tuesday baby boomers will save the day."  Point out the same toxic turd of a home in their home turf and then it becomes an excuse fest.
San Francisco ironically grew its appeal by being a progressive city and destination for hippies and counter-culture Americans.  In other words, many with little to no income.  Now, the tech hipster gentrification is pushing a culture of NIMBYism and causing it to become one of the most expensive cities in the country.  San Francisco is absolutely not the place for the middle class or even upper middle class.  It is now a city ironically for the elite and wealthy.
Things will remain good so long as the tech and stock market keep on raging on.  And as we all know, there are NEVER bubbles in housing or stocks.

Did You Enjoy The Post? Subscribe to Dr. Housing Bubble's Blog to get updated housing commentary, analysis, and information.