Some of you may remember San Francisco as it was in the 1970s.  It was a place where those with very little income still had the chance to be welcome regardless of earning potential.  In fact, much of the city's vibe went against the machinery of capitalism or old forms of traditionalism.  So it is ironic that today, it has become one of the most expensive cities and many that live in the city practice a magnified version of NIMBYism causing housing values to rise to stratospheric levels.  It is no surprise then that the typical rent in San Francisco is $3,200 per month for a basic apartment and only 36 percent of households actually own.  This in a market where tech workers earn good income.  You have many tech workers doubling and tripling up just to cover the rent.  Others are living at home with their parents.  In California if there is a will there is certainly a way.  The interest only loan is making it possible for those on tight budgets to speculate heavily on real estate.  What if I told you that you could buy a $1 million home with a $2,000 mortgage payment per month?
The interest only mirage
It is absolutely true that most Californians live by the "monthly nut" version of budgeting.  There are many people that I know living in apartments or doubling up with roommates but leasing BMWs, Mercedes SUVs, and even going into deep debt to drive a Tesla.  Nothing wrong with that. It is their money after all.  Yet many see these folks driving around and somehow assume they are "wealthy" when they are simply living the all hat and no cattle version of the California Dream.  Debt makes the world go round.
The interest only loan is still out there and for those wanting to dive into a 30 year commitment and banks are more than willing to make this happen.  Take a look at this home in San Francisco: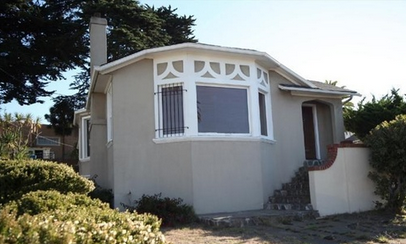 50 Urbano Dr,San Francisco, CA 94127
2 beds and 1 bath listed at 1,150 square feet
2 beds and 1 bath does not provide a large space for a growing family.  If you think the $700,000 crap shacks of SoCal are crazy, San Francisco puts us to shame.  The above place is listed for $995,000.  One used scooter away from a million dollars.  What is interesting with the ad is that it is already assuming you are going to expand this place out.  Take a look at the Google Streetview: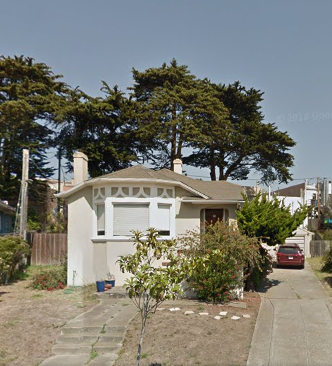 So of course, most of the house lusting budget stretchers are not going to have funds for the massive expansion.  Many are going to buy and pretend that they are big "owners" when in reality many are putting every penny to their mortgage payment.  Some banks are offering interest only loans again with the caveat that you have a good down payment (which most in California struggle with and that is why sales volume is pathetic).  But assume you have the down payment funds.  Take a look at the below: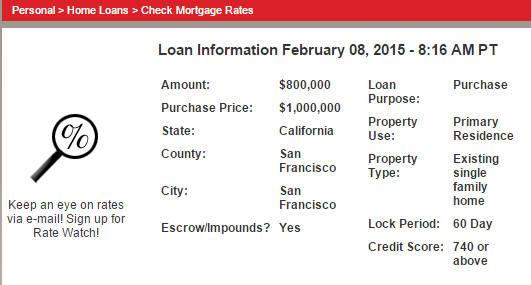 You can go with a 3-year interest only loan on this place and pay $2,000 a month in principal and interest.  Of course you still have to pay for insurance and about $10,000+ in annual taxes.  If you have $200,000 to burn and itching to live here, feel free to commit $800,000 over 30 years.  You are also betting on good things happening to prices over the next 3 years when the interest only portion reverts.  It is interesting that people feel that once they have a mortgage that somehow, they own the home outright.  Miss one payment and see who truly owns a home.  You can ask the 7,000,000+ foreclosed homeowners, many now living in rentals how that works out.  You don't own it fully until it is paid off.  You either rent from a landlord or the bank.  And even once the home is paid off, you still have taxes, insurance, and maintenance which many Friskies eating baby boomers are realizing as they live in million dollar homes but have weak income streams.  It also doesn't help that many have their adult kids living back home.
The interest only loan is a big speculative bet.  After three years, you still owe $800,000 and will need to refinance.  You are only paying interest after all.  You better make sure you budget for all things.  The 10 year adjustable rate mortgage with the same lender is $3,500.  That is a big difference from $2,000.
San Francisco has some of the strictest building codes.  So the area has basically gentrified to the point that high paid tech workers can't even purchase homes.  Others are pushed out which is the opposite of what the area attracted in the 1970s.  Welcome to California housing!  You can buy a $1 million shack for $2,000 a month in principal and interest and speculate that housing values will continue to go up.  Many in California think they have a diversified portfolio but when it comes down to it, they are heavily vested on one asset class, housing.

Did You Enjoy The Post? Subscribe to Dr. Housing Bubble's Blog to get updated housing commentary, analysis, and information.