The number of Americans renting has grown since the recession hit.  The nation has shifted from one where everyone should own to one where many should rent (and rent from a large hedge fund or Wall Street investor).  We have become a renter nation.  The demand from investors buying through large financial institutions for the purpose of renting out single-family homes has never reached this manic level in history.  Even last month, roughly 30 percent of all home purchases continued to go to the investor crowd.    So it should be no surprise that the first-ever bond backed by US home-rental cash flows is now being backed by Wall Street.  This is a $500 million deal for Blackstone and is being structured by Deutsche Bank, Credit Suisse and JP Morgan.  The deal is listed under "Invitation Homes 2013-SFR1" bringing back the days of the CDOs and complicated derivative structures that imploded on the balance sheets of many banks.  These REO-to-rental structures seem good on paper but anyone involved in the rental business knows how fickle these markets can become.  Plus, should the economy ease up again what do you think will happen to those rental cash flows?  Also, some of these hedge funds have focused all their attention in areas like Nevada and Arizona that fully depend on the housing market going up and up and for these areas, investors have been buying upwards of 50 percent of supply.
The demand for rentals
There is little doubt that more Americans are now renting for a variety of reasons: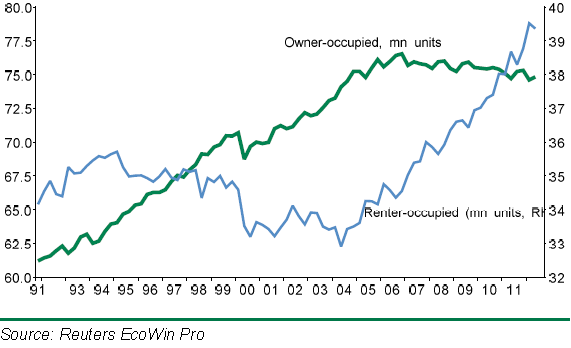 The recession caused the foreclosures of more than 5 million households.  Since 2009, roughly one third of all home buying has gone to investors.  So this has been a shift from overburdened households to big money investors, many that got in with some extremely great deals courtesy of favorable bank financing.  The Fed made this bed; force rates to incredibly low rates to make saving a horrible option and chase money into speculative realms.
As you would expect, the recession has caused people to shift from buying into renting.  Because of this demand we have seen rental supply decrease as well: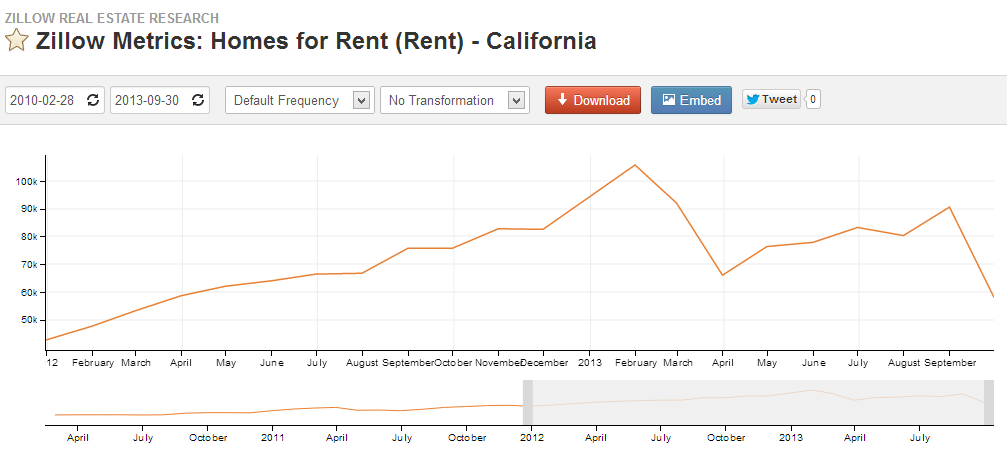 Source:  Quandl.com 
In California last year we had 94,311 homes available for rent.  Today, it has dropped to 58,157.  At least for California where the middle class is visibly struggling and affordable housing is out of reach for most families, renting has become a viable option (the only option for many).  As we are seeing with the prices for homes over the last year a very constrained supply is going to push prices up especially with hungry investors diving in.  The special purpose vehicles (SPV) for rental cash flows is probably the golden prize of many big investors.  Many appear to be making that final hurrah like those dumping CDOs in 2006 and 2007.
The market is already showing some signs of weakening both on prices and sales: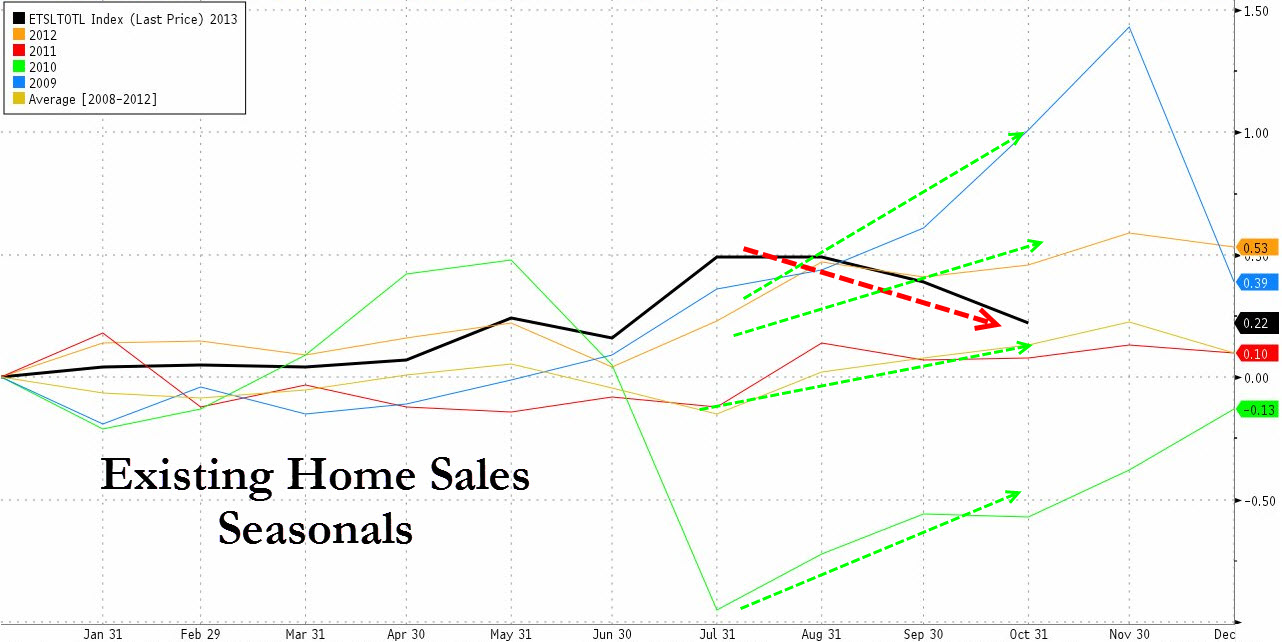 Source:  NAR, ZeroHedge
For the first time since 2009 we are seeing a drop between the July and October sales numbers for existing home sales.  These are always seasonal, or used to be at least, but over the last few years the demand trend has been bucked.  This year, there is definitely something that is shifting.
We also see this in the form of mortgage bonds being issued: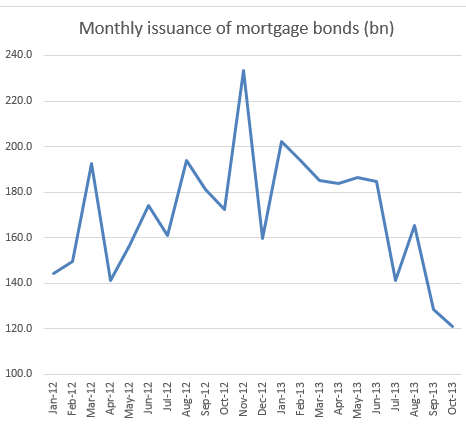 Source:  SoberLook
Where is the demand coming from?  The investor demand that largely avoids mortgages has alternative sources of financing.  Yet for the public stretched with weak household incomes everything depends on low interest rates and other gimmicks that lower the monthly payment.  This is why we have seen the resurgence of ARMs and FHA insured loans are still a popular option for many cash strapped buyers seeking to purchase a home.  It is also a reason why a modest move of 100 bps with rates still in the low 4% range has hit the market hard (even though these are fantastic rates).
Without a doubt, we are seeing a softening of sales and prices (whether this is seasonal or something else is yet to be seen):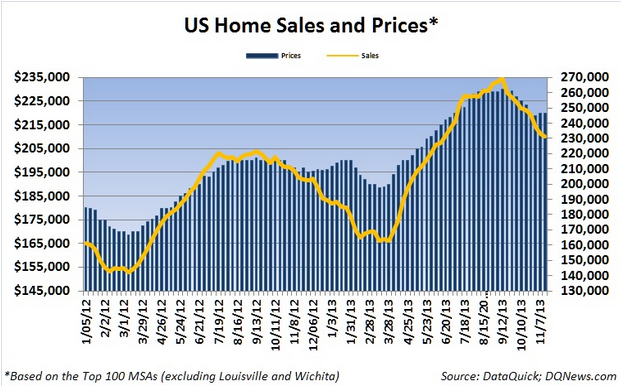 Typically the fall and winter are slower selling seasons but as you see from the previous chart of existing home sales, this is a trend reversal from the last five years.  The fact that we are now seeing rental SPV is very reminiscent of the CDO days of the housing market.  Many renters are on a razor's edge so this is a very sensitive market if a recession were to take place.  How will these SPV respond?  This is an untested market and with prices softening and sales slowing down, the yields may not be so lucrative especially with the mortgage rates soaring 100 bps in 2013 in spite of the Fed basically owning 12 percent of the mortgage market via QE.

Did You Enjoy The Post? Subscribe to Dr. Housing Bubble's Blog to get updated housing commentary, analysis, and information.