The Fed is the housing market.  That sentence is often thrown around but there is little hyperbole here.  Since September of 2012, the Fed has essentially purchased all mortgage backed securities (MBS) issued.  This is a massive deal for the biggest household debt market on the planet.  The Fed started QE1 memorably on December of 2008 and this phase ended in March of 2010.  QE2 started in November of 2010 and ended in June 2011.  QE3 started in September and 2012 and has been dubbed "QE infinity" since the Fed is now essentially purchasing all MBS issuances with no stop date planned.  The perception is that the Fed can fully control interest rates and to a certain degree this is true (or was true).  But why did rates rise more than 100 basis points this year at the apex of Fed MBS buying?  First, QE has been going on for nearly five years now.  The "market" is fully manipulated.  Looking back at the last half decade of data, we find that current Fed policy has been a boon for investors and has priced out many American households.
Share of mortgages owned by the Fed
The Fed has taken a full dive into the pool of housing.  The Fed now owns roughly 12 percent of home mortgages (up from 0 before QE):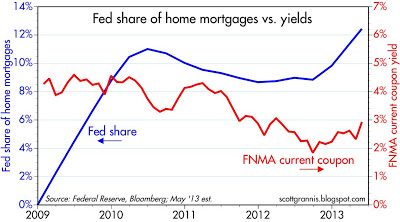 Source:  Scott Grannis Blog  
"If the Fed bought three quarters of the new issuance of Treasury securities over an 8-month period, with a focus on longer maturities, the 10-yr Treasury yield would almost certainly fall, right? And if the Fed bought all the new issuance of MBS over an 8-month period, increasing its share of home mortgages by over 40% in the process, yields on MBS would almost certainly fall, right?

Wrong. The Fed has indeed been a huge buyer of Treasuries and MBS since last September, but Treasury yields and MBS yields have moved significantly higher, not lower.

What we've witnessed over the past 8 months—the duration so far of the Fed's Quantitative Easing Part 3—is almost a laboratory experiment designed to discover which is the more important determinant of longer-term interest rates: the market's willingness to hold the existing stock of bonds, or the actions of a very large purchaser of bonds on the margin (i.e., the stock vs. flow argument)."
This is an interesting argument.  How much power does the Fed have on interest rates?  The 100 basis point jump in mortgage rates this year tells you that the market is more concerned over the perception of health in the economy rather than the Fed.  The amount of MBS purchases is extreme.  The Fed is increasing its balance sheet to nearly $4 trillion.  There is no exit to this game and the market is starting to understand this.  So far, the market has been consumed by investor buying to a level never seen.  Last month it was still over 30 percent nationwide.  Yet is this truly beneficial when all you do is create asset inflation without any subsequent rise in household incomes?  It is no surprise then that over this QE experiment the actual homeownership rate has declined steadily.
Fed balance sheet
The fact that the Fed now owns roughly 12 percent of the mortgage market does not come cheap: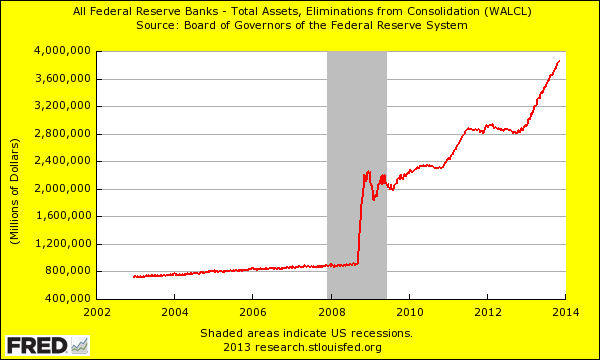 The Fed's balance sheet is quickly approaching $4 trillion largely because of the actions of QE.  Yet the recent rise in interest rates reflects an uncertain market.  Investors are already showing some signs of exhaustion in certain markets.  In places like Nevada or Arizona you have something like 50 percent of all sales going to investors and many are simply selling them to one another for higher prices (i.e., speculation).  As prices soften how big will this market be?  Since 2008 many investors ate up rock bottom prices and sold into a crazy low-supply housing market.  It has been a winning recipe for investors.
Today, you now have markets once again becoming unaffordable primarily because of market manipulation.  This is exactly what is going on.  The market was aiming for higher rates to account for added risk yet the Fed wanted to assist member banks in offloading millions of underwater properties.  Slowly, this plan has worked like a charm.  Yet this was one hundred percent a centrally planned idea.  Let us call it like it is.  It is ironic to hear these "capitalist" talk about the free market for some industries but then start going into U.S.S.R. talk when it comes to housing as if investors and homeowners "needed" major subsidies for home buying.  They like having it both ways.  Free market for my gains, corporate welfare for my losses.  What is ironic as well is that for a few months, jumbo loans are cheaper than conventional loans showing how the benefits of all these actions are really going to those that least need it.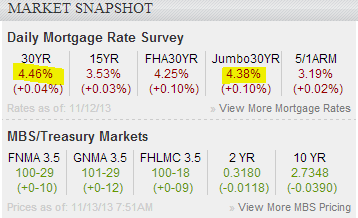 Yes, a working class family is really in the market for a jumbo loan.  What is different this year with QE3 is the sizable move in interest rates in spite of record breaking MBS purchases per month (this is the first sizable counter-move in rates against QE since it started in 2008).  If QE3 isn't keeping rates down anymore, then what is the real purpose?
US homeownership
In spite of all this market intervention the regular American household has not benefitted.  The homeowernship rate is now heading to multi-decade lows: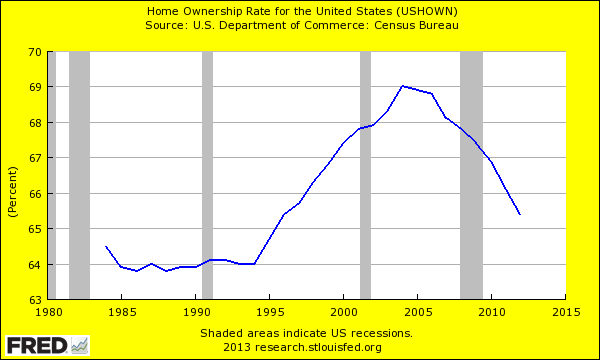 The US homeownership rate is now back to where it was in 1995 (you know, nearly two decades ago).  Here is a good chart showing household incomes and US home prices: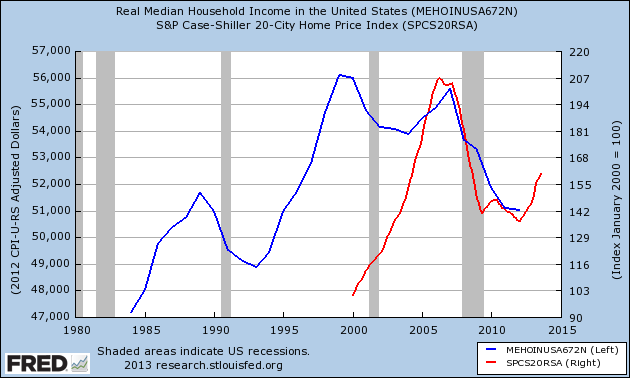 So while US home prices are rising strongly because of this intervention and massive investor buying US household incomes are back to where they were a generation ago.  For the millions of new renter households, rents are also up but on a stagnant stream of income, a larger portion of disposable income goes into housing.  Not exactly the best use of money.  This is the impact of Fed intervention in the current market.  Investors love a riskless trade and easy debt.  Since the Fed looks out for member banks, they were the first and largest party to benefit.  However, many are realizing there is no exit planned for that $4 trillion in the Fed's balance sheet.  A 100 basis point jump in mortgage rates is not a small move especially when the Fed is the housing market.

Did You Enjoy The Post? Subscribe to Dr. Housing Bubble's Blog to get updated housing commentary, analysis, and information.