The New York Fed issues a quarterly report on credit conditions in the US.  The recent report highlights a continuing trend showing young Americans are going deep into debt to pay for their expensive college educations.  In fact, student debt is now the largest non-mortgage related debt in the country.  This problem reflects a big issue for young potential home buyers.  It also helps to explain why the homeownership rate for young households continues to fall and why many young adults are living at home.  Many are coming out of college with student debt levels of $50,000 or even $100,000 and job opportunities are not justifying the costs for many graduates.  Yet given our lack of good pay blue collar work, going this road is perceived as viable given that non-college educated Americans have very limited opportunities.  Given the recent rise in home prices and lack of wage growth especially for the young, it is likely that the homeownership rate will continue to fall for this group.  In places like California many parents are finding it necessary to gift or provide down payment assistance for their children to buy even a starter home.  This assistance isn't a few thousand dollars but tens of thousands or even hundreds of thousands of dollars.  The young are being priced out of buying a home.
Student debt
Only a decade ago student debt was the smallest non-mortgage related debt in the country.  In 2004 $260 billion in student debt was outstanding.  Today?  Student debt is now up to $1.03 trillion: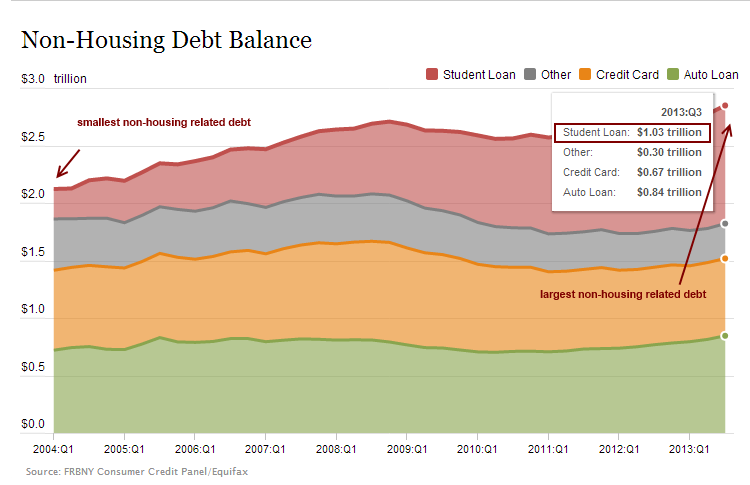 This is a dramatic shift.  Also, we have the largest percentage of young Americans going to college.  It is a good thing to get an education but at what cost?  Also, when you get this expensive, you have to place a value on the type of degree you are pursuing and cost.  This might be a big task for those 18-to-22 years of age.  A few decades ago you make this mistake and you have a piece of paper and a manageable amount of debt (or in most cases zero debt).  Today, you make this mistake and you enter debt servitude.  It is clear that many are unable to pay their student debt: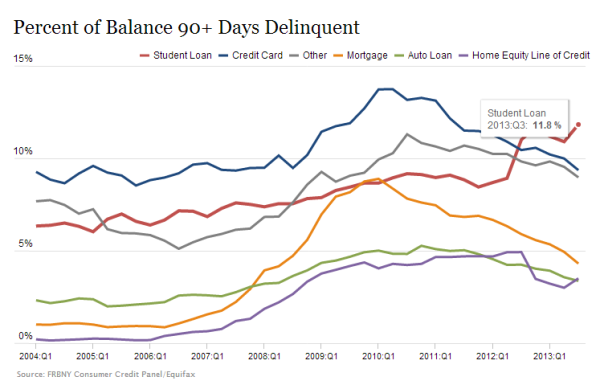 This is a startling reversal.  Student debt is now the most delinquent debt class.  11.8 percent of all student debt is now 90+ days past due.  As we just noted, this is now the biggest non-mortgage related debt sector in the US.  Of course this is going to be an impact on the ability for young households to buy.  Many young Americans simply cannot buy and given the current short supply of inventory, rising costs, and massive investor demand many have very little chance of buying a home.  No need to speculate on this, we need only look at the hard numbers.
Ownership by age
As you would expect, over the last 10 years the homeownership rate for all age ranges has fallen except for the old (those 70 and older).  What is more important is the magnitude of the drop for those 25 to 29, 30 to 34, and 35 to 39 which historically have been the prime first home buying age ranges:

If you look at the data carefully, you notice a slight move up during the bubble years of 2005 to 2007, however this was built on NINJA loans and ignoring income.  That was really the only thing that allowed this group to gain access to homeownership.  However, this has quickly reversed given the weak employment market for the young and the massive amount of student debt being carried by this group.
As you would expect a large number of younger Americans are living at home.
Percent living at home
Many young people are living at home given the current economic conditions at hand: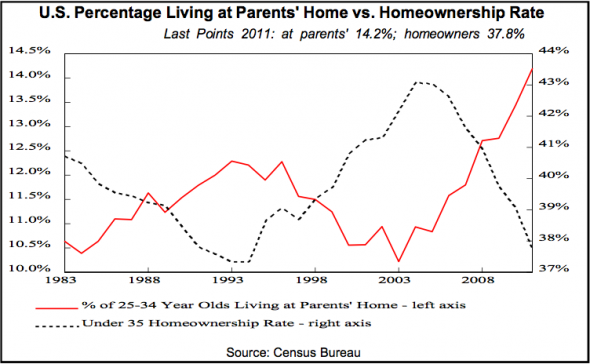 This is a major shift.  Yet we are seeing a repeat of history.  Some people naively think it is normal to save $100,000 as a down payment for an old World War II built home (as if this was normal).  In fact, 20 percent down in many cases is equal to the gross income of a professional working couple for one year.  Even in high income California, 72 percent of households make less than $100,000 (the median income being around $58,000).  Even a decade ago a down payment was typically half or less annual gross income.  So it is no surprise that low down payment loans are on the rise again given the current euphoria:
"(USA Today) Loans with down payments between 5% and 10% accounted for almost a fifth of the conventional loan offers that lenders made on the LendingTree online exchange in the first quarter, according to LendingTree.

That's up from just 6% of conventional loan offers in last year's first quarter and only 1% of the offers in 2011's first three months."
In other words, the young have a hard time saving given their heavy debts and lower incomes so lenders are just dropping the amount needed to buy.  In SoCal FHA insured loans with a 3.5 percent down payment are still 20 percent of the market.  So you have the large investors buying with all-cash and then you have regular households stretching their budgets to get in.  It is no surprise then that affordability has fallen dramatically even in the last year.  The answer to this as it was during the last bubble is simply to increase the amount of debt shouldered by households.  This continues to work so long as prices keep going up.
Do you know of anyone that is young (35 and younger) and buying in this current market?  It would be interesting to hear your story in the comments and information since many are probably in similar situations.

Did You Enjoy The Post? Subscribe to Dr. Housing Bubble's Blog to get updated housing commentary, analysis, and information.