Some people think that all parts of Los Angeles are created equal. Areas with poor performing schools and hundreds of crap shacks suddenly become the next gentrification hub. Most professionals and especially those with young children are not in the mood to send their kids to poor performing schools. But somehow, every area of Los Angeles is now a safe haven with no crime, top notch schools, and fantastic housing opportunities. Whenever you hear this you rarely get a glimpse of what is happening on the ground. When we pulled data for an entire block in Torrance, people suddenly realized that most of the stucco boxes were bought for low prices pre-mania days. When a house does hit the market, we get this new narrative although we are in the midst of a big jump in the stock market, very favorable interest rates, and an economy that is plugging forward. Things ebb and flow and California is boom and bust central. 2.3 million adult "kids" live at home with their parents. People are doubling or tripling up into units to cover rent. So maybe you want to buy your first single family home? Let us look at some deals in Pacoima.
Pacoima flip and distressed property
Pacoima isn't exactly the safest area in L.A. County. But you are looking for deals and eventually, every city is going to be the next Pasadena. Sure your kids are going to have a tough go at school here but who cares right? You are building equity baby! They'll thank you when you property ladder your way up into a glorious mansion. They'll appreciate the current sacrifice when they move back in with you as adults and you can talk about how awesome the home is.
Today we'll look at two homes in Pacoima that are on the market and ready for you to buy. For those outside of California, it'll give you a nice peak into what is going on here.
Let us first look at the crime map for the last week: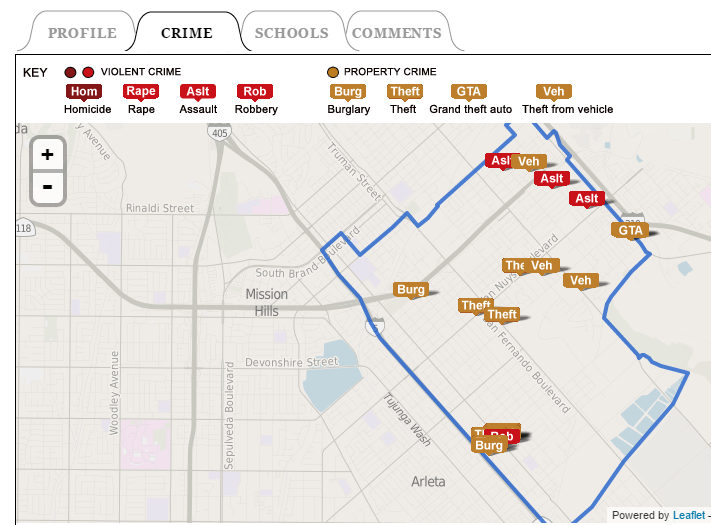 In the last week 4 violent crimes and 25 property crimes occurred. If you look at the last year, the stats aren't all that great. But we're searching for deals here!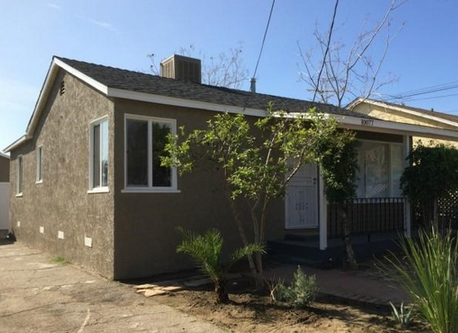 10077 Telfair Ave, Pacoima, CA 91331
2 beds 1 bath 714 sqft
Flip time! Someone is trying to make some dough on this flip. The house is small at 714 square feet. Let us look at the price history here: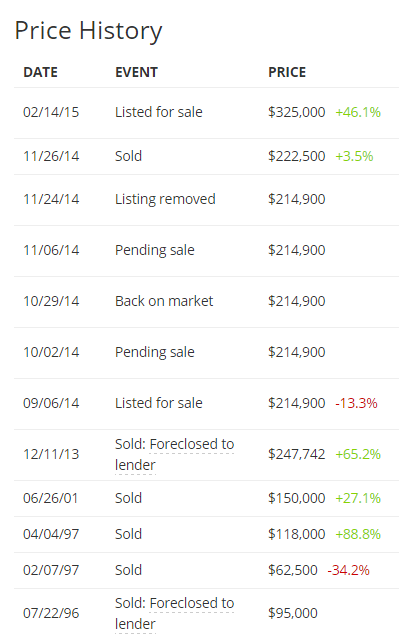 The home last sold for $222,500 in late November. Now they are listing it for $325,000 (a nice markup of $100,000+). Do you think they actually put in $100,000+ worth of value into this place?
Let us look at our next house: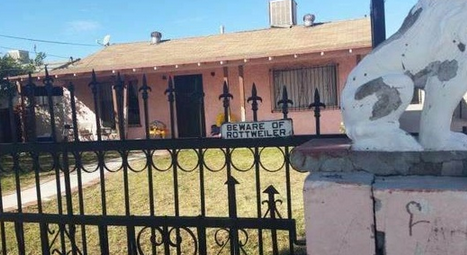 13131 Garber St, Pacoima, CA 91331
3 beds 2 baths 1,088 square feet
"Great investment property, features 3 bedrooms and 2 baths, Lot size over 9k Sq ft, parking space for many cars, property in need of some TLC."
I love the picture used by the Realtor. Peering through the spiked fence and capturing the "beware of Rottweiler" sign. If you have a Rott, no need to buy another sign! This agent also understands the market with the "parking space for many cars" line. Subtle.
This home is a legacy of the home equity party of the last bubble:

It looks like someone is $43,096 past due on this place. The current list price is $315,000. The original owners tried getting out in September but no suckers bit: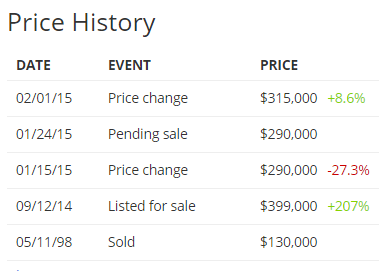 And they say there are no deals in L.A. County!

Did You Enjoy The Post? Subscribe to Dr. Housing Bubble's Blog to get updated housing commentary, analysis, and information.