Affordability is the name of the game when it comes to a sustainable housing market.  Nationwide the US is witnessing home prices come in line with local area incomes.  In fact, many areas of California are also seeing this occur.  Yet the mid-tier and upper-tier markets still have correcting to do.  In these markets the game can only go on if the perception of endless appreciation is part of the buying equation.  In a mid-tier market like Huntington Beach there are many homes that are overpriced and are correcting lower.  This isn't simply occurring at the low-end of the market but with million dollar homes.  Today we examine a million dollar short sale in Huntington Beach.
Million dollar short sale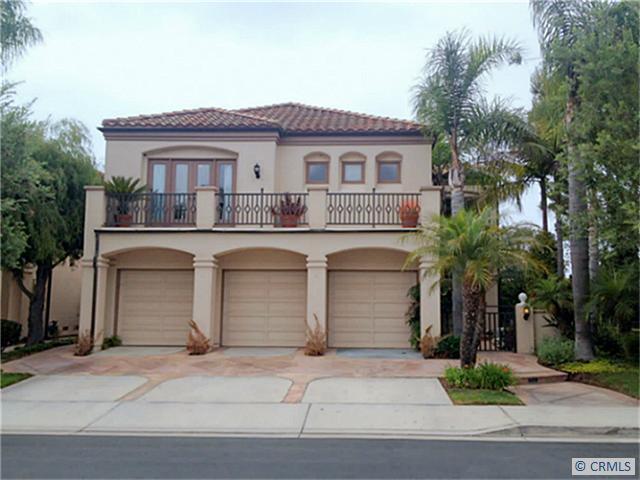 6612 Doral Dr, Huntington Beach, CA 92648
5 bedroom, 4 bathroom, 1 partial bath, 3,300 square feet, Single Family 
This place looks like a recent MLS addition.  The above home is a more expensive Huntington Beach property.
Is there a big demand for a home like this at this price range?  Hard to say but this place is now one of the many short sales hitting the OC market.  This home was purchased in the 1990s and had a lot of mortgaging activity during the 2000s.  This place is now a pre-foreclosure even though there was an attempt to sell this place in 2010: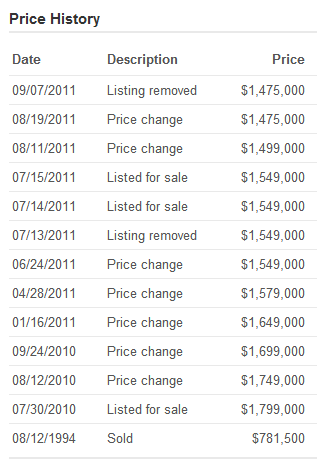 $1,799,000 was the initial list price?  After chopping prices lower for nearly a year, the listing was taken off the market.  The price seemed to edge close to the loans outstanding on this property.  Now the lenders realize that they need to make the place move.  The current list price is $1,295,000.  Will this place sell near this price range?  It should be obvious that chopping prices lower and agreeing to short sales on million dollar homes isn't a sign that the housing market is healthy.
The Huntington Beach housing market
Let us take a look at the current housing market in Huntington Beach: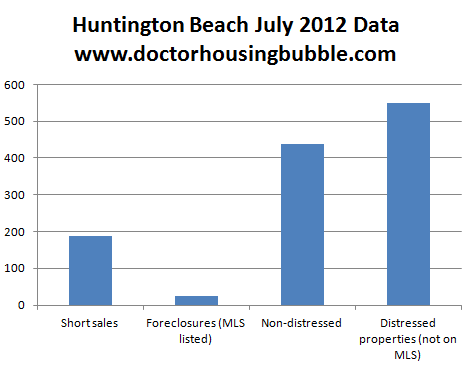 This home was recently listed and came out of the giant "distressed properties not on the MLS" pipeline.  Some think that only bottom of the barrel properties are part of the shadow inventory.  That is clearly not the case.  Roughly 25 REOs are listed on the MLS while 187 short sales are on the market (representing 32 percent of all visible inventory).  Of course the shadow inventory trumps all other categories.
What is apparent is that banks are leaking out properties and agreeing to short sales even on prime properties.  Home sales in Huntington Beach have certainly picked up in the last year:

If you think the massive jump in sales is occurring because of extremely wealthy households think again:
Huntington Beach
Median income (household 2010):           $86,925
2009
Owner-occupied:             63%
Renter-occupied:             27%
2010
Owner-occupied:             59.9%
Renter-occupied:             40.1%
Owner-occupied data
Housing units with a mortgage:                 73%
Housing units without a mortgage:          27%
You can see that the homeownership rate fell by 3 percent from 2009 to 2010.  Most homeowners are mortgaged in Huntington Beach and many bought during the bubble years: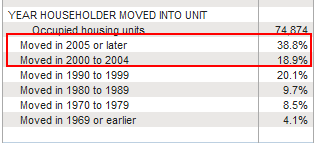 Do you have enough wealthy households willing to pay high prices for homes in Huntington Beach?  The answer is clearly no because you have a pipeline of homes in the foreclosure process that is larger than all visible inventory.  Next to that, you have a good number of visible MLS properties being sold for less than the total current mortgage balance.  While price metrics make sense in many other markets across the US Huntington Beach is still a market that is showing inflated prices.

Did You Enjoy The Post? Subscribe to Dr. Housing Bubble's Blog to get updated housing commentary, analysis, and information.