The housing correction has arrived.  This should not come as a surprise given that the level of affordability is near historical lows.  The real estate cheerleaders continued to mention that money from China and other factors would keep prices moving up at an unsustainable pace.  However, you need more traditional factors to keep the housing market moving up.  Historically in the U.S. the number one factor in housing demand was household formation.  The other was economic growth.  Household formation has favored rentals and also moving in with parents in the past decade.  The economy on paper looks good but for every one good paying job created you had two new "gig" like jobs popping up with lower wages and fewer benefits like healthcare.  Millennials are now in their prime home buying years yet the trend is not supporting the housing market.  And in California, nearly half of Millennials live at home with their parents.  How will that save the housing market when they can't even afford a rental let alone buying a house?
Millennials at home in California
The trend of Millennials living at home is a new generational one (for those in the same age category in previous generations).  This has been a national trend but in California it is the standard way of living.
Take a look at this chart: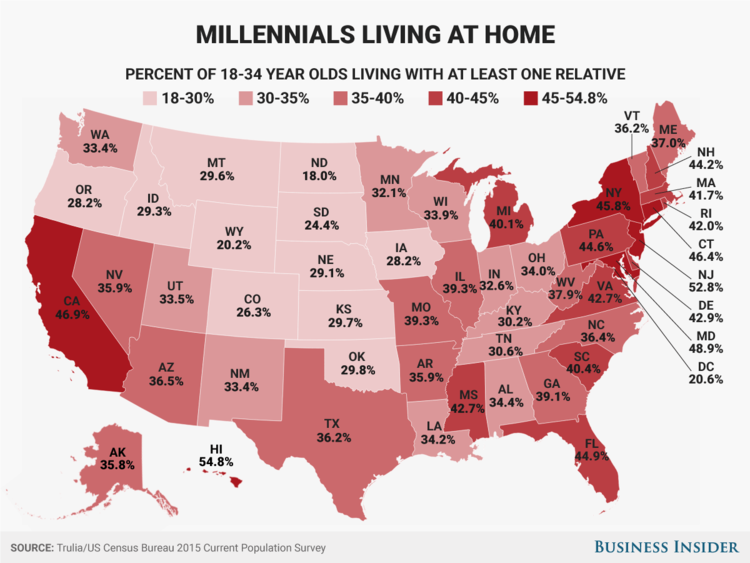 Nearly 47% of Millennials live at home with their parents in California.  Only New Jersey and Maryland have a higher rate.  Housing affordability is very low in California with only 27% of households being able to afford a home (a level last seen in 2008):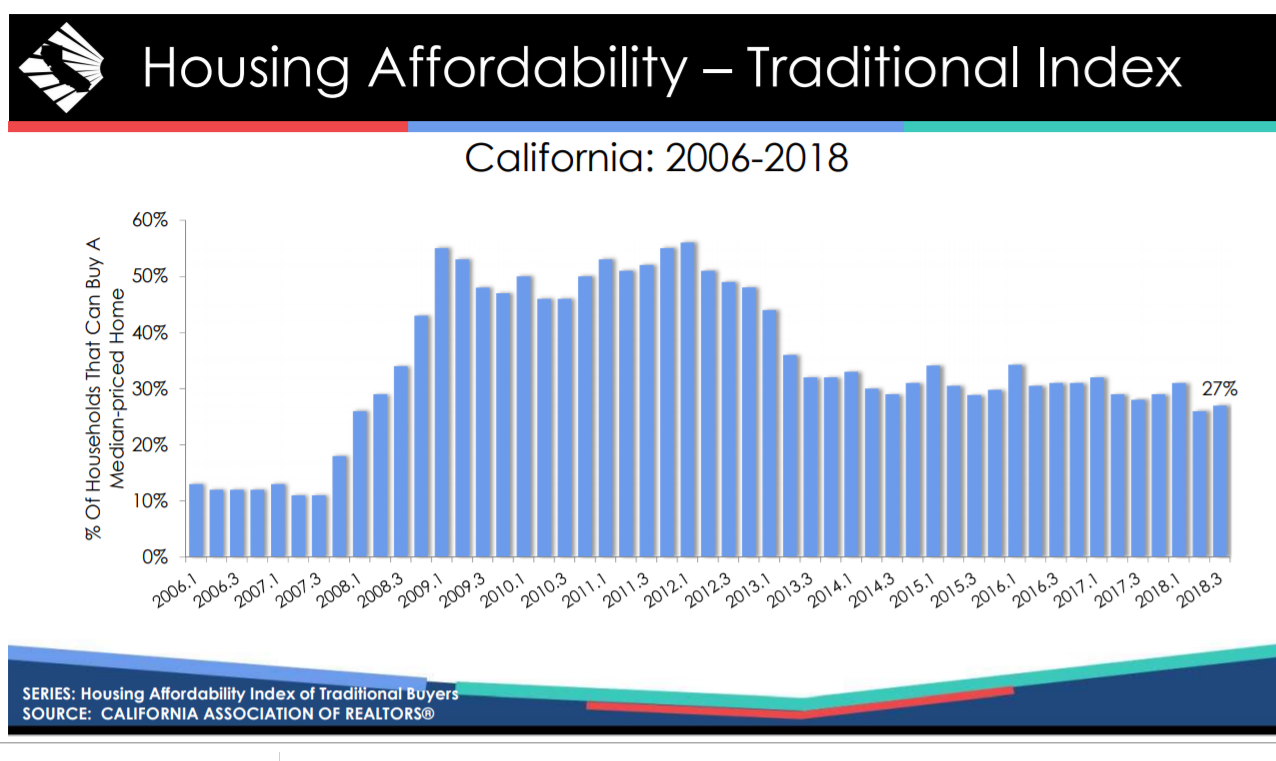 So of course the trend has now changed and inventory is rising at a rapid pace during the slow fall and winter selling season.  The stock market is now taking a breather after a nine-year bull run.  But what is telling is that during this period, Californians largely opted to form households in rentals.  You have your older Taco Tuesday baby boomers that purchased pre-2000s when the housing market was still sane in California.  We see this in many expensive areas in California where you have people living in homes valued at $1 million or more but shopping at the 99 Cents Only Store to stretch their budget.  House rich and cash poor.  And of course their Millennial "kids" are living at home because they can't afford to buy.  But people are living way beyond their means given that we see that credit card debt and auto debt are both over $1 trillion each.  I see this in some of the neighborhoods I observe where late 20s and 30 year olds are living at home but driving around in BMWs or Teslas.
And the affordability crisis is even worse in counties like L.A. and O.C. (forget about S.F.):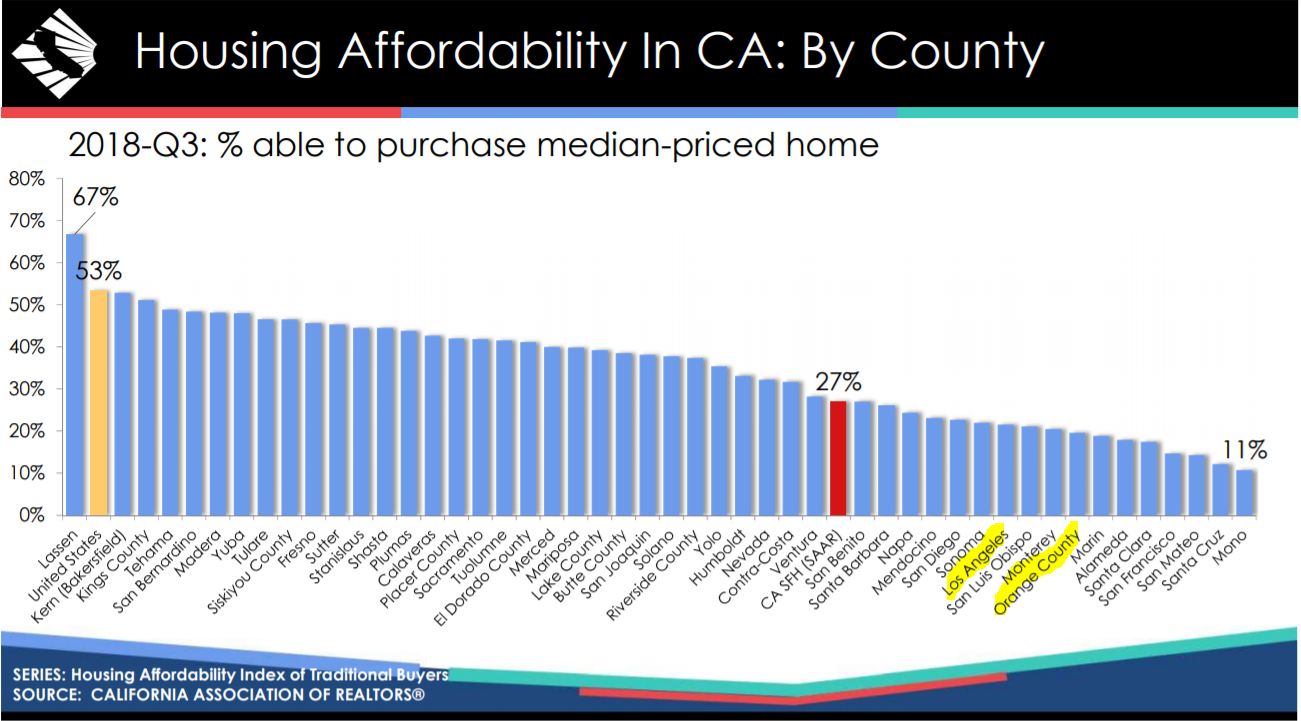 So what you have is inventory spiking and prices moderating.  And we are now seeing this reality hit the ground: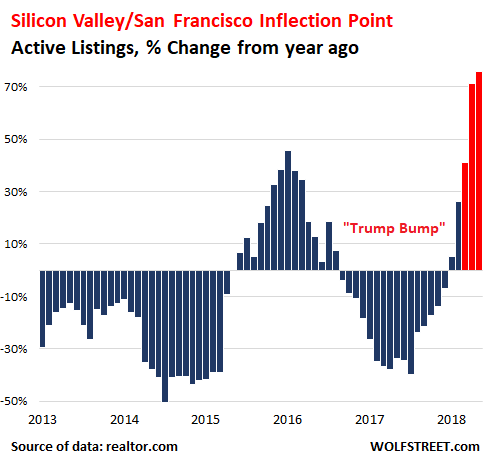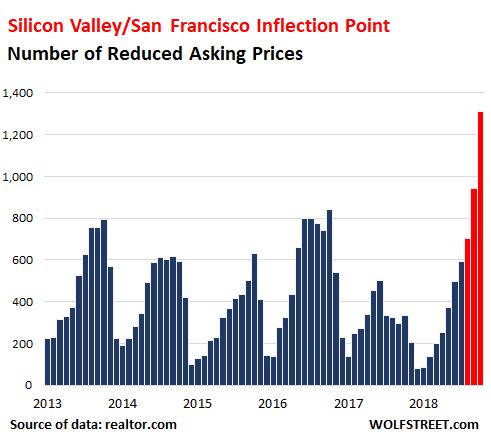 More listings and more sellers willing to lower prices.  Will Millennials save the housing market?  Unlikely and definitely not in California because affordability is based on household income and wages have simply not kept pace with real estate gains.
And with recent California elections, taxes will not get lower and with the new tax plan, it is actually set to hurt coastal areas like California with their massive subsidies for mortgage interest on million dollar crap shacks largely being capped.  Many owner-occupied households are going to be surprised when they see their tax bill but given California is a renting majority state and most don't live in inflated coastal areas, the masses are going to see a net positive on their tax bill.
The slow-down is here and we have yet to see where this will go since many in California buy only for price appreciation.  The psychology is going to shift over the next year and Millennials will not come out in droves to purchase homes.

Did You Enjoy The Post? Subscribe to Dr. Housing Bubble's Blog to get updated housing commentary, analysis, and information.