There is something deceiving about the current low mortgage rates.  To a certain extent they obscure the underlying economic fundamentals that are hitting the state.  Certainly no one is going to look at an underemployment rate above 20 percent and a budget deficit of $16 billion and claim that the economy is booming.  Old habits go away very slowly.  The bad patterns that got us into this mess are creeping into the market with flippers, low down payment mortgages, and bidding wars making their way onto the California scene.  Yet as you will see, much of the last year of sales has been driven by the incredibly low mortgage rates we are witnessing and the controlled leakage of properties onto the market.  When you look at Los Angeles County overall you do not get an inside view of what is occurring.  Let us pick out a few zip codes and analyze sales data and also household income figures.
The current housing market in L.A. County:  A snapshot
I went ahead and pulled five diverse cities and 10 zip codes in these cities to give you an idea of what has occurred over the last year:
I find data like this incredibly telling because we are matching things up with income on a micro zip code level.  I am simply amazed by how little is mentioned about income on the mainstream press.  Has anyone else noticed this?  Can you imagine a car ad mention "this vehicle should only be a reasonable purchase by household incomes of $150,000 and higher?"  It would be prudent but maybe that is the point.  Marketing is largely designed to part you from your hard earned cash.  Just examine the income figures above.  Even in prime areas incomes do not seem that strong.  This is likely why zip codes in Arcadia and Culver City saw median home prices drop in spite of all the jawboning that prices are soaring into the stratosphere.
The bottom is here!  Rush out to buy anything you can get your hands on!  Of course most making this assertion don't bother to examine these micro bubble markets.  Sure, we're at or close to a bottom nationwide because the median home price is $163,000 and household income is $50,000 (plus interest rates are below 4%).  Doesn't take a genius to make that claim.  But what about a zip code where the median household income is $65,000 and the median home prices is $869,000?
A $688,000 home is way too high for a household income of $66,000 and would be better suited for a household making $200,000.  The above sales and price data is gathered for March of 2012.  Some of these absurd figures simply reflect micro bubbles.
To the opposite end, take a look at Compton (90220) with 33 sales.  Year-over-year however prices are down 10 percent even though the median price is $170,000, close to the median nationwide price.  It does seem like more investor money is flowing in but also, with interest rates at 4 percent or lower some might be buying in these areas with FHA insured loans instead of renting.    Case and point: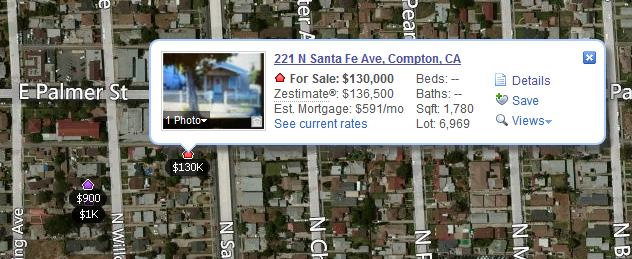 You have two rentals on the market for $900 and $1,000 (both one bedrooms).  Around the corner you have a home for sale at $130,000.  With 4% down your PI is $567 and with taxes and insurance (FHA style) you are looking at a monthly payment under $800!  Throw in the tax break and this place makes sense to buy.  But who is buying?  Good question.  Seems like an easy buy for an investor right?  The place has been on the MLS for 240 days.  No bidding war here.  My point is, people are starting to examine the market more carefully and are focusing on the overall economy as well.
The higher priced zip codes of Culver City and Arcadia saw year-over-year prices fall.  Prices might seem more alluring but this is only because of the temptation of low mortgage rates: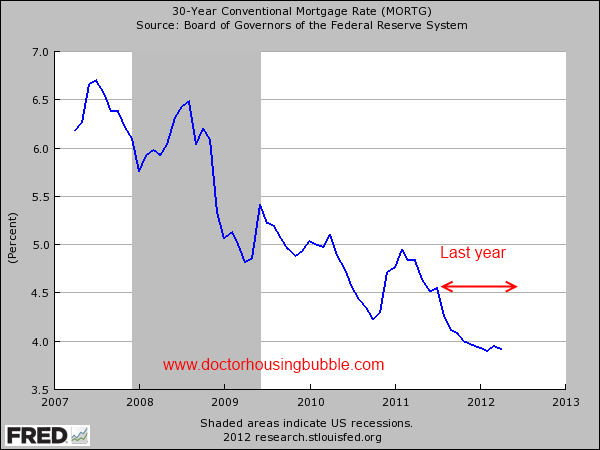 In the last year alone interest rates on a 30 year fixed rate mortgage fell from 4.94 percent to 3.91 percent (a 20 percent drop).  For a $500,000 mortgage this gives you $300 more a month.  Not bad when incomes are not moving up.  At a time when income statements are being analyzed and DTI actually matters, a few hundred dollars courtesy of a mortgage rate can squeeze a buyer into a home.  Yet this avoids the bigger picture of why interest rates are low.  The Fed is artificially keeping rates low and the economy is weak with panic money entering into US Treasuries.  In other words, the recent run we are seeing with real estate is being driven by the panic and economic distress of others and not local income gains or a strengthening economy.  This is what caught me as being a bad move when the bubble formed the first time.  The lack of real income growth that wasn't derived from speculation in debt or real estate was startling.
Today, there seems to be a self-congratulatory attitude that people are actually exercising due diligence when making mortgages.  Well, of course!  That is their duty even though the entire market is virtually government backed mortgage debt (aka taxpayer backed).  This is like being stunned that an engineer built a bridge that didn't fall over after one car drove over it.  The major default rates in FHA insured loans are going to create higher prices derived from non-interest related items like mortgage insurance.  Here in SoCal, for the last few years one out of every three mortgages has been of the FHA variety.  These just got more expensive practically canceling out the gains made by the drop in interest rates.  What will be next?  No interest payments for the first year?  Maybe we can throw in a memory foam mattress for good measure.
I do agree with many that Americans are ultimately just focused on the monthly nut.  However, this extremely low interest rate is creating a market very dependent on low rates.  There is very little wiggle room and should rates go up (we are already going negative with inflation) prices are likely to move lower given this monthly nut mentality.  Did I just give a buy signal for Compton?  For those planning on staying for at least 5 years it seems to make sense.  In other markets the fact that price-to-income ratios are still in double-digits suggest that prices are still inflated even with historically low interest rates.

Did You Enjoy The Post? Subscribe to Dr. Housing Bubble's Blog to get updated housing commentary, analysis, and information.