The housing market is running on opioid induced euphoria and the tentacles of mania are deep into every large metro area.  You would think given all this unchecked optimism that mortgage originations would be near a record level since you would assume people are out buying in mass.  Yet that is not the case.  What is happening is people are fighting over the scraps with low inventory and are bidding prices up on crap shacks to ridiculous levels.  And there is data to back this up which is important because people are living in an alternative reality.  Loan origination volume hit a three year low this year.  What?  How is that possible when all the cheerleaders are out in the streets preaching the good gospel of buying real estate?  Well the reality is that a good portion of the market is still driven by investors.
If you need a loan, you can't afford prime property
You can go on many forums and people are doing mathematical and budget gymnastics all so they can afford a crappy starter home.  Some of these homes are in bad areas but who cares?  Everything will eventually gentrify, housing makes you more attractive, and 30-year mortgages are awesome.  At least that is the logic and people are buying in stretching their budgets like spandex.
Loan origination figures show a rather dull market: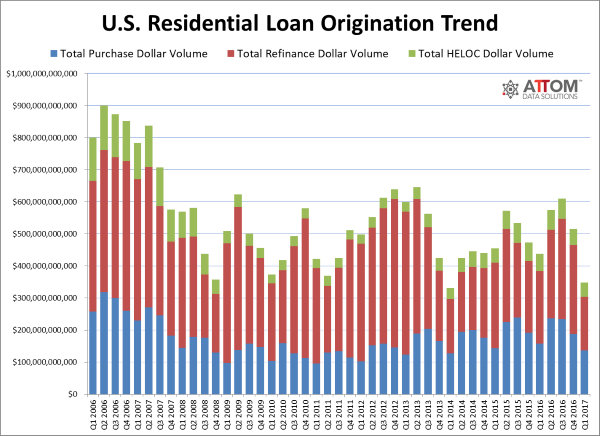 Isn't the market blistering hot?  On the price side, yes.  You have people fighting over scraps.  And you should keep in mind that the economy has been on a massive bull run since March of 2009 (over 8 years now).  Some people have forgotten what it is to live in a correction.  I even see people on credit forums saying:
"So I lost my house to foreclosure 7 years ago.  But now that is off my record and I'm ready to buy again.  Is this a good plan?"
Yes.  A great plan.  Perfect timing too.  Go out and buy that crap shack.  There are some hard rules you should adhere to:
-Do not spend more than one-third of your monthly income on housing costs

-You should be ready to stay put for 10 years in the house

-You need to save for retirement outside of housing

-If you can't afford 20 percent down you probably shouldn't be buying
Inventory still remains very tight.  Just look at the below:
Nationally inventory is down 7.7 percent year-over-year.  For Los Angeles, it is down 11.3 percent.  And this is down from already record low levels.  There is simply too few crap shacks available to buy.  So that bodes well for prices right?  Well that assumes the economy keeps chugging along and optimism runs supreme.  But that is the telling thing because many are somewhat negative on the economy (that was a large driver for the election even though stocks and real estate were back near peak levels).  Yet this is the perception.
We are setup for a boom and bust cycle here.  That is the nature of our current economy.  People want to redline the car and wait until the engine blows.  You just need to do your own analysis here.  I go to open houses often and people are out to lunch.  They usually are in the house humping stage (aka adding people) and most are being driven around by emotions versus logic.  So how can you argue data with that?
What we do know is the homeownership rate is down, there is a renting revolution, and loan origination data shows a different world.

Did You Enjoy The Post? Subscribe to Dr. Housing Bubble's Blog to get updated housing commentary, analysis, and information.