If you really want to see the impact of cash buyers pulling out of a market look no further than Las Vegas. Las Vegas was the poster child of real estate mania and many California home owners contributed to the previous boom by tapping out equity and purchasing properties for flips or for the occasional gambling trip down the I-15. The latest boom is being driven by large Wall Street cash and lusting investors coveting "cheap" properties. That boom appears to be turning. A recent report from Zillow shows that inventory in Las Vegas has jumped up a whopping 51 percent year-over-year. At the same time, you see cash buyers pulling back from the market. Back in May of 2013 roughly 60 percent of all purchases went to the "all cash" category while this year it is closer to 40 percent. So it should come as no surprise that home sales are now down by 22 percent year-over-year during the hot summer selling season. What does the future hold for Las Vegas real estate?
The gamble in Las Vegas real estate
Prices out in Las Vegas must still look modest compared to the house horny buyers of California. A median priced home in Las Vegas will run you $185,000 and this is after the massive jump in prices over the last year. If prices are solid, why the sudden jump in inventory and big drop in sales? Most of the buying occurred because of investors looking to purchase properties for renting out. If this is the bulk of volume, you have to rent out to local families that generate income from local employment. Obviously investors are not seeing the cap rates that they once were seeing.
Take a look at the Case Shiller data for the L.A. region and for Las Vegas: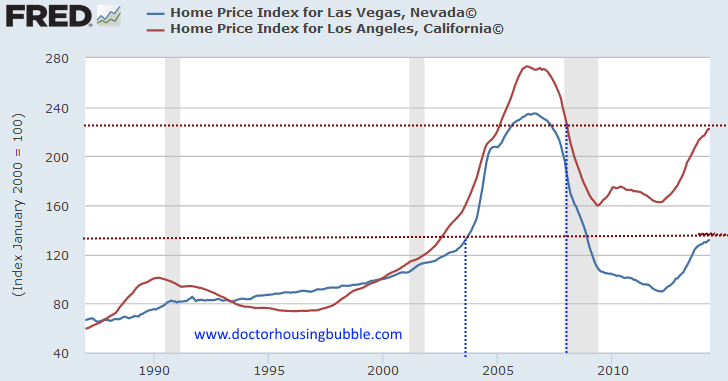 Home prices in Las Vegas are now where they were in 2004 while in Los Angeles, they are back to where they were before the recession hit. The big drop in sales and increase in inventory is simply a reflection of a market fully dominated by investors. After all, only one year ago nearly 60 percent of all sales went under the "all cash" buyer variety and even a middle class family in Las Vegas is not going to come up with $185,000 in cash to purchase a home.
So the end result is this: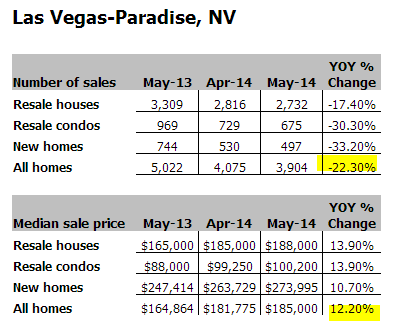 Source:  DataQuick
A big drop in sales while the median price hits a plateau. If the past is any indicator, a big drop in sales usually means a nice jump in inventory within 6 to 12 months followed by prices correcting within 1 to 2 years (that is, 2015 and 2016 for Las Vegas). The real estate worm turns very slowly and Las Vegas has had a nice run up from the trough.
You will find 3,086 rentals currently available in the Las Vegas market. There is a big disconnect going on here. Take a look at this rental: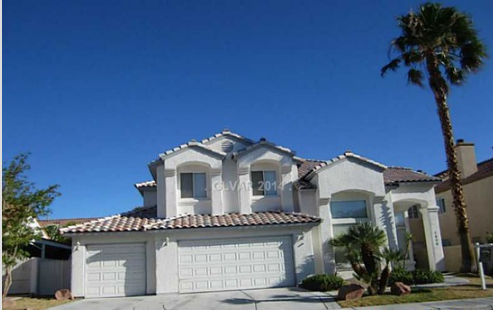 7904 Bridge Gate Dr, Las Vegas, NV 89128
4 beds, 3 baths , 2998 square feet
This home sold for $525,000 back in September of 2014 2004. It was listed for rent back April 2013 for $2,100. Today you can rent this place for $1,900.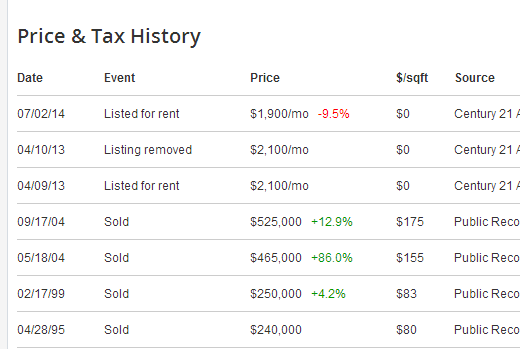 Does this seem like a healthy market here? The Zestimate on this place is currently at $440,000. There is no way this is a good investment as a rental if this is the kind of rents you are going to yield. Of course if you go in with a 100 percent all cash purchase, you will cash flow. Anyone can cash flow as long as your down payment is big enough. If you take your $525,000 and yield 5 percent in the market, you will outperform this rental (keep in mind we are not factoring taxes, insurance, vacancies, maintenance, and all the other costs that go into being a landlord). And as I mentioned before, you have plenty of options for rentals in the Las Vegas market.
Is it any shock that investors are pulling away from the Las Vegas market? Who are you going to flip to here? There are many examples like this. Investor lusting is slowly waning and we will see if the market can stand on its own two legs. When you see action like this, you know something is going to give and things are pointing for a correction for Las Vegas.

Did You Enjoy The Post? Subscribe to Dr. Housing Bubble's Blog to get updated housing commentary, analysis, and information.