One of the oddest things about this current housing market is the dwindling amount of supply.  For areas like Los Angeles and nationwide, total housing supply has been on a downward trajectory since 2010.  While an environment of rising home prices, less supply, and hungry buyers would lead you to believe that more home building would be occurring, not much of that has actually happened.  Only recently have we seen the trend reverse nationwide and some areas that are in full mania mode like Irvine and Pasadena are seeing some inventory expansion.  This is an interesting trend because it really highlights the consequences of allowing banks to essentially circumvent historical accounting standards and the use of the Fed as some temporary bad bank for loans.  Constrain supply and demand (certainly prices) will rise.  Punish the dollar and make access to debt via low rates a method of growth.  So builders are walking slowly into this new environment trying to read the tea leaves.  Los Angeles inventory is still at record low levels however.  Where is the inventory going to come from for a county of 10 million?
Los Angeles inventory
Homes for sale in Los Angeles area are down more than 50 percent from an already low amount of homes for sale in 2011:

It is interesting to read why others are buying into the market today.  Reasons given include: can't beat the Fed, never going to make more land in LA, incomes don't matter, and everyone in the globe wants to live here and every other area is second only to LA.  As an L.A. native, I actually enjoy living here.  Yet some people are buying not because of it being a wise investment choice, but more of an emotional one.  So be it, that is the housing market for you but that is different from buying a $150,000 home in many parts of the US versus a bathroom sized Great Depression built home for $700,000 and financing every penny into it.  Of course, some people forget that Southern California is largely an open desert with massive importation of water and you only need to drive one hour inland to get a taste of what is known as desert living.  So I don't really buy that argument that suddenly people discovered that the weather is nice in Manhattan Beach or Newport Beach.  What I do buy is that most people think they should live in very prime areas like Pasadena, Culver City, or even Irvine for that matter.  We've already proven that when it comes to financial amnesia, we are willing to start another housing bubble on top of one that is still warm in the bed.  People do realize that L.A. County and Orange County have hundreds of cities right?
So supply in very desirable markets is tight.  This we know.  We also know that people are willing to leverage every penny they have to purchase a home and leverage is very high thanks to low interest rates.  Yet that game may be slowing down and hitting the bottleneck of incomes.
The demand at open houses while nuts, is not reflected in what people can pay.  For the last few years we've had the fuel of big money investors, FHA stretched buyers, and those that recently discovered the added leverage of seeing mortgage rates drop from 6 to 3 percent.  The typical 30 year fixed rate mortgage is now above 4 percent.  So it is hard to see how much lower we can go given the rates we are seeing are now creating multiple years of negative real rates.  This is largely why we are seeing supply in markets like Irvine increase.
One thing is certain and that is that low rates and very little supply have caused real prices to go up: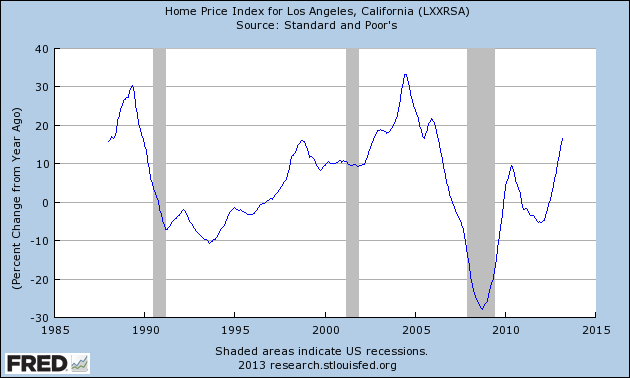 For the Los Angeles area including Orange County, real home prices are up on a year-over-year basis by nearly 20 percent.  This is unsupportable on multiple fronts for a variety of reasons unless incomes pick up or interest rates go below the 3 percent threshold.  What we now see with flippers is people selling for pure quick gain.  This can only go on for so long.  Flipping at the levels we are seeing today reflect a market that is very close to overheating.  Did we not learn that lesson from the last few years?  Rationalization is a funny human tool.
I've seen the argument made for rental parity many times but this usually only works if you come in with a large down payment (not many have this and those buying all cash are buying for flips or you also have some foreign money buying in targeted markets as a hedge for domestic changes in their own economy).  A modest home in many of these prime areas would require a $150,000 to $200,000 down payment just to make this happen.  Otherwise you are held to FHA insured loans and these are now very expensive causing the real monthly payment to be closer to what it would be with real rates at 6 percent.
While inventory for the Los Angeles area inventory at 15,000 we find that over 15,000 properties are in some stage of foreclosure (the same amount as actual available homes):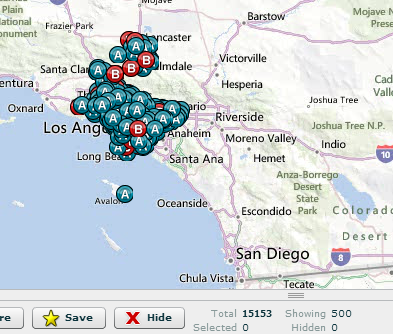 Given the high prices in the market, I'm sure more banks are now going to push to sell select foreclosures given that they can jump into a very constrained market.  Where will supply come from?  Hard to say but these prices are certainly going to get the attention of fence sitting banks and sellers.

Did You Enjoy The Post? Subscribe to Dr. Housing Bubble's Blog to get updated housing commentary, analysis, and information.