Everything is relative.  I've known a couple of wealthy people that live in nice neighborhoods but their home is modest to the area.  It is modest because even being wealthy, they live among even wealthier people.  So their Mercedes which is a fantastic car looks like a Pinto next to Ferraris and Aston Martins.  They actually feel as if they are not doing well but in reality are in the top one percent of the nation.  This is the current situation in the U.S. where crap shacks across the country suddenly appear better than they are because of a lack of inventory from a manipulated and distorted market.  Housing inventory is low in the U.S.  At open houses you see lemmings trying to make offers on beat up shacks waiving inspection rights just so they can "own" a property with a 30-year mortgage of course.  It is manic.  There is a sense of panic in the air.  You also have Taco Tuesday baby boomers living in inflated shacks trying to rent out rooms via AirBnB so they can go out to Whole Foods and buy some kale and raw milk.  Builders are not building because of NIMBYism policies in many cities around the country.  So what happens is millions of households become renters and those lustful enough to buy are diving in at what appears to be a peak.
The lack of housing inventory
There was a large miscalculation by many people in terms of pent up demand.  The notion was that baby boomers were going to sell in mass and Millennials were going to line up and buy.  What happened in places like California is the Millennial children simply moved back home to live with mom and dad.  Those that could afford to venture out on their own actually went into rentals for the most part.
Builders understand the risk and have largely built multi-family units to cater for the new rental demand.  New housing while picking up, is way behind the curve.  So we are now left with housing inventory looking like this: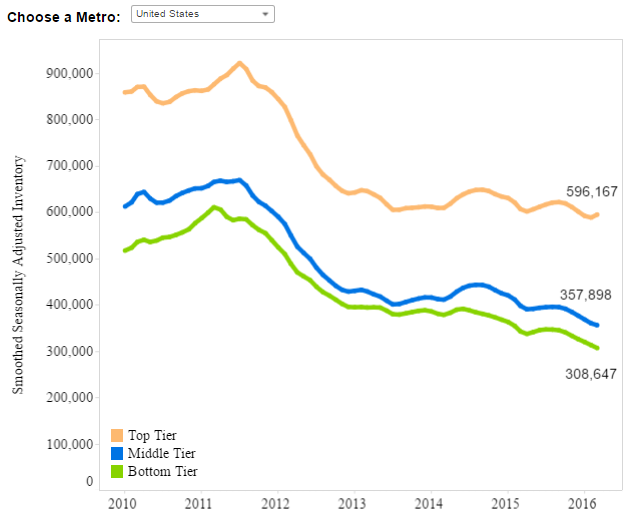 Source:  Zillow
The numbers look worse for entry level housing.  The number of entry level units dropped by 10 percent year-over-year.  This takes a direct hit to first time home buyers.  How about the large L.A. metro area?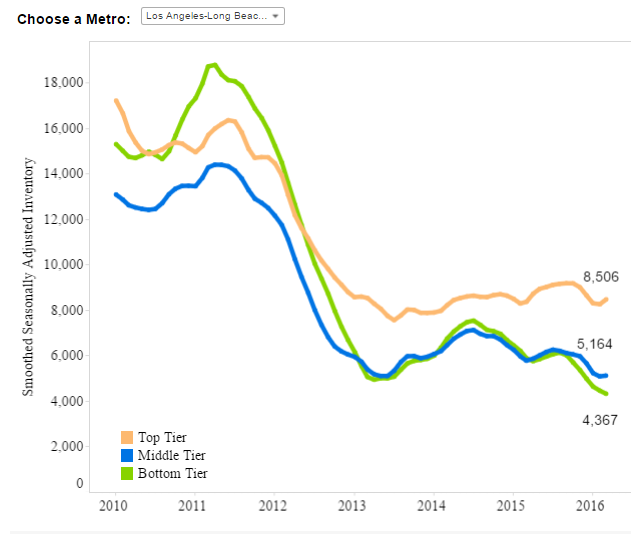 This is why even in areas with horrible schools and crime prices are climbing up.  The house humping cheerleaders are out in full force.  Places like Torrance are inflated once you dig into the actual structures and mortgage data on owners.  Yet this is a countrywide trend.
It is also a miscalculation to think Millennials will need homes that are the size built for larger baby boomer families.  This is why many baby boomers are renting out rooms or their entire place on sites like AirBnB.  The economy is better so Millennials are now out venturing on their own, right?  Wrong: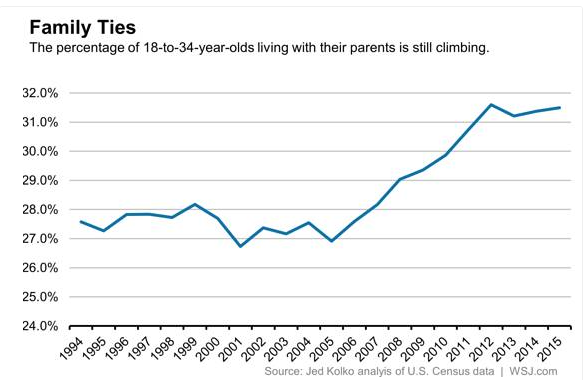 The number of Millennials living at home is at a record high.  Say you are a young hipster and want to buy a home.  You choose Echo Park.  Okay, let us see what we can buy: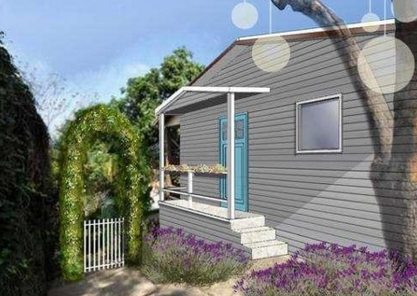 1376 Echo Park Ave,Los Angeles, CA 90026
1 bed, 1 bath listed at 520 square feet
Flipper time!  I love the ad on this place:
"Just when you thought it would be impossible to live in your dream 'hood- THIS pops up! This investor restored bungalow was purchased last year and it needed a bit more than a hug. Cut to this year, this home is being reintroduced to the world with a new foundation, plumbing, electrical, roof, deck, windows, tankless water heater copper gutters, appliances, and roughly 200 sq ft of basement flex space for someone to create the perfect work space, yoga studio, office, or whatever your heart can cook up! Who says you can't have it all? This location provides the quiet you crave but is directly above Lassen's, The Holloway, The Whisperer, Walgreens, Dinette & more. Just park and stay. No need to get in your car any time soon! Take in the views of the observatory and Hollywood sign from the deck off the master and let the magic of the city take over. This property is due to be completed in the next few weeks but open to pre-sale now. Make your appointment today!"
Aka, hipster lemmings make sure to call your mortgage broker so you can live in a 520 square foot home.  And just look at the price investors paid: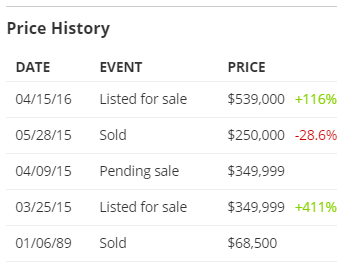 So it sold for $250,000 in May of last year.  Now it is listed at $539,000.  Did they really do $289,000 worth of work on a 520 square foot place?  Here is a surrounding view of the area:


Everything is normal folks.  And you wonder why we are having a political year like this one where the "system is rigged" message is catching momentum on the left and right.  Apparently people have caught on and don't like the idea of a manipulated system.  Outsiders have all the energy this year.  It is interesting to see that anger is the energy fueling people this year – even though the stock market is near a record high and real estate values are also near record levels.  Of course most people aren't gaining from this with the homeownership rate down near generational lows and rents eating deeper into budgets.  But if you want to buy, there are many happy real estate agents ready to assist!

Did You Enjoy The Post? Subscribe to Dr. Housing Bubble's Blog to get updated housing commentary, analysis, and information.