I love when mortgage products get creative in their titles.  We had those wonderful "option ARMs" that basically gave you the option to not pay your mortgage principal.  But what people forget beyond the egregious toxic mortgages, most foreclosures hit people with vanilla 30-year fixed mortgages.  That is right, of the 7,000,000+ completed foreclosures most were boring traditional mortgages.  Since the stock market has been on a massive run for six years now, people have forgotten that recessions routinely hit our economy.  It is part of the economic system.  If you can't pay your mortgage, it doesn't matter if you have a 30-year fixed, ARM, interest only loan, or other variety of payment you are making to the bank.  Now that banks know they can boot you out and sell to an investor, the foreclosure process started humming along.  A reader pointed out that Freddie Mac is entering once again into offering low down payment loans to cash strapped borrowers dreaming of their first crap shack.  The product is called Home Possible Advantage but in reality, you are making a big bet with little equity.
Home Possible Advantage
For all intents and purposes, Freddie Mac and Fannie Mae were nationalized during the housing crisis.  Free market Kool-Aid drinkers conveniently forget that we conducted some massive socialism in bailing out the financial sector.  In theory the free market sounds good for housing but the housing market is one heavily subsidized segment of our economy (i.e., government backed loans, mortgage deductions, property taxes, etc).
So it was interesting that resurrected and nationalized player Freddie Mac is introducing a very low down payment product:

This is adding a high level of risk for new buyers.  Since Americans are tapped out and the banking industry has juiced home values up thanks to investors, it is time to hand this game off to cash strapped Americans.  That is, unless you can offer riskier products.
3 percent down immediately puts you in a negative equity position if you need to sell.  The standard commission is 5 to 6 percent so right there you are underwater.  You are fully betting on home prices going up.  But given the dwindling pool of buyers constrained by incomes, Home Possible Advantage is going to target those least able to weather a minor economic setback:

Don't you think it would serve the community better if home prices weren't jacked sky high by investors and social welfare benefitting banks?  Rents are being pushed up not because incomes are going up but because of insane restrictions and massive speculation brought on by easy Fed money (the bank of all banks).  Rental Armageddon is a reality not because people are seeing great jumps in wages.  This product is a reflection of simply adding on more debt while trying to keep inflated prices alive.
You can add this product to the menu of already risky loans including FHA insured loans.  All these loans need is a minor recession to set off another chain of reaction.  Then you have ridiculous interest only products that are a massive subsidy to the wealthy, the exact opposite of the Home Possible Advantage product:
Assumptions:  $1,000,000 home purchase, $250,000 down payment, FICO 740 and higher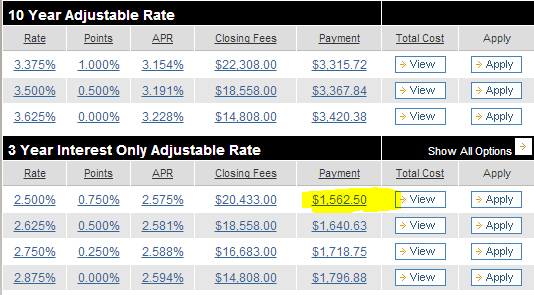 If you are a wealthy household, you have every incentive to pay a big portion in interest since you can write this off against your taxes.  Why should the government subsidize giant home mortgages?  Now, at the very end where momentum is dying, the government is going to extend riskier products to lower income Americans that can't even scratch up 5 or 10 percent as a down payment.  Yet somehow, they are in a position to buy a $500,000 or $700,000 crap shack?
Everything circles back and Home Possible Advantage is a funny name for putting a new batch of Americans at a very big disadvantage should a minor hiccup in the economy occur.  But we are in a permanent bull run right?  Housing values only go up until they don't.  But that is the mantra.

Did You Enjoy The Post? Subscribe to Dr. Housing Bubble's Blog to get updated housing commentary, analysis, and information.