I love the antiquated notion that most people buy their homes to live in forever. To setup roots. But the underlying reality is very different. Most people stay in their home for 7 to 10 years. In places like California, a first home purchase is considered a "starter" home until you property ladder your way up to your dream home. We recently noted that Los Angeles and Orange County are the most overpriced rental markets based on local wages and employment prospects. People live beyond their means to different degrees. So it is no surprise that recent home equity line of credit (HELOC) data shows that HELOCs surged 21 percent year-over-year. Not at all surprising, HELOCs for the Los Angeles and Orange County metro areas jumped 55 percent. We barely have one manic year of prices and all of sudden homeowners are ready to tap out their equity. Setting roots? More like leveraging your way into a life built on debt that crumbles once the next recession hits.
The HELOC is back
It comes as no surprise that HELOCs are surging on the back of the strong surge in home prices in 2013. People are quick to tap out equity to purchase goodies. In a #YoLo economy, debt is the passport to consumer delight. The only problem is that people are already leveraged to the hilt in a variety of different ways. You have people buying or leasing cars way beyond their means. Younger people are leveraged to the max with student loans and as a consequence, many are finding it necessary to move back home with mom and dad after school is done. And with one year of gains, many homeowners are simply itching to tap out some of that juicy home equity.
Take a look at this data: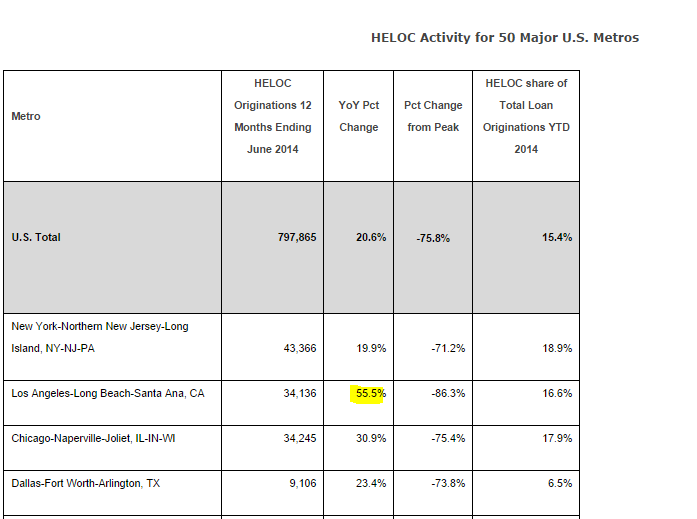 Source: RealtyTrac
HELOcs are up nearly 21 percent nationwide. Yet in the LA/OC metro areas they are up 55 percent. Keep in mind that when you tap out equity, you are essentially locking in more debt secured by your home. Say for example this is your situation. You purchase a home for $300,000 and the home is now worth $500,000. You tap out $50,000. That $50,000 does not come for free. Take a look at some current rates: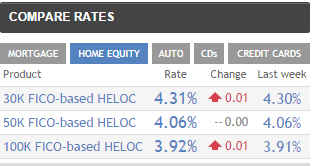 All you are getting is essentially a low rate loan. You are also tacking on more debt onto a home which longer term, means you are going to pay more for that home. You can see from the data that if you give people the chance to go into massive debt, they will jump right in.
Take a look at total debt here: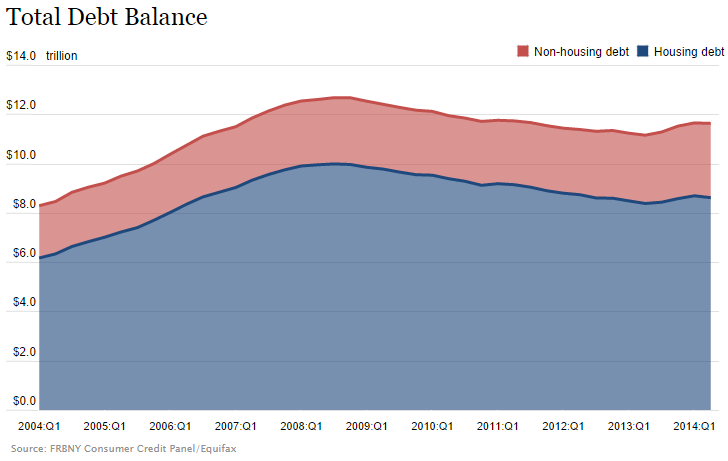 2004
Non-housing debt:          $2.12 trillion
Housing debt:                    $6.17 trillion
2014
Non-housing debt:          $3.02 trillion
Housing debt:                    $8.62 trillion
But then, when you look at where the growth in non-housing debt came from, it was largely with student debt and auto debt: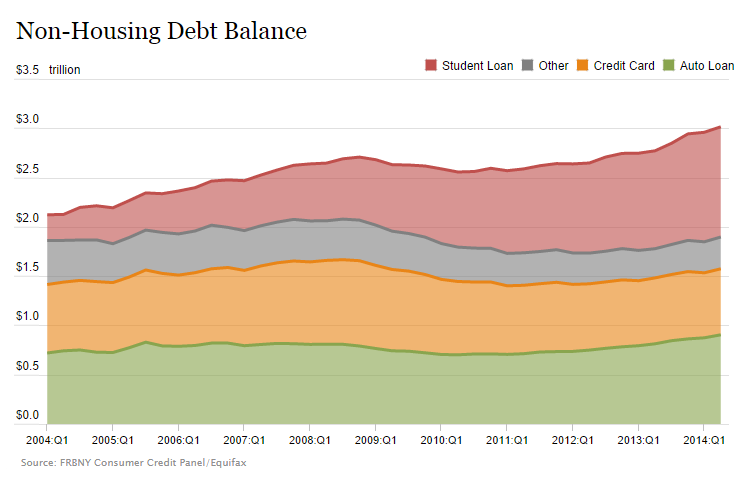 Student loan debt in the latest report is at $1.12 trillion (versus $260 billion back in 2014 2004). That is a massive jump in 10 years and of course is hindering the first time buyer market dramatically. That is why we have a big trend to more households becoming renters.
The HELOC jump is interesting because it shows how quickly people forget the past and how deeply ingrained our spending habits are in the US. We are addicted to debt. People are willing to leverage to the hilt for a crap shack but are less willing to invest over a long period of time. Part of this is simply human nature. Part of this is simply the mindset of current participants in the market. The fact that HELOC usage has jumped so quickly in the last year tells you that many believe the party is here to stay. As you are seeing with the return of volatility in the stock market, things can reverse quickly. Just take a look at the iShares Dow Jones US Home Construction ETF: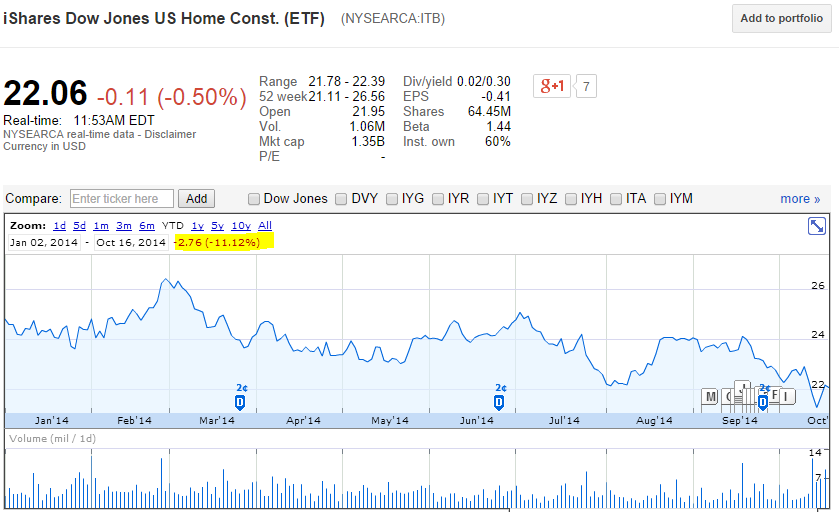 The index is down over 11 percent for the year (it was up 19 percent for 2013). Of course those tapping out HELOCs are basically betting that the momentum in housing is going to continue for a good amount of time.

Did You Enjoy The Post? Subscribe to Dr. Housing Bubble's Blog to get updated housing commentary, analysis, and information.