There is a wonderful smell of delusion in the air.  As the state marches on to economic Armageddon, there is now a large portion of bottom callers jumping into the market.  Many investors are now buying up homes in the Inland Empire and other depressed areas for 50, 60, and sometimes 70 percent off peak prices.  A mentor once told me, "at times, things are cheap for a reason."  At the low end, we may be seeing signs of a bottom.  But one thing people forget is that this does not necessitate that prices will bounce up.  Since we have emulated Japan in everything concerning fiscal and monetary policy, we may have a stagnant decade of real estate ahead of us.  So for those buying homes for $100,000 and collecting $800 in rent, you are a long way from cash flowing like a mogul.  Yet those making the argument that the mid to upper range won't fall simply do not back up their arguments with any good data.  I have for over a year explicitly shown how the Alt-A and Option ARM collapse will depress California housing for many more years and now this is being picked up by the mainstream media.
The  ultimate sign of housing distress is a foreclosure.  With recent data we now find that nearly 1.6 million homes have foreclosure filings for 2009 and this is with 5 months of data: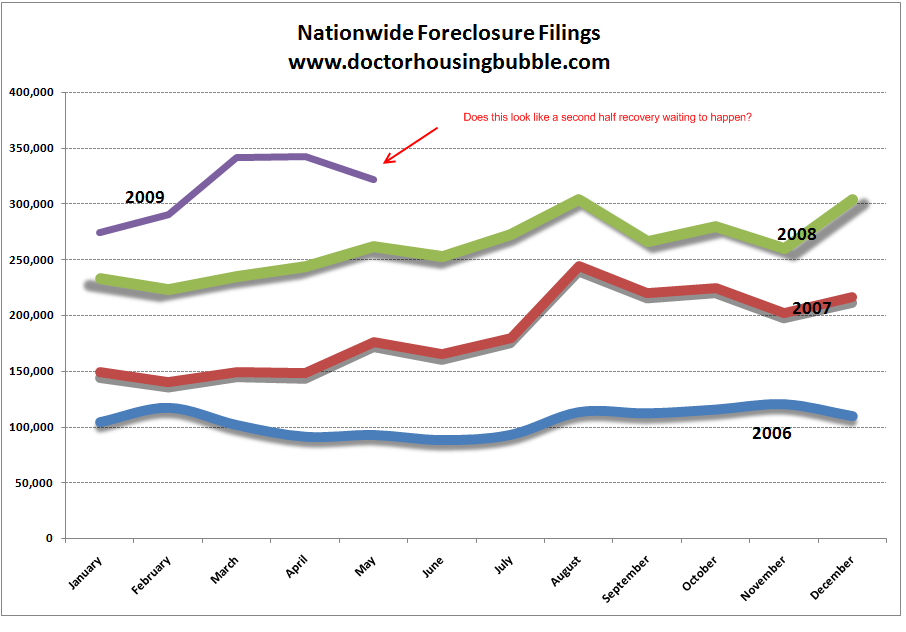 *Click for sharper image

Now it is relatively easy to predict where this trend is heading because notice of defaults are still at record levels.  California by itself made up 28 percent of all foreclosure filings in May and if we throw in Florida, Nevada, and Arizona we are approaching the 60 percent mark.  The awesome foursome has record numbers of notice of defaults assuring us more foreclosures for months to come.  Now why are notice of defaults so important to follow?  It is an important leading indicator.  When the market tanked in 2008 the notice of default market was telling us gear up in 2007.  A notice of default is the first step in the foreclosure process.  Many times these are filed when 3 missed payments are made.  Now here in California, you can see how quickly this will spiral out of control.  Say you miss your $2,000 monthly payment.  To get current, you will now need to pay $4,000 plus any late fees.  After three months it will be $6,000 and so on.
Now I've collected some data on notice of defaults for California and have put them on the chart below (I still need June data out in July) but we are on track for breaking or coming close to the Q1 2009 notice of default record: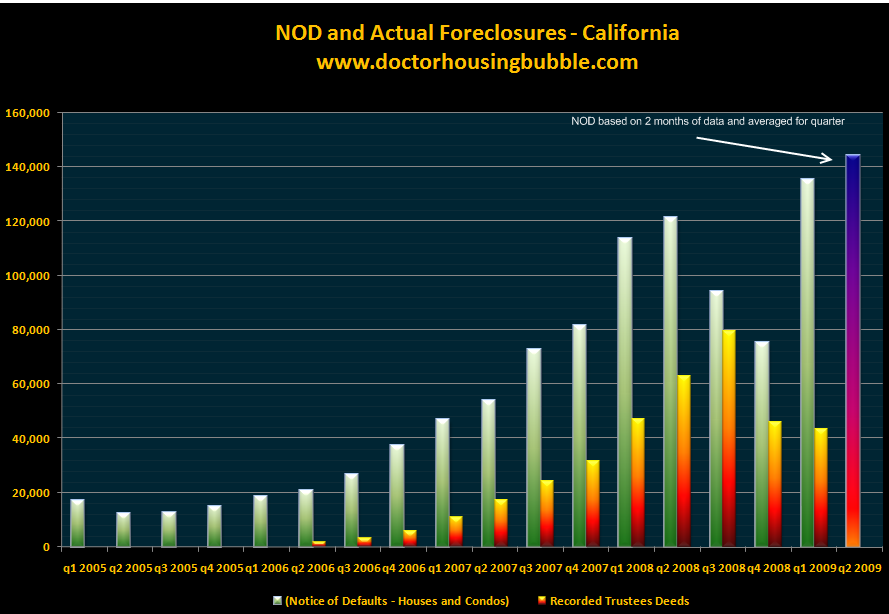 With two months of data for Q2 we are approaching a new record number of NODs for California if the rate holds.  Yet somehow this is the bottom to many even though the data is assuring us a flood of distressed inventory for the foreseeable future.  Alt-A and pay Option ARMs are absolutely the worst mortgage products ever devised.  They are creations of the housing bubble and serve no other purpose but to fuel the housing bubble.  I love this pamphlet put out by the Federal Reserve back in November of 2006: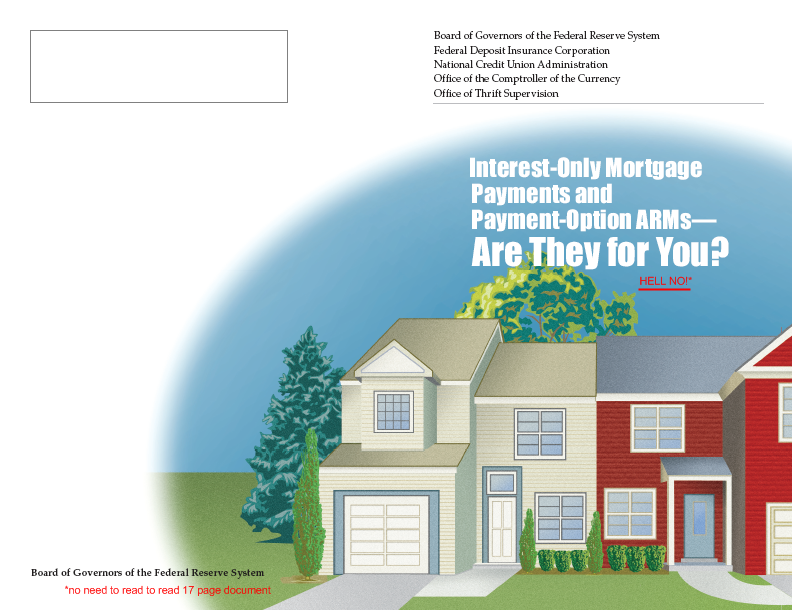 I took the liberty of answering the question for you in what the Fed took 17 pages to explain.  These monstrosities are toxic like nuclear waste.  Now a new argument that I am seeing is that since the actual recast time line pushes things well into 2012, that this unfolding will somehow be methodical and efficient.  Really?  These people have not been to the Inland Empire or to any current auctions.  It is anything but.  Some places are selling for whatever they can fetch.  First the argument was, "housing will go down but not in California."  Next it was, "housing will go down but not in mid to upper range areas."  Now the argument is, "housing will not go down in prime areas."  The bottom line which people fail over and over to examine is local area incomes do not support prices even today.  Period.  It wasn't incomes that supported these home valuations but Chucky Cheese mortgages that allowed fantasies to play out in a debt playground.
Many of you old time Dr. Housing Bubble readers might recall a person from San Diego that used to comment all the time that, "yes, you would be surprised how many people make $200,000 in California."  This was his rebuttal to each monthly price rise.  From reading his comments, you would think that people in Chula Vista or National City were cruising around in Land Rovers and eating caviar for breakfast.  Of course once the bubble popped many of these people disappeared with their argument.  Yet they are now crawling out of the wood work again.  Suddenly the bottom is in.  Yet when you run a local area income analysis and employment prospects, the bottom is still not here.  They are using the same flawed logic from the past.
Now it is tempting to jump back in because prices have fallen by 50 percent.  Yet California is hemorrhaging money with a $24 billion deficit and we are now approximately 50 days from "meltdown" as our representatives so eloquently tell us: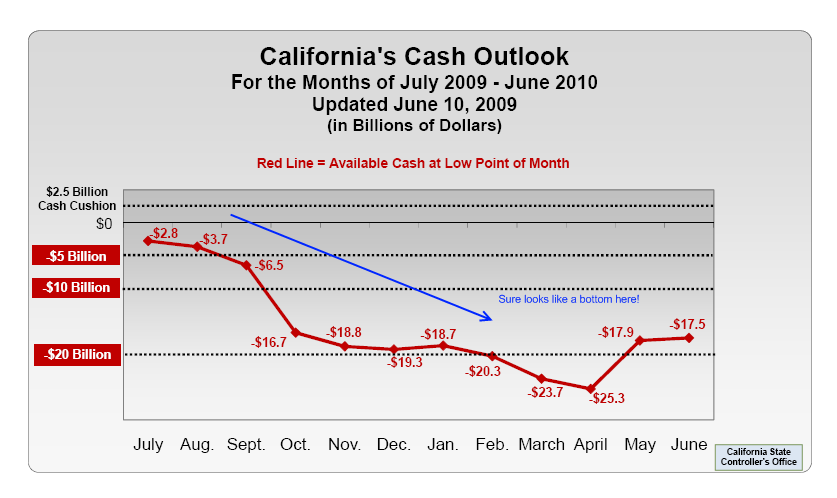 Does this look like a bottom?  From what I am seeing, it looks like we are heading toward a bottom.  The state is projecting massive bleeding into the next fiscal year.  Now cutting wages and jobs in my book doesn't make the employment picture much better.  And last time I checked, most people pay their mortgages from money earned at jobs.  The current unemployment rate in California stands at 11 percent, the highest in a generation.
I know facts are stubborn things and people want to believe this is a bottom especially if they bought or own a home.  Yet the data doesn't support this.  The Alt-A and Pay Option ARM problem still remains and much of this is centered on California.  The average balance on an Alt-A mortgage in California is $442,000.  Now how do you think someone in Texas, Kansas, Minnesota, Michigan, or practically any other state feels about bailing out a $442,000 mortgages?  By the way, the current median price for a home in California now stands at $223,000.
Now what is even more troubling is foreclosures keep mounting while trillions have been given in outright funds or commitments to Wall Street and some of the biggest banks in the country.  If you haven't noticed, the bailout was never for you but for them.  That's why main street has seen nothing in terms of real relief.  Unemployment is still surging.  Sure, they like to point at the stabilization but is it good when the GM worker who lost his $20 an hour job and is now making $10 an hour at Wal-Mart?  And even with that, unemployment is still spiking.  Are we all going to replace these higher paying jobs with working at Red Lobster?  We are living the misnomer of the utopian service economy that was sold to us for two decades.
Foreclosures are jumping not because of home prices falling but because home prices went too high!  Can you imagine during the tech bubble bursting someone explaining that the bubble burst not because of over valuation but because Pets.com was falling and we need to put a bottom on prices?  How about giving tax breaks for those buying AOL stock?  The same thing is occurring with housing.  In fact, the easiest way to fix this problem is to give every American $20,000 more as "wages" and you'll see prices of everything go up.  Not a smart idea but neither is giving trillions to Wall Street and banks who designed the eco-system of this bubble.  We are giving those "wages" to Wall Street and that is why they are now back up.  Have you taken a look at Goldman Sachs recently?: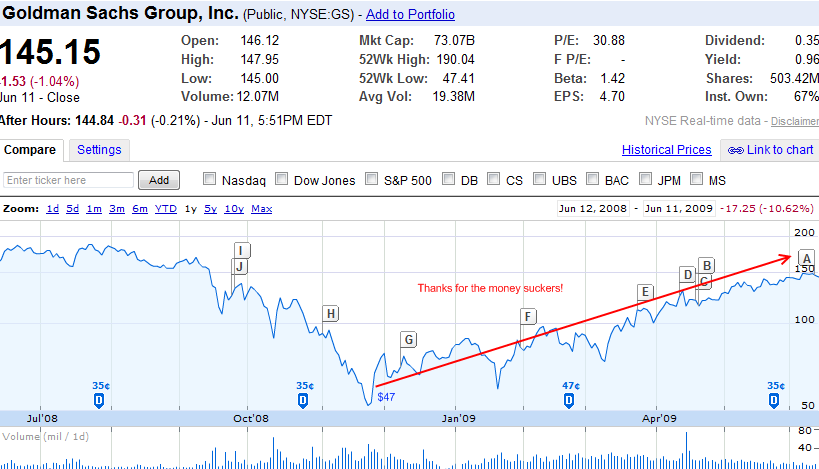 Goldman Sachs has tripled in value since the low reached only a few months ago.  Who wouldn't be going up in value with a direct line to the taxpayer's wallet?  Goldman Sachs was a big winner in the AIG bailout.  So if you are wondering where your "foreclosure fighting" dollars are going, look no further.  The U.S. Treasury and Fed are basically the henchmen of Wall Street and they have been going around taking money from the U.S. Taxpayer.  Now let me be clear, foreclosures are a way to find a truer bottom.  All these moratoriums and tax breaks are basically band-aid measures that kick down the housing industry with more money before the home ultimately forecloses.  If you really want to help the average American focus on creating good paying jobs and allowing homes to become affordable once again.
Now Q1 of 2009 saw a record amount of foreclosure filings for the nation: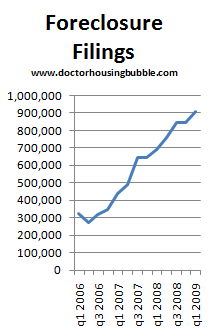 Now until this chart starts to stabilize, there is little reason to believe that housing has found any bottom.  Another thing being missed in this market is the mantra of "real estate never goes down" is forever lost on a generation.  That was a powerful allure that has forever been shattered.  How people can be calling a bottom while foreclosures reach historic levels is beyond me.
Did You Enjoy The Post? Subscribe to Dr. Housing Bubble's Blog to get updated housing commentary, analysis, and information.