One of the biggest ironies of current housing policy is that its initial target was in helping middle class Americans when the actual results have helped upper middle class and wealthier American homeowners get sweeter deals on their home purchases.  We have seen this in California for example.  We will highlight some new data released on the housing market but the fact of the matter is current low rates and government guarantees of massive mortgages have aided wealthier Americans to purchase more expensive homes.  So what you may say?  Well, these loans are heavily subsidized on both ends.  First, the interest rate is low courtesy of the Fed massively buying up MBS in the market.  Next, you have many of these homeowners maxing out on the interest tax deduction on the back-end.  Many homeowners that own the median priced home of say $150,000 in the US don't even get a big bang for their buck once you factor in the typical standard deductions.  Let us take a look at some of the data.
Government backing of housing market a boon for wealthier homeowners
Back in 2008 when the housing market was imploding and Americans were strapped for cash (they still are), the government snuck in a policy to insure loans all the way up to ridiculous levels: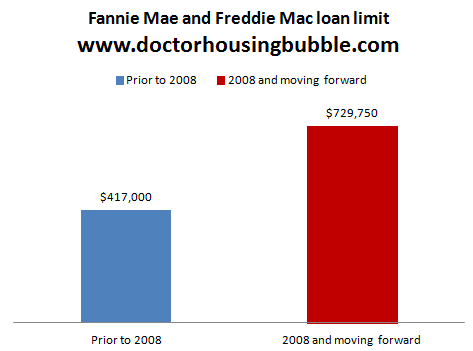 With home prices crashing and adjusting as needed, why the need to double up on the amount the government was willing to secure?  This never made sense.  After nearly five years of policy, take a look at some examples of where the benefit is going:
"(MSNBC) Julie Wyss earns $330,000 a year selling real estate in Silicon Valley. When the time came to look for a new home for herself, Wyss settled on a four-bedroom, three-bathroom house in Los Gatos, California, an enclave of young technology entrepreneurs. It has about 2,400 square feet of floor space, four sets of French doors and a price tag of $1.45 million. When she bought the house in June, her main financing was a $625,500 mortgage from Wells Fargo guaranteed by government-backed Fannie Mae.

The benefit to Wyss was an interest rate, of 4.125 percent, that was lower than she could have gotten on a loan that was not guaranteed by the government. "It's a totally sweet deal," Wyss said."
Why are we helping finance a $1.45 million purchase?  More disturbing is that the higher the loan and with higher incomes, there is more of an opportunity to itemize deductions and max out on those interest payments.  For example, let us run the interest payment on two examples:
Interest rate at 4.125 percent:
$150,000 mortgage (interest payment)                  $6,139 (year one)

$625,500 (interest payment)                                       $25,599 (year one)
The standard deduction for a couple is currently at $11,900.  This is where most of the public is duped into thinking the mortgage interest deduction is really for them.  In reality, it is a big subsidy for people like Julie above that buy million dollar homes and finance a portion of it with government subsidized products.  They can also deduct insurance and other items that are costlier on a higher priced place.  Glad we're helping out the middle class!  This is where the mission of loans like the FHA have gone complete astray.
Why compete when the government owns the market?
What is now occurring is the government pretty much dominates the entire mortgage market: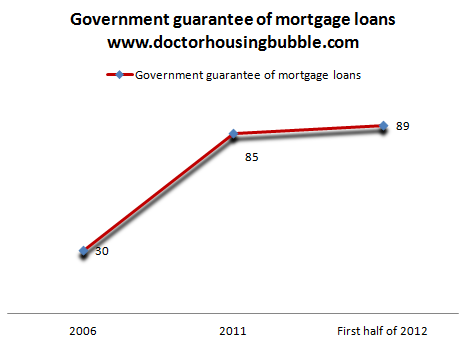 Even in 2012 with the market reviving, the banks are keeping their hands off the public and would rather funnel these government backed mortgages out like pancakes.  The refinancing fees have provided a nice steady stream of revenues.  Think this is an isolated case?
"In 2006, the two entities guaranteed only about one-third of new mortgages in the 20 highest-income mortgage markets in the country. By 2010, that share had risen to about three in four, the data showed. In the 20 lowest-income markets, the shares also rose to about three in four in 2010 from about one-third in 2006, the analysis showed. The figures were from large markets, those in which 2,000 or more new mortgages were taken out in any year in the period.

The figures do not include loans by the Federal Housing Administration, so the total share of government-backed mortgages was even higher than the data suggests."
Hah!  So back in 2006 when home prices were peaking, Fannie Mae and Freddie Mac guaranteed roughly one out of three loans in the 20 highest income markets.  By 2010?  It was up to 75 percent!  And as the caveat above shows throwing in FHA insured loans and the percent moves much higher.  I've been very vocal that there was absolutely no reason to insure loans at such a high level.  They could have capped any government backed loan to state median home prices for example.  Any tiny market where prices are over inflated would need to get a piggy-back loan from a bank at a higher rate.  Why should the taxpayer subsidize this nonsense?  This policy would cover your middle class American but wouldn't give massive kick-backs to people buying homes from say $700,000 and getting excellent tax breaks.  This policy has helped keep certain markets inflated and the data above simply backs this up.
"Nevertheless, many academics and some lawmakers have said the government should lower the limits on the size of guaranteed mortgages gradually, a strategy that may avoid disrupting the housing market while at the same time testing the readiness of private capital to supply more of the market on its own.

It's an idea that appeals to affordable-housing activists such as John Taylor of the National Community Reinvestment Coalition, who says Fannie and Freddie should only back mortgages for lower- and middle-income families. "Nobody I know buys a house for $600,000 or $700,000 who isn't affluent," Taylor said."
I wonder if people even fully realize how these tax deductions work?  I doubt it.  The markets have been hanging on the word of Ben Bernanke for months and not a 30 minute segment was dedicated on the tube to discuss Quantitative Easing III.  This is a big deal.  The Fed just stated that they will purchase up to $40 billion a month in MBS until they see fit!  And earlier in the week we heard that household income fell yet again and adjusting for inflation, is now back to levels last seen in the mid-1990s.  The solution?  Cheaper debt for everyone!  The policy of guaranteeing massive mortgages is nonsense and should be completed revamped.  No need to get rid of it.  Cap it off at the state median price or even better, at the nationwide median price.  Then let banks fill the gap and see how responsive they are to helping out the public.  They rather blow the bailouts on speculating in the stock market (up over 100 percent since March of 2009) instead of the housing market (even with price gains is still down 30 percent from the peak).

Did You Enjoy The Post? Subscribe to Dr. Housing Bubble's Blog to get updated housing commentary, analysis, and information.