Last week, foreclosure Hall of Fame member and government stepchild Fannie Mae announced a stunning $18.9 billion loss.  Remember last year when we were told that bailing out the enormous Government Sponsored Entities that we would be turning a profit?  Well that didn't exactly pan out and both Fannie Mae and Freddie Mac have been a vortex for taxpayer money.  With that said, Fannie Mae announced a "lease for deed" program that will essentially convert struggling homeowners to that feared word, renters.  In the same week after Attorney General Jerry Brown sent his letter to the top option ARM wheelers and dealers in California, Wells Fargo came out with its ingenious solution.  Wells Fargo has decided, at least as it stands, to convert their Pick-A-Pay option ARMs into glorious interest only loans for periods of six to ten years.
The fascinating thing about the Fannie Mae initiative and the Wells Fargo program is that homeowners are converted to renters.  Think about it.  In the case of Fannie Mae, you explicitly sign over the deed to the organization and sign onto a yearly lease like 50 percent of California renters.  Not uncommon but will people be able to cover the monthly rental rate?  They are planning on going with a market rental rate but as we all know, rents are going lower in a financial limbo.  Any short fall is going to be covered by the taxpayer (yet again).  Why not take back the home, sell it for market value and allow the current borrowers to find a rental that is more affordable?  With the Fannie Mae plan, I'm not sure how many people will take this up.
Wells Fargo – From Option ARM to Interest Only
The Wells Fargo plan is another beast altogether:
"(WSJ) Wells Fargo & Co.'s strategy for modifying troubled Pick-A-Pay mortgages looks like a game of kick-the-can-down-the-road.
The fourth-largest U.S. bank by assets holds about $107 billion in debt tied to option adjustable-rate mortgages, a relic of the U.S. housing boom that allowed borrowers to make small monthly payments in return for increasing their mortgage balance. Many such borrowers now own homes worth far less than they owe in mortgage debt, and most can't afford a full monthly payment that pays down the loan's principal.
To solve that conundrum, Wells Fargo is taking a gamble: The San Francisco company is issuing thousands of interest-only loans that will defer borrowers' balances for as long as six to 10 years."
Now let us run a scenario on why this won't work.  First we need to look at how the Pick-A-Pay mortgages acquired from World Savings are structured: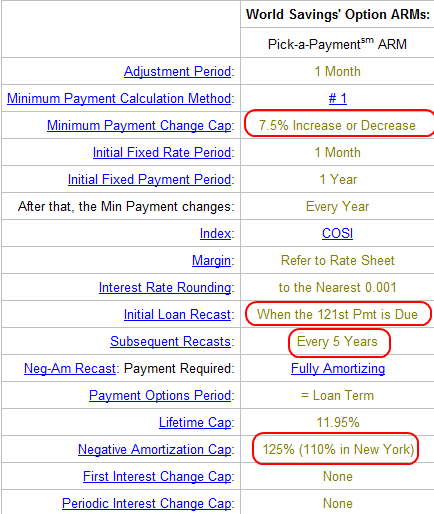 Source:  Mortgage-X
Wells Fargo didn't make these loans.  These were acquired when genius Wachovia decided to purchase toxic lender Golden West at the height of the financial speculation orgy.  That doomed Wachovia.  But here we are nearing 2010 and the option ARMs are still sitting there exploding because of the above worst case scenarios.  Wells Fargo is jumping ahead of this because many of these loans are hitting negative recast ceilings.  That is, 80 to 90 percent of option ARM borrowers went with the minimum payment option that didn't even cover interest.  Each month, additional principal was added to the overall balance.  That is why even when people talked about "well that is different for Wells Fargo, they have the Pick-a-Pay based on a 10 year model" it didn't really matter because of the recast ceiling.  Like I have said with option ARMs, no one really cares about the time because the negative recast window was going to hit much quicker than the actual 10 year mark.  In fact, 45 percent of the option ARMs are now 30+ days late.
Take a look at a $500,000 option ARM example:

Here is where it becomes obvious why these mortgages were going to fail.  Borrowers had four payment options:
-1.        30 year fixed payment (principal and interest)
-2.        15 year fixed payment (principal and interest)
-3.        Interest only payment (aka renting)
-4.        Minimum payment (negative amortization – 80 to 90 percent of borrowers went with this option)
So most of these loans are doomed.  But look at by how much the loan was growing each month with the minimum payment:
Interest only ($3,141) – Minimum Payment ($1,666) = $1,475 tacked on to the balance each month (at least)
That is why I wouldn't jump on the bandwagon that this is a success already.  That minimum payment was so low, that it may be less than the current market rental rate.  And as you can see, the difference between the minimum payment and interest only payment is enormous.  And look at it this way.  Say you bought a home with an option ARM for $500,000.  You were making that minimum $1,666 payment each month.  Since you paid the minimum your balance might be at $550,000 to $575,000 depending on the index being used to calculate your loan.  Yet your home is now worth only $250,000 or $300,000.  What is the interest only portion of a $500,000 mortgage?
$500,000 30 year interest only portion @ 5.5% =         $2,291
$500,000 30 year interest only portion @ 4% =            $1,666
Now that is a familiar number.  Keep in mind Wells Fargo would have to write-down that additional balance growth because they have been calculating that into their revenue thus far.  Even with this move on these option ARMs, major losses will be taken in.  The question is, will people want to be renters for six to ten years in these homes?  I doubt this will be a major success for three primary reasons:
-1.  Strategic defaulters – many bought these places as step-up homes in California.  They never intended on living here for 5, 10, or 15 years.  It was merely a way to get equity to buy that other McMansion.  Since 58% of option ARMs are here in California, this is largely a bubble state phenomenon.  For someone to sign onto this, they will basically become renters since they are not building equity and the only real winner is Wells Fargo because they can still claim that the home is worth $500,000 even though the reality is much different.
-2.  Rents are dropping – Keep in mind that many of the minimum payments were lower than rents.  So even with the interest only loan, many will opt not to stay in their place because they can find a cheaper rental.  We know that 80+ percent of these mortgages were stated income.  Many are defaulting because people didn't have the money to begin with.  Many won't be able to prove that they can even afford the interest only payment without a writedown to market value.  But at that point, Wells Fargo can just foreclose and sell the home and be done with it.
-3.  High Unemployment – California now has an unemployment rate of 12.2. percent and an underemployment rate of 22 percent.  Many people will lose their home no matter what is done because of the economy.  In fact, we are hearing stories of people moving back home with parents, doubling up, or other novel ways to make ends meet.  It is much too optimistic that Wells Fargo believes a large portion of their Pick-a-Pay borrowers will stay just because they are now on an interest only schedule.
Fannie Mae Solution – Become a Renter
Fannie Mae is losing money like a drunken gambler in Vegas.  The best analogy I can think of for the current bailout structure is this.  You have a gambler that is told, if you win you get to keep all the winnings but if you lose, the house will cover you completely.  So if this gambler hits a losing streak, wouldn't they just double down to recoup losses quicker to make up for the past?  After all, the house is assuring that they won't lose.  Welcome to modern day Wall Street.
Fannie Mae after reporting a quarterly loss of $18.9 billion has the chutzpah to ask the government for $15 billion in additional funds.  We already own Fannie Mae, so this is like having a schizophrenic talk with yourself and answering your own question.  There is madness in the current government structure.
The new "idea" for Fannie Mae is a Lease-for-Deed program.  In other words, after two years of trillion dollar bailouts and failed plan after failed plan, Fannie Mae has come up with a wonderful plan.  "Hey, since these homeowners can't afford to own these homes because our underwriting is less than Kosher, how about we do something that is completely unheard of in the modern era.  Let us do this thing called renting!"  This is basically the plan:
"WASHINGTON – Can't pay the mortgage? You still might be able to stay in your home. Government-controlled mortgage company Fannie Mae is going to give borrowers on the verge of foreclosure the option of renting their homes for a year.
The change announced Thursday could give a temporary break to thousands of homeowners, but critics question whether it will only add to the mushrooming losses at the company, which has received billions in taxpayer money.
The new "Deed for Lease" program will allow homeowners to transfer title to Fannie Mae and sign a one-year lease, with potential month-to-month extensions after that. It also helps save money because the lender does not need to complete the often lengthy and time-consuming foreclosure process."
What does the Fannie Mae and Wells Fargo plans have in common?  They are both methods to fluff the foreclosure numbers temporarily.  Think about this.  Each plan is temporary and both are betting on a quick housing recovery.  Let us use that $500,000 option ARM mortgage on a home valued at $250,000.  How long will it take to reach $500,000 assuming a 5% annual appreciation rate?
15 full years at 5 percent annual appreciation!  Keep in mind that since the recession started, the CPI is running at negative or close to zero.  So the borrower that elects to do this after 15 years, might be lucky enough to walk away from their home with no equity.  The only winner is really Wells Fargo.  There are plenty of rentals on the market right now for excellent prices.  It will be interesting to see what other lenders do here in California.
Yet the Fannie Mae plan converts homeowners to renters.  The deed is given over to Fannie Mae.  Will people want to do this?  Hard to say.  The data so far isn't encouraging:
"In the first nine months of the year, Fannie Mae took ownership of nearly 2,000 properties through a process known as a deed-in-lieu of foreclosure. That pales in comparison to the 90,000 foreclosed properties the company repossessed in the period."
Now these are actual foreclosures.  That is a "deed-in-lieu" is essentially handing over your rights to the property to the lender.  If stats like this go with the lease for deed program, it will be another failure.
Glad our bailout money is being used for creative and innovative ideas.  After all the talk and trillions funneled into the abyss, the answer now looks to boil down to renting.
Did You Enjoy The Post? Subscribe to Dr. Housing Bubble's Blog to get updated housing commentary, analysis, and information.