The question that most Americans have on their mind about this historical government intervention is whether this program is ultimately going to work.  In short, no.  In this article I'm going to highlight 10 major reasons why this global intervention is nothing more than stitches on breaking economic flesh from preventing the world from going into the infected abyss.  Just like I highlighted why the California housing market will not hit a bottom until May of 2011, I believe that this current intervention is simply window dressing on a dry and stale turkey.
Make no mistake, we were on the precipice of systematic failure in our financial system.  What has occurred only ensures that we don't go into Mad Max territory.  In addition, the global turmoil has once again cemented the fact that we are all bound by the hip and we are all going to face pain together.  A severe recession is baked into the global financial cake.
If you really want to see a financial system go off a cliff take a look at the Icelandic stock market which opened up again: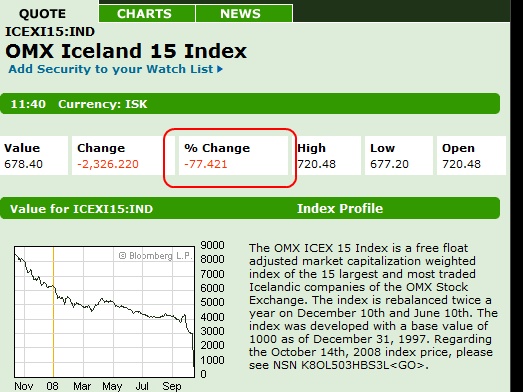 That is precisely what we were on the verge of seeing.  Of course Iceland is simply a microcosm of a country that became too dependent on the global 2.0 financial system.  A drop of 77% is no small order.  The DOW is still 34% below its October 2007 peak even after the greatest one day point gain in history.  Ironically as the media touted this saving grace moment little do they focus on that during the Great Depression, we saw the largest gains and drops on the DOW.  Volatility does not equal stability.
What we are seeing is a battle between the majority of Americans on Main Street and Wall Street.  Most Americans can now see through the nonsense that is the extreme free market fundamentalist perspective.  That is, no regulation and let the market do what it will.  This was similar to the free wheeling days of the early 1900s.  Now, we swing to the other side of the pendulum and become massive interventionist.  These free market fundamentalist have a hard time admitting their model of the world had some serious flaws.  Specifically, greed is a powerful motivator.  Those on Wall Street never had the best intention of those on Main Street and many decades later we are left with an economy that has sold off its manufacturing base and is basically operating on a model of selling cars and houses to one another so we can have a place to off load all the goodies from Wal-Mart.  These are the same people that say a government health care system would push us into a Marxist world yet conveniently will give nearly a trillion dollars to their crony capitalist socialist on Wall Street.  This is actually the worst form of socialism since the majority of people don't even get a piece of the action and yet they are paying for it.  Like going to a nudity bar blindfolded.
These are the 10 reasons why the global market intervention will have very little impact in your life assuming you make less than $250,000 a year.
Reason #1 – Stagnant Wages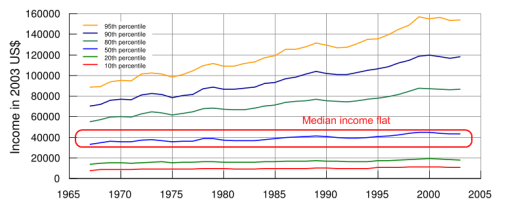 The current median income of an American household is $46,326.  As you can see from the above chart over the past 40 years the top 10 percent of households have seen steady gains (the chart is based on 2003 dollars) while the other 90 percent of our population has seen virtually stagnant growth.  That is why most American families may have more money on a nominal level but are actually poorer.  What this graph displays is a disappearing of the middle class.
Stagnant wages are also part of the global market landscape.  It is hard for American workers to compete with low wage nations yet our insatiable appetite for consumer goods has also led to this downfall.  Look at the stock price of Wal-Mart.  While the stock market is tanking they are up 14% on the year.
Although many like to beat on the global drum of keeping jobs here in the country, silently Americans are still voting with their pocketbook and buying foreign goods.  It is hard to blame the middle class since they are being pinched from every different angle.  The economic condition of many reflects this struggling sense of uncertainty.
You really want to break this down.  Let us look at this median income family versus the top 0.1% of income earners to see this "fear of taxes""
Annual Gross Pay:                  $46,326
Federal Withholding:              $3,923
Social Security:                       $2,872
Medicare:                                $671
California State:                      $599
CA SDI:                                  $370
Net Yearly Pay:                      $37,888
Annual Gross Pay:                  $1,600,000
Federal Withholding:              $526,537
Social Security:                       $6,324
Medicare:                                $23,200
California:                               $149,498
CA SDI:                                  $693
Net Pay:                                  $893,746
Now you may be thinking, "wow, they sure pay a lot in taxes."  A couple of things.  It takes a bunch of hard work to sink a company like WaMu or Wachovia into the ground.  Not everyone can drive a 100+ year old company into self-destruction.  This above is a quick calculator example.  This doesn't include putting money into IRAs, 401(k)s, college savings plans, rental properties, bankrupting companies, and other nice tricks that will lower their tax base.  In addition, Social Security tops out at slightly over $100,000 so anything beyond that is not paid.  If this person lives in a state with no income tax, remove that line as well.  Anyone in the top 0.1% knows these tricks and isn't paying as much as many would like to believe and certainly not what I quickly calculated.
Even if these tax evangelists drop the rate on the median income family by 10%, they will only save $392 while the top 0.1% family will save $52,653.  Their savings is more than the median household income!  Put those cups out because trickle down economics here we go.
So how does this bailout help in the wage column?  It doesn't.  The impact in this arena is zero.  How is bailing out institutions going to increase wages?  It won't.
IMPACT-METER:  Zero
Reason #2 – Employment
Before you can worry about your stagnant income, you first need a job (a more challenging task as we are now seeing).  The unemployment rate now stands at a 5 year high at 6.1% and is steadily increasing: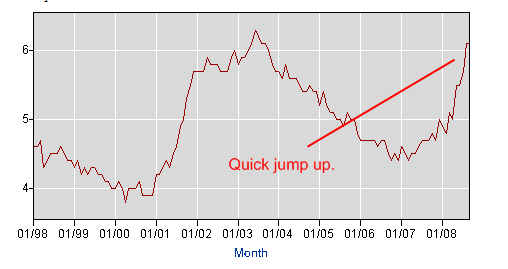 Since the start of the year we have lost 760,000 jobs.  That is not a good sign given that we need approximately 150,000 jobs a month added just to keep pace with our growth.  What is even more troubling is many of the jobs that are being lost were contingent on a booming housing market.  Not a healthy steady and sustainable housing market but a booming bubble market.  That is not coming back.  So many of the unemployed will need to be absorbed back into the economy.
How does the bailout help in this area?  It has a minimal impact in keeping some institutions alive thus providing employment for those workers.  Yet this is only a bandage on a bigger economic crisis.  It only avoids the inevitable at the cost of the majority of Americans.  How does this bailout help the employment situation?  That is, how does it spur job creation?  It doesn't even though it has the price tag that will run in the trillions.  Imagine that.  A trillion dollar bailout with no job creation aside from the team that will be implementing this plan ironically.
IMPACT-METER:  Minimal
Reason #3 – Inflation
Make no mistake, the government loves inflation.  This is the only way we are going to get out of our $10+ trillion national debt.  The worst mega nightmare that is the political economist boogeyman is deflation.  Why?  Well if you think about it, inflation makes the most sense from the government stand point.  If we have steady inflation, that $10 trillion starts to look smaller and smaller as time goes by.  If we hit deflation, then we have a fixed amount of debt that we are paying off with weaker amounts of funds.
So even though the government is publicly saying they are trying to control inflation they are silently screaming about the prospect of deflation.  Why do you think they did not hesitate to inject the world with trillions in funds which by its nature is inflationary?  They don't care.  All they care about is avoiding deflation which will crack the credit markets.
If you weren't paying attention because of all the background noise, the CPI actually went negative for the first time in August since October of 2006.  So if inflation was their true concern, the market has already corrected that.  Lower fuel costs, dropping commodities, and lower home prices.  Yet just look at their actions.  This is not what they want.
The bailout in this regard almost assures some inflationary reactions.  So there will be an impact here.  A few months ago Americans were screaming about high energy prices.  Well, energy has gotten a whole lot cheaper but it also means you won't have much access to credit.  That decision wasn't taken too well.
IMPACT-METER:  Noticeable
Reason #4 – Strong Dollar Policy?
U.S. policy makers say publicly they want a strong dollar.  Yet their actions show that they want the weakest dollar possible.  Why?  First, it will help exports but most important it will make our debt held by many foreigners just drift away.  In fact, during this economic turmoil the dollar was getting stronger: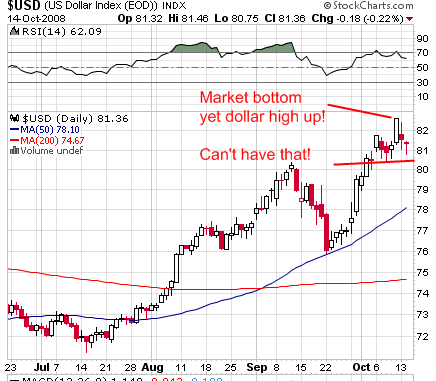 This chart is the most telling of all.  During the 8 day turmoil the dollar went steadily up.  Why?  Well as the decoupling myth was being shattered people still went to the U.S. Dollar.  It is still 60%+ of the world reserves and in times of panic, people still have faith in the greenback.
What do policy makers do?  They enact massive bailout funds and Federal Reserve action that is essentially assuring a cheaper dollar.  The world takes a deep sigh but people need to tell any policy maker that stands for a strong dollar to shut their trap because their actions show otherwise.  If they really believed this they can do two quick things:
(1)  Raise the Fed Funds rate
(2)  Stop all these infinite bailout promises
Again, policy makers would love nothing more than a weak and pathetic dollar.  Refer to reason #1 to put the other side of the equation.
IMPACT-METER:  Significant 
Reason #5 – Housing Prices
The dumbest ideas are usually found on CNBC and CSPAN.  The new catchphrase that I hear being thrown around is "the government must stabilize home prices" and I've heard this sufficient times from a few anchors.  This is frankly one of the most economically uninspired ideas that we can hear.  They are calling for a floor on housing prices.  Jim Cramer made this call as well after the Fannie Mae and Freddie Mac bailout.  The idea was idiotic then and is even more idiotic today.
Why is this a boneheaded idea?  First, home prices are determined by local market factors.  How much do households make in the area?  Are there good schools?  What is the employment outlook for an area?  Does the buyer have a good credit score?  These are all factors that will determine a home price.  Home prices historically reflected a 3 or 4 time ratio of the local area income.  If the median household income is $70,000 then a $280,000 home is priced within this range.
During the bubble, here in Los Angeles County where the median household income is roughly $50,000 the median home price hit $550,000.  A ratio of freaking 11 times annual income!  Even now that the median price if $380,000 it is still much too high since income hasn't moved and the employment situation is deteriorating here.
Take a look at the Case-Shiller Index for 20 of the largest metro areas: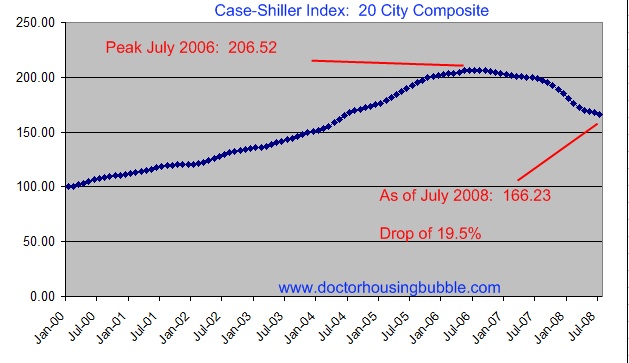 Even though we have seen prices drop from the peak by 19.5%, we need to realize that from the 2000 starting point, we have doubled the price of a home.  If we are to believe estimates that home prices are going to drop 30 to 40 percent nationwide, we are merely halfway through.  And if you look at housing on a micro level, this makes absolute sense since many of these areas still are too high.  So what CNBC and other representatives of Wall Street are saying is actually going to hurt Main Street.  Why?  It will keep prices artificially high and we are left with another stalled market when wages are stagnant.  Look at the Inland Empire here.  Prices are off 50 to 60 percent in one year and guess what?  Homes are moving!  These people really need an economics lesson.
This bailout will only help lenders to clean up some of their irresponsible lending practices.  Main Street impact?  Very little.  Maybe it will help a few more people get loans but if you look at income and employment, we are having a race in the opposite direction.  What is the use if a home is $100,000 but people have no job?  Take a look at areas in Michigan and you will understand why some homes are being sold for a few hundred dollars.
IMPACT-METER:  Minimal   
Reason #6 – FIRE Economy
FIRE stands for finance, insurance, and real estate.  What a shocker that the government has bailed out Bear Stearns (finance), AIG (insurance), and Fannie Mae and Freddie Mac (real estate).  Amazingly these are chump change in comparison to what is unfolding.  We are now on the hook for over a trillion dollars in these few industries.  Now why doesn't the government bailout P.F. Changs or Best Buy since they are hurting this year as well?
The thing is, the crony capitalistic model has become dependent on these four areas.  In their myopic world view, the pinnacle of an economy is a legion of over paid investment bankers sitting in their Manhattan offices while a fleet of people trade homes to one another comparing notes on what is the best kind of granite for your counter-top.  Since 2000 nearly 30% of our employment growth has been in the FIRE economy.  So the fact that they are trying to prop this up is a testament to what industries these plutocrats value.  You can create an entirely new industry with $1 trillion.  Instead, we are going to plunk it down in toxic assets.  Smart buy.  It definitely tells you who is running the show.
The bailout will only help the crony capitalist and give the impression to the public that all is well.  No, unless wages and employment are addressed the silent desperation will only continue while income divergence keeps showing up
IMPACT-METER:  Minor
Reason #7 – Healthcare
Our healthcare system is broke.  I don't need to tell you that.  But with the oncoming tsunami of baby boomers moving from protesting in the 60s to watching their 401(k) take a beating, our healthcare system is going to face major strains in the near future.  The entitlement programs are such a gigantic liability that to bring that up in our current environment will probably give us a "throw your hands up in the air moment" were the entire house of cards comes crashing down.
Healthcare costs have been skyrocketing in the past few years.  According to the National Health Coalition on Health Care:
"In 2007, employer health insurance premiums increased by 6.1 percent – two times the rate of inflation. The annual premium for an employer health plan covering a family of four averaged nearly $12,100. The annual premium for single coverage averaged over $4,400."
So even though an employee may have low premiums, the burden is then squarely on the employer.  Can you see why our competitive advantage is dwindling?  How can you compete when a country like China where this line item is zero?
At this cross road, we either decide healthcare is a right or a choice for the privileged.  The median income isn't going up and our society demographic is going to see a lot more aging people soon.  We need to make a decision quickly.
How does this bailout help?  Bwhahaha!  It does nothing in this area even though we'll be in the hole for over a trillion when all is said and done.  Another strike against Main Street.
IMPACT-METER:  Zero
Reason #8 – Education
So how are people being lost in the blistering FIRE economy going to retool for the jobs of tomorrow?  Most of the job growth is going to be in healthcare (no surprise) and in engineering especially if we go the alternative energy path.  But the cost of education is soaring: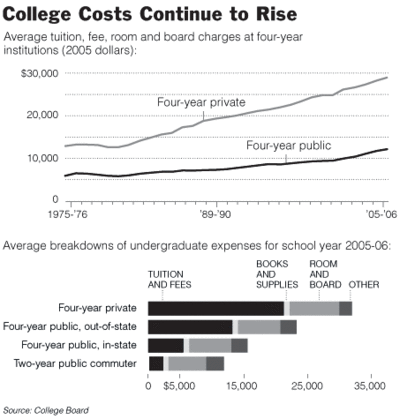 The average private school tuition for one year is now close to $40,000.  The chart above stops at 2006.  Even for public schools, the cost has gone up near $15,000.  As wages stagnant, this forces a trap for most.  You have no choice but to go in debt to get a college degree to be competitive.  Think this isn't real?
"(LA Times)  The trustees of the Cal State University system voted to raise annual undergraduate student fees 10%, or $276. A key committee of the University of California regents approved a 7.4%, or $490, raise per year for undergraduates that is expected to be endorsed by the full Board of Regents today."
This in a state that is seeing massive unemployment and heavily relied on FIRE economy.  So here is a double whammy.  First, unemployment is sky rocketing and many of these jobs were high paying (bubble) jobs.  Now what?  Folks need to go back to school with lost income while the cost of education just went up.  Things that are vital are going to get more expensive since demand is only going to increase.
The bailout has no impact here whatsoever again.  Even though many Americans say they value education they don't show it in the way they vote.  Sort of like saying "keep jobs here!" yet shopping like a maniac at Wal-Mart and buying an import.  Nothing wrong with either but it shows the cognitive dissonance now breaking out as anger in the public.
Reason #9 – Energy
Gallup had a fascinating poll showing that many Americans now do not care as much about energy costs.  In a poll done on July 10-13, 2008 29 percent of Americans said energy costs/oil and gas prices was the number one issue.  The second issue at the time?  Lack of money/low wages which came in at 14 percent.
Now it is a very different picture.  The survey conducted on October 3-5, still found energy number 1 at 12% but now lack of money/low wages came in at a close 2nd at 11 percent and a close third was high cost of living/inflation at 10%.  Take a look at this stunning poll which only highlights the 10 points we are making here: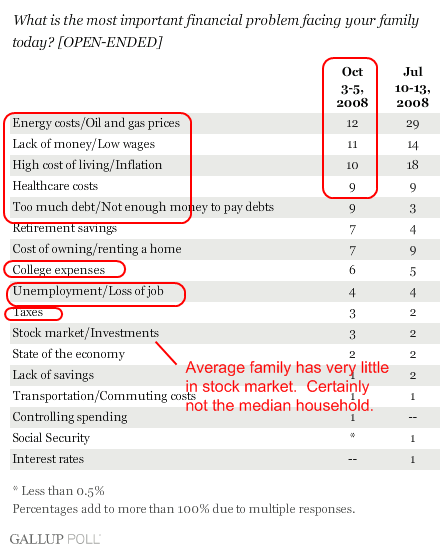 *Source:  Gallup.com
You'll also notice that very few are worried about the stock market.  Even though the media pundits are wetting themselves as they look at their investments most Americans are worried more about the most basic levels of life.  Energy, lack of money (low wages), inflation, healthcare, and too much debt.  Seems like the average American knows what really is hurting.
I think during spring and summer when we saw oil hit $147 a barrel, the politicians tried to spin the issue of energy as the source of all economic problems.  It wasn't.  Energy should be lower on the list.  After all, if people were making $100,000 across the country then $4 a gallon gas doesn't seem too bad.  But if you are unemployed what does it matter that gas now costs $2 a gallon?
We'll still see fuel much higher than it ever was but this is only reflecting the reality that the Main Street family is on the verge of bankruptcy.  Energy was simply a misnomer of the true issue.  Wall Street has bamboozled the public and has left us with a huge debt.  They have the government by the throat and here we are paying them even more!  Look at the issues on this poll!  The bailout will have little if any impact on the most important issues.  In fact, the tanking market took care of high energy costs and inflation which are high up on the list.
IMPACT-METER:  None
Reason #10 – Economic Psychology
If you want to see a breakdown of responsibility it would be something like:

55%  Wall Street/Lenders/FIRE Economy
35%  Crony Politicians
10%  The Public
I mean if Wall Street didn't have this insatiable appetite, people would never have had the money to inflate the bubble.  Without massive deregulation, the environment would not be in place.  And frankly, speculators and borrowers also share in the responsibility.  But I don't agree like some blowhard radio personalities that this bubble was caused by poor people in sub-prime loans.  Please.  Yes, let us once again blame the poorest in society for swindling Wall Street out of trillions.  The credit default swap market is somewhere around $50+ trillion.  Currently there are about $500 billion in sub-prime loans out there.  This is beyond that.  This is a massive Ponzi scheme perpetrated by greedy and crony capitalistic on Wall Street and their tools in D.C.  That era is now coming to a spectacular end.
I'm not sure how the public is going to respond to a forced austerity.  We really have no choice here.  We have too much debt.  With our entitlement programs starring at us directly in the face, we will have another major issue to confront once we work this bailout deal.  Frankly, the central banks are praying this works.  The Euro-zone injected over $2 trillion into their system and Paulson is now backing off that idiotic initial toxic waste dump idea and moving faster to capital injections into the "best" banks.  How will this work out?  Who really knows.  In Japan they injected some $400+ billion when their real estate bubble burst and they had a lost decade.  Are we to think this time it will be different?
Quietly, I'm thinking many of these central bankers are hoping for a lost decade instead of a global collapse and Mad Max universe.  I also think they are trying to help out key parties while their actions clearly ignore the Main Street person.  The psychology is already changing.  During the debates, I was watching CNN with their little audience meter on the bottom and the quickest way from the middle to the top was bashing Wall Street.  Some issues took time to work up or down but whenever someone said "corporate greed" or "Wall Street speculators" the bar shot up.  This is class warfare folks.  We are seeing a generational system collapsing and many cannot confront the idea that their ideology was so utterly wrong.  Many will have to wrestle with their own internal cognitive dissonance.  Some will channel this toward unjustified anger and some will adjust to the new way credit will be in the world.  At this moment, we need to do all we can via pressure/voting/action that this money is at least channeled to efforts that will help our employment base, help fix the healthcare system, and do things that protect the majority of Americans.
As you can see from the above 10 reasons, these economic measures do very little aside from stabilizing the financial market and giving us a false sense of security.  There are many better ways to spend a trillion dollars and Main Street has a few ideas yet Wall Street and the politicians have others.
Did You Enjoy The Post? Subscribe to Dr. Housing Bubble's Blog to get updated housing commentary, analysis, and information.