People always mention a few items when it comes to real estate values.  For California they highlight location, mileage to freeways, weather, and access to employment hubs.  Well if you want a good deal and according to some, every single part of L.A. County is going to gentrify so you should simply purchase in the most affordable zip codes.  The argument is that if you get in early on a gentrifying neighborhood, you can make out like a bandit.  This logic is usually coming from the Taco Tuesday crowd and those aspiring to purchase a hardwood floor stucco sarcophagus.  So today we'll look at four properties in Paramount and Compton.  They meet all the criteria thrown out by the gentrifying crowd.  People mistake luck with investing acumen.  The 1,000,000+ that lost their California home to foreclosure isn't speaking too loudly (just like those who bought Enron stock).  But when it comes down to buying, they usually want others to take the first step especially in areas that might transition.  Let us take a look at some of the deals to be had.
L.A. County real estate deals
We hear about rental parity and in these markets, you can hit rental parity with little down.  Of course this logic dissolves completely because in more crap shack hoods, you will need 20% down (something like $100,000 or $140,000) to even come remotely close to meeting market rents.  This is conveniently left out or any deeper analysis into opportunity cost or market cycles.  Some people fail to see beyond the obsession of real estate and even within the last decade, we have the tech bubble and real estate bubble.  Yet somehow, things have settled down.  Well if they believe this, here are four deals that meet every criteria on their list.  Somehow I doubt they'll put their money into play.
Here is the first home: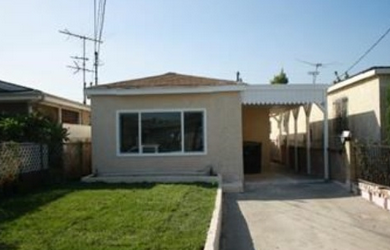 8334 Elburg St, Paramount, CA 90723
3 beds, 2 baths 990 square feet
I'm not sure how you cramp in 3 bedrooms and 2 baths into 990 square feet but just look at the picture above.  The price history is interesting: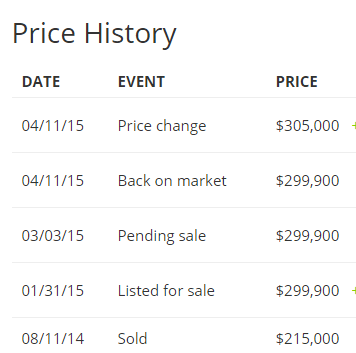 Someone almost bit in March but they went back to market at a higher price.  It last sold for $215,000 in 2011.  They are now trying to get $305,000.  The AGI for a family in this zip code is $32,000.  This highlights the vast chasm of market unaffordability in Los Angeles.  Let us move to our next deal.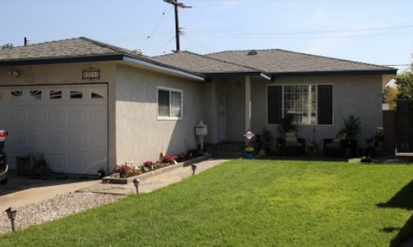 15515 Delcombre Ave, Paramount, CA 90723
3 beds, 2 baths 1,207 square feet
This home is bigger and is nicer.  The current list price is $389,000.  The price history on this home is a reflection of the insanity of our real estate cycles: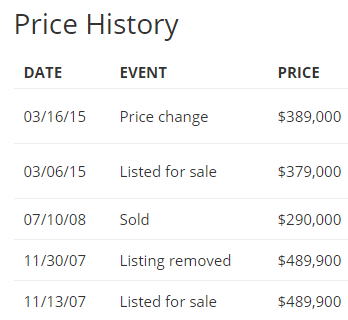 Someone wanted $489,900 in 2007.  They got $290,000 in 2008.  Bwahahaha!  Now they are going for $389,000.
The next two homes take us to Compton.  These are $100k homes in L.A. County.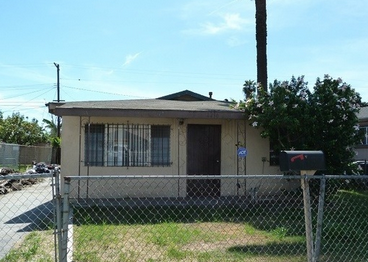 2230 E Piru St, Compton, CA 90222
3 beds, 1 bath 912 square feet
This home is perfect for the aspiring hipster.  This home would go for $700,000 in Culver City and you'll probably get better tacos in the Compton area.  The list price is $169,000.  With 20 percent down your principal and interest will be $609!  So come on you rent neutral champions.  Put your money into play.  You are actually under market rents.  But as we all know, there are other factors that play into buying (even though this area meets the location, sun, and proximity arguments).
Let us look at our next home.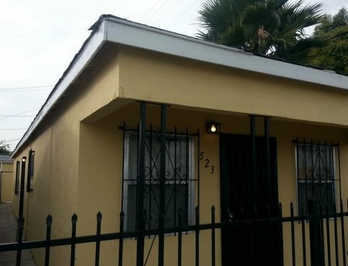 523 N Wilmington Ave, Compton, CA 90220
2 beds, 1 bath, 750 square feet
Bars are always a nice touch.  But hey!  The gentrification process is only minutes away.  This home has had a lot of pricing activity.  Take a look: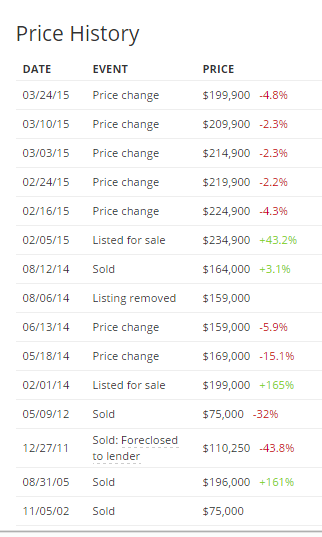 It sold in 2002 for $75,000.  And then 10 years later in 2012 for $75,000.  Now that is grand appreciation!  It sold for $164,000 in 2014 and is now listed at $199,900 (they were trying to get $234,900 in February!).  Bwahaha!
So there you go and don't say Dr. Housing Bubble didn't provide you solid deals.  Let us know how your purchase on these places go and how the gentrifying goes.  Keep in mind that in practically every other state around the country you can get a lot for $300k and $200k.  Plus incomes in these zip codes are eve below the median US household income figures.  Just saying.  But only California has the sun, access to beaches, freeways, and a very interesting Taco Tuesday crowd.  Your poop also smells better once you buy a crap shack, it is known.

Did You Enjoy The Post? Subscribe to Dr. Housing Bubble's Blog to get updated housing commentary, analysis, and information.