Being inside a bubble creates an interesting atmosphere.  To a certain degree logical voices from outside of the bubble need to speak up to recognize what is rather obvious yet lost for many within the bubble.  There is no bigger housing bubble than the one currently happening in Canadian real estate.  Not only is the bubble raging it has far surpassed what the US housing bubble reached at its pinnacle.  Those in the housing bubble of course are intoxicated by the elixir of easy money.  After all, simply sitting in your condo and having it go up $50,000 or $100,000 in a year for not lifting a finger sounds like a good investment.  This happened all across the US from condo happy Miami, Boston, and Chicago to housing crazy California and Nevada.  Yet the echoes are the same when one points this out.  It is truly different here.  The only true thing is that human psychology driven by unfettered greed creates bubbles over and over like the sun rising.  Taking a look at the Canadian housing market, you realize that not only is a nationwide bubble in full force but some cities like Vancouver and Toronto are extraordinarily overpriced.
Comparing the Canadian and US Housing Markets
While the US housing market peaked in 2006 (six years ago and prices are now hitting lost decade territory) Canadian home values are now at their apex: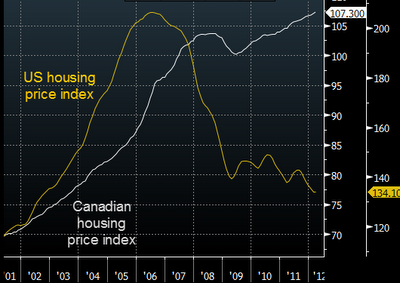 Source:  SoberLook, Bloomberg
The source of this bubble is hot money from foreign markets and local buyers being caught up in the frenzy.  Yet as we are now witnessing in this globally connected system, a bubble bursting in one market (i.e., Spain) will have ramifications all across the world.  So paying attention to the Canadian housing bubble is obviously important for those in Canada but very important for people here in the US.
The above chart highlights a big bubble that simply rolled right through the US housing correction.  Yet keep in mind that Canada has a large flow of money coming in from foreign markets.  Places like Australia and ironically, China have restrictions on foreign funds even though most investors into the Canadian housing market are coming from Asia.  Some interesting dynamics for Canada:
"(Financial Post) Conventional wisdom is that this is the market at work. This is not the market at work. This is manipulation of a government system of open-ended mortgage insurance that is poorly supervised. What is going on here is a deluge of hot money from abroad that is creating an artificial and potentially dangerous real estate bubble. This mania happened in several other countries — where it was shut down — and has spread to Canada. Officials here have been urging restraint but that is not the solution. A ban on foreign buying of residences is the only solution."
Just take a look at home prices in Vancouver and Toronto: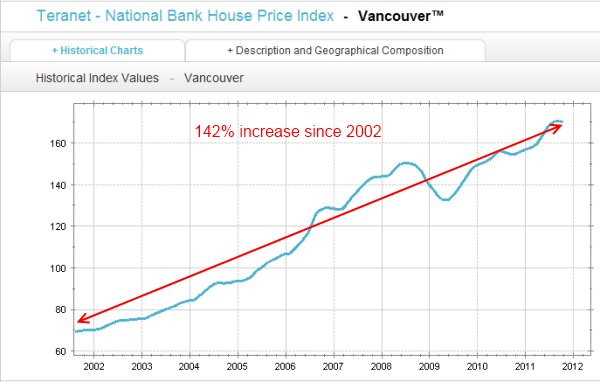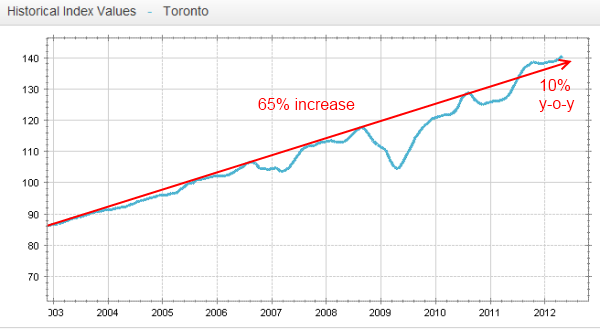 You might be thinking that household incomes can certainly afford those prices:

The above is median household income for more prosperous Vancouver.  The bottom line is that this is a bubble and has many aspects of a mania:
"This is what is happening. For example, a modest bungalow in Toronto sold last month for $1,180,800, $400,000 more than the asking price of $759,000. Canadian bidders were furious and deserved to be. The winning bid was made by a university student whose parents have a business in the United States but who live in China. I don't know if there was a mortgage involved, but student housing — even for foreign students — is now liberally insured by CMHC, in other words, by the Canadian taxpayer."
A bungalow selling for $400,000 above asking price?  That is simply insanity and of course, it is harming local buyers.  The anger is obviously there as some in Canada are pushing for Australian like remedies where foreign money is heavily restricted.  Yet there are many winners right now so why stop the Canadian housing bubble party?
The coming hit to the economy
As occurred in the US, at the height of the bubble a big jump in construction jobs occurred.  Canada was tracking with the US but now has entered into a new realm: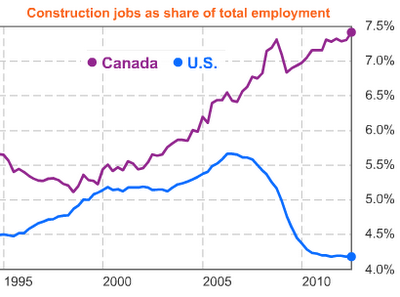 The above is not occurring because of massive population growth.  This is happening because of big real estate speculation and largely in condos:
"Nearly three times' more condo high-rises are being built in Toronto than are being built in New York City and nearly seven times' more than in Chicago, according to Bloomberg News.

This development boom, and accompanying price increases, is not about housing to meet a sudden surge in population. It is not about an economic boom. If it was, Calgary and Edmonton would have 128 cranes, like Toronto does, building housing and pushing up all prices. Instead, this is taking place in Toronto and Vancouver where economies are moribund."
Many different dynamics yet a bubble is definitely there.  You even have people flipping rights to properties skipping out on paying taxes to the Canadian government:
"(Financial Post) 3. Some developers, and intermediaries, are in the business of helping speculators flip their rights and pocket a fee for doing so. For instance, Mr. X from Asia pays $15,000 for the right to buy a $300,000 condo, then, when the price of similar units rise to $400,000, he can assign the right, get his deposit back and make the $100,000 difference. There is a frenzy of this speculation going on which makes prices escalate so rights can be bought and resold over and over again before a building is completed."
This reminds me of all the buyers purchasing places without even viewing the property here in Southern California.  Yet this is even worse because at least here, each transaction generated state and federal revenues.  In Canada with the large foreign buyer market, some are actually gimmicking the system:
"Under CRA rules, foreigners making Canadian-sourced income are fully taxable by the federal and provincial governments. In Ontario or BC, the total tax bill would be 46% or $46,000 in tax for $100,000 profit.

The unpaid taxes could be staggering, said a real estate agent. In Toronto, 20,000 condo units have been sold each year for the past five years. Let's assume one-quarter were sold to foreign speculators who flipped the assignment and made $100,000 profit without paying taxes. Their Canadian-sourced income would total $500 million a year, and they would owe 46% of that in taxes or $230 million.

Most condo developers may not be involved in this game, but a few – notably developers with Asian and Middle East owners or backers and buildings located in downtown areas – certainly are."
Ironically in Canada foreign buyers are in a much better position given the high tax structures in place for locals.  Some will argue that this is carefully managed but of course it is not.  This is like the Alt-A and option ARM pushers that claimed they were verifying all other data carefully and most taking on these loans were doctors and actors not looking to document high income.  Since other countries around the world have stifled this kind of nonsense, more and more money is flowing into a market that is very favorable to the foreign investor.  Yet Canadians looking to buy will have to contend with these mania forces and many are doing the exact thing that Americans did.  Many Canadians are simply loading up on debt since incomes do not support current prices without leverage: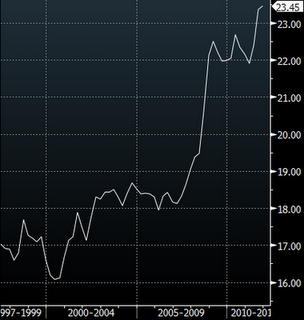 The above chart looks even more problematic than what occurred in the US.  Not only is the Canadian economy heavily dependent on construction now but households are more and more in debt.  Even US debt rescue shows bring out Canadian families as their examples (although the shows do their best not to explain that we are looking at a modern day Canadian household).  It is only a matter of time that the bubble will pop.   Bubbles last longer than most will expect (in the US home prices went on a tear for well over a decade even though household incomes were not keeping up before it popped).  As the global economy slows including China, hot money will likely slow down.  Legislation comes late so if they implement similar rules like Australia or China for foreign money, it will likely push prices lower since much of the price movement is coming from hot money.  People forget that California was one big beneficiary of the Japanese stock and real estate bubbles and when the market contracted, California took a hit in the early 1990s.  But of course, this time it is different.

Did You Enjoy The Post? Subscribe to Dr. Housing Bubble's Blog to get updated housing commentary, analysis, and information.