Los Angeles County by far is the most populous county in the entire country sporting over 10 million people.  People tend to forget that L.A. County is also a renting majority county.  This is a big deal for the biggest county in the nation.  For comparison, the second biggest county in the country is Cook County in Illinois with 5.2 million people.  I was reading a few articles this weekend focusing on migration patterns across this country.  L.A. County drew in the highest number of international migrants between 2012 and 2013.  As we know, a good number of people from abroad are purchasing real estate across the Southland in prime locations.  L.A. County added 39,000 international migrants from abroad between 2012 and 2013.  A small number for the region yet this has an impact on pricing since purchases are largely targeted in very select markets with air tight inventory.  Another trend that is occurring is the boom in Texas.  Texas is seeing tremendous growth from domestic and international migration.  Some of the healthiest housing markets in 2014 show up in Texas.
Real estate and migration patterns
I had a Texas real estate agent e-mail me about Californians leaving the state to purchase property in Texas.  The anecdotes were telling and revolved around working class families desiring home ownership on lower incomes.  We already know that California has priced out a large number of families.  This is no secret.  While some Californians are stuck in their golden sarcophagus of a home, many others looking for the chance of home ownership are actually heading to areas where real estate values are more affordable.
I have mentioned this a few times before but many of the readers on this blog are educated, professionals, and have higher household incomes than the typical family in the region.  Most are aiming for the "prime" zip codes in the area.  In fact, we are probably looking at cities where 500,000 to 700,000 people are living.  But what about the other 9.5 to 9.75 million people?  The reality is, most in L.A. County actually rent.
Let us look at some of the hottest real estate markets around the country: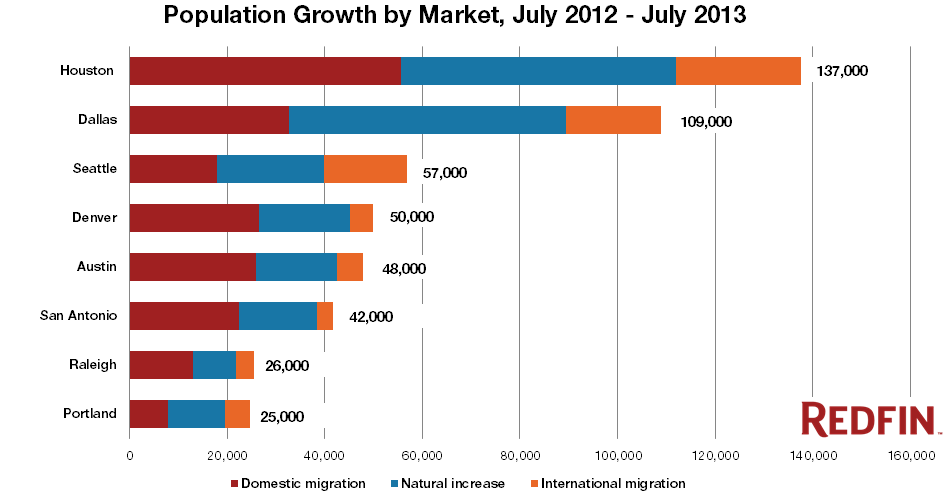 We have four Texas cities appearing above.  These markets are hot for a few reasons:
-Affordable real estate
-Growing employment markets
-Balanced migration patterns
This is what you would expect of a steady growing housing market.  Affordable housing that caters to all income levels in the region.  California is seeing higher prices on record low inventory and turnover in the market.  Investors are already growing weary of the market and are pulling back.  Because of this we are seeing inventory creeping back into the market: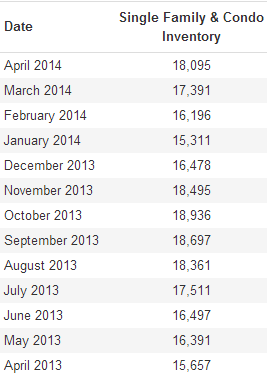 Housing inventory is up 16 percent year-over-year for Los Angeles.  As it turns out one of the biggest reasons pushing people out of California is higher home prices: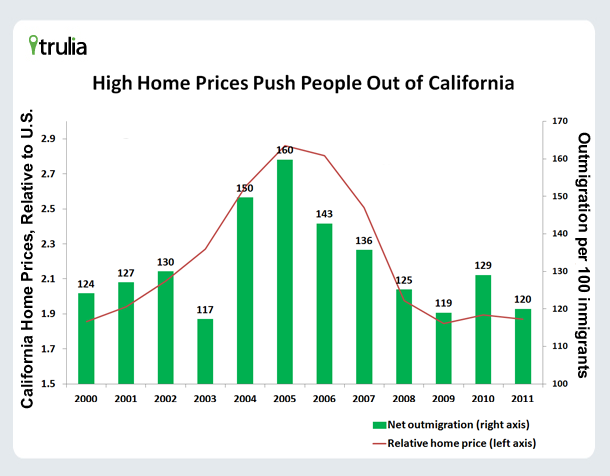 Source:  Trulia
Because of international migration and births the population grows slowly but not what you would expect from a booming state with plentiful jobs.  California is aggressively pricing out the middle class and people are voting with their wallets.
I know some people tend to think that incomes don't matter but they do.  The Redfin data is fascinating because it is showing that some major cities in our nation are growing at a very healthy pace.  This is balanced growth versus low inventory shenanigans combined with lusting investors.  These other markets are growing because of economic growth and households actually buying properties in the markets where they work.  This option is becoming less of a possibility for Californians where only 1 out of 3 families can afford to buy.
Growing inventory, investors pulling back, and prices stalling out signifies things are slowly turning.  A correction is very likely since California is a boom and bust real estate market.  Contrary to what some believe, the U.S. does have other housing markets that don't hug Pacific Coast Highway and to the point, the vast majority of this nation actually lives there.

Did You Enjoy The Post? Subscribe to Dr. Housing Bubble's Blog to get updated housing commentary, analysis, and information.