The financial system is gearing up for providing maximum leverage to those willing to take the dive and purchase a crap shack.  Low down payment loans are now making their way back into the system and the machinery of credit is flowing nicely.  I'm sure many of you are in the same boat and if you happen to have decent credit (meaning no bankruptcy or foreclosure since the bar is low), then your mailbox is being flooded with credit card offers and advertisements to buy a new car or to take on another credit card.  The last time volume was this high was back in 2005 and 2006.  Now I'm seeing ads coming in regarding low down payment products and also interest only loans.  Yet when we look at the actual details, the trend has been dramatic in leaning in favor of renting.  But not because this is some trending sensation.  No.  Household incomes simply do not justify current prices.  However, inject risky loans again and the game can go on further.  We are seeing weakness in the market in the form of low sales volume.  Virtually all major counties in California have seen a dramatic drop in homeownership in favor of renting.  We'll look at the county level data but also take a stroll down to Huntington Park for some real estate deals.
Renting in various California counties
The homeownership rate across various California counties has taken a major hit since 2006.  This rate differential has not recovered almost 10 years later.  The stock market is near a peak.  The unemployment rate looks good on the surface.  So why is the homeownership rate not recovering?  Because incomes have not kept up with price changes.  Investors have been a dominant force since 2008.  Low interest rates hide the underlying disconnect because they allow for people to borrow more while still paying an inflate price to the secured asset.  Take a look at the trend for various California counties: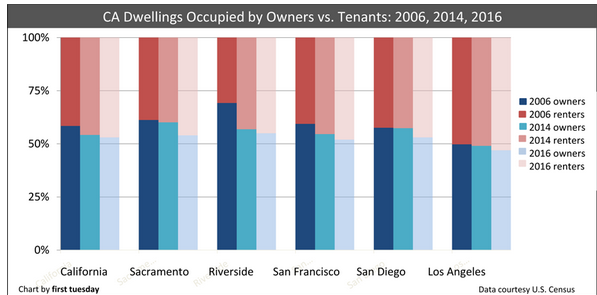 San Francisco and Riverside took massive hits to their homeownership rates.  Los Angeles and San Diego not so much because these counties were already rent heavy areas.  Los Angeles is a renting majority county (and the most populated county in the state).  The LA/OC market is the most unaffordable housing market in the entire country because of household incomes and current prices.  We have many readers from California but also from other states.  In the vast majority of the country $200,000 or $250,000 buys you a very nice home.  But this is California baby!  Where that price gets you crappy schools and high crime areas and then you get the pleasure of living in a crap shack.
Today we take a trip down to Huntington Park: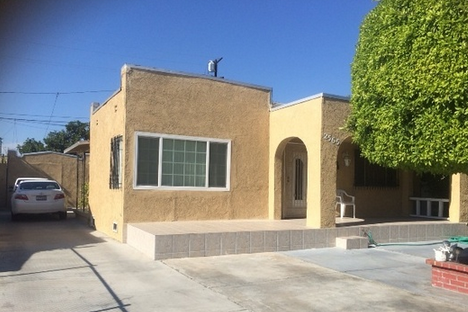 2565 Broadway, Huntington Park, CA 90255
2 beds, 1.25 baths, 1,241 square feet
This place was built in 1922.  Yes, nearly 100 years ago.  It is also close to a very high traffic boulevard, Pacific with a strip mall right on the corner.  Here is the ad:
"Sharp Remodeled Home used as 3 bedrooms (actually 2 bedroom & den) with 1.25 baths plus large individual inside laundry room. more info. & pics to come. Home located in "Walnut Park" 90255 Area. Updated kitchen with new cabinets & granite counter tops, New ceramic & Laminate tile flooring throughout interior, Remodeled bathrooms, New Fixtures, Mirror closet doors & much more"
And here is the corner view: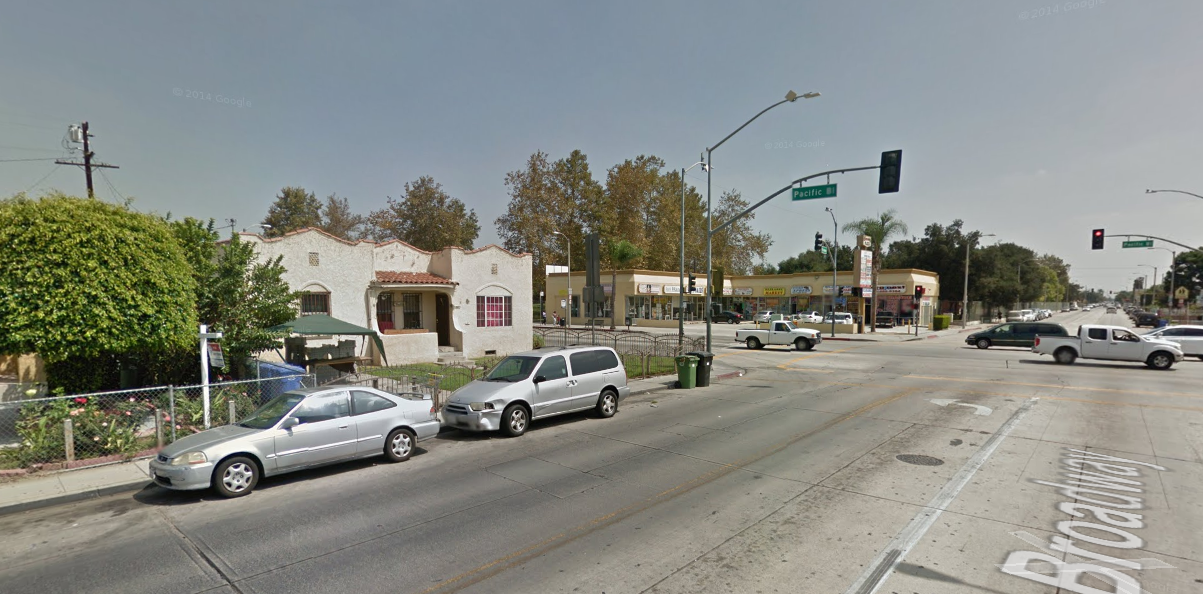 You will be dealing with massive traffic in this area.  Here are your assigned schools: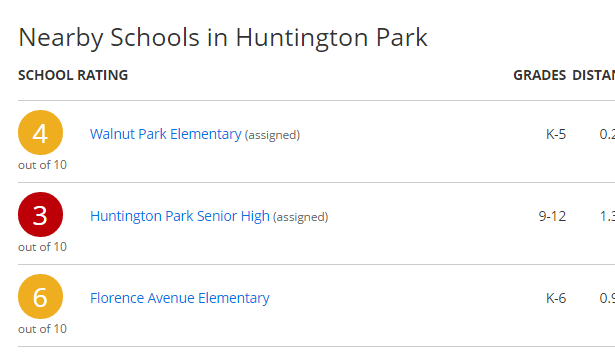 Now I know you are just itching to buy this place and want to know the price: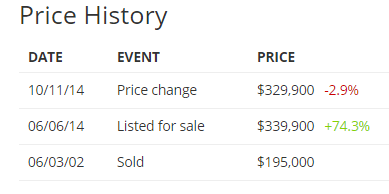 This place was listed for sale back in June of 2014 for $339,900.  No one took that deal.  They dropped the price by $10,000 in October of 2014.  So I decided to get the average adjusted gross income for households in the area and for 2011, it was $26,779.  So in other words, this home is priced more than 12 times the typical household income.  Now imagine someone buys with a low down payment loan and the economy encounters another inevitable recession.  Then what?  As I mentioned before, most of the foreclosures in the last crash came in the form of vanilla 30-year fixed rate mortgages.  If you can't pay, you can't pay.  But then again, the Taco Tuesday gentrification crowd doesn't mind sending their kids to poor performing schools just so they can wear a pin saying "I own in SoCal!"

Did You Enjoy The Post? Subscribe to Dr. Housing Bubble's Blog to get updated housing commentary, analysis, and information.