People have a hard time understanding that many counties in California are still overpriced.  Massively overpriced.  Now this is hard to reconcile for many because we hear about the 50 percent price drop for the entire state so many simply assume that this applies to each area.  In many ways that is deceptive.  This is similar to those using the median home price on the way up in the bubble to justify prices.  Isn't it fascinating that after one decade, you will hardly hear any real estate industry proponent talk about area incomes in relation to current home prices?  Why would they?  This would poke holes in their Swiss cheese theory of housing.  Of course what blasted home prices upwards were toxic products like Alt-A and option ARM products.  People would like to forget about this data like a wayward family member but the fact of the matter is many of these loans are going to haunt banks for the next few years.
Option ARMs are largely a California problem but also to drill down further, a problem attached to many of the overpriced counties.  Many of the lower priced counties (the bulk of current sales) have washed out a tremendous amount of subprime mortgages.  Yet these financially engineered housing products, the Alt-A and option ARMs, are linked to higher priced homes and carry higher average balances.
To say something is expensive we need to measure it with metrics.  If you were looking at a stock to see if it were expensive, you would look at price to earnings ratios.  In other words, how much are you willing to pay for a certain amount of earnings?  With a home, you can look at local area lease rates but also look at local area household incomes.  Some would like to argue against this metric but these people are usually the folks who say, "well that's not what I'm seeing.  I'm seeing plenty of people with money" as they stick around their one block radius in Santa Monica.  Yet the bigger picture is vastly more important.  I've put together 15 large California counties and gathered 1999 home price data and measured it up to 2009 data.  I've also included a price/income category to see how expensive an area is: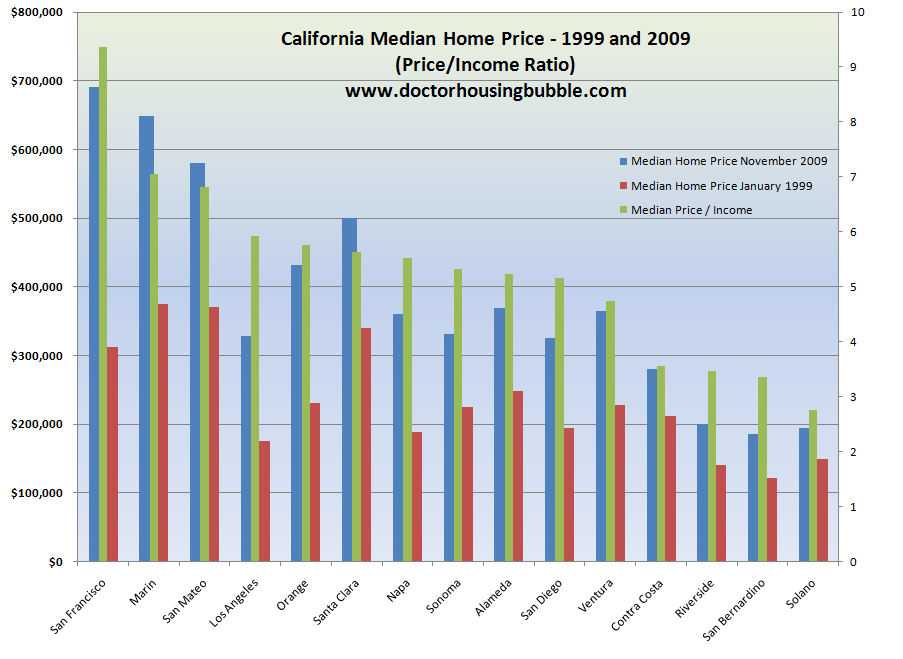 This chart should tell you the entire story of what is happening.  In counties like Solano, Riverside, and San Bernardino prices have been slammed yet these areas have seen tremendous amounts of sales.  Why?  The price/income ratio seems to be within a fair level.  Some may argue and say that these areas have always been cheap.  Really?  Riverside County had a median price at the peak of $432,000 (a ratio of 7.4 in 2007 but now it is down to 3.4).  Solano and San Bernardino have price/income metrics of 2.7 and 3.3 respectively.  I have argued for years that a good rule of thumb for housing prices is 3 to 3.5 times your annual gross income.  So in these counties, prices may start making more sense.  So why aren't more buyers buying?  Because unemployment in these areas is through the roof!  The government and Wall Street would like to ignore income and jobs because this is really the driving force of any economy.  Yet in this past decade our economy has become housing obsessed to the point that we are now dealing with the biggest economic crisis since the Great Depression.
So that covers the lower priced counties.  But what about the more expensive areas?  Ah yes.  This is where the next round is bound to go off.  The most expensive county based on local area household incomes is hands down San Francisco.  With a price/income number of 9.3 there is no justifying the current price.  This area is flooded with Alt-A loans and will have much explaining to do in the next few years.  The next 4 counties are Marin, San Mateo, Los Angeles, and Orange.  These areas will be the next rung on the housing correction.  They all have price/income metrics that are above 5.5.  This is incredibly unhealthy.
Let us graph these 5 counties: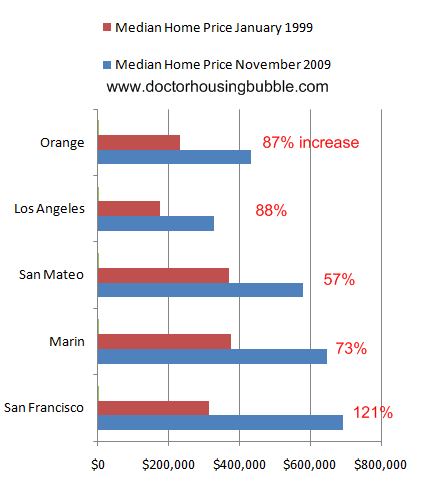 Keep in mind that the nationwide inflation rate over this past decade (1999 to 2009) was roughly 29 percent.  So some of these counties outpaced inflation by leaps and bounds.  Historically housing prices have tracked the inflation rate.  Yet a curious thing also happened this decade and that is income growth hit a wall.  Keeping that 29 percent rate in mind, let us look at the three cheapest priced counties: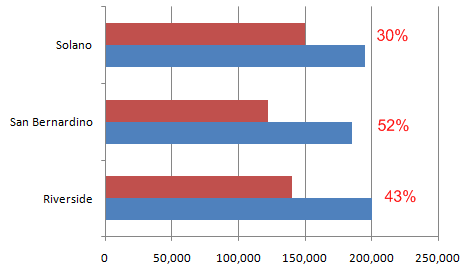 I find it fascinating that the areas that have seen the most sales activity are now reverting to the nationwide inflation rate and carried home prices with them.  This only makes sense.  Even as an investor, if you purchase a home to rent out you want to ensure that the local market demographics can ensure some form of cash flow.  Otherwise you are making a bad investment.  In the higher priced markets good luck finding cash flow properties.  People buying in these areas to fix and flip are playing the same card as all the people that got stuck back at the peak of the bubble.  In fact, the metrics tell us these areas are still in major bubbles.
What this data should tell you is that we have much correcting to do in California.  The Alt-A and option ARM wave is coming even though banks and real estate cheerleaders would like to say otherwise.  Take a look at the notice of default wave: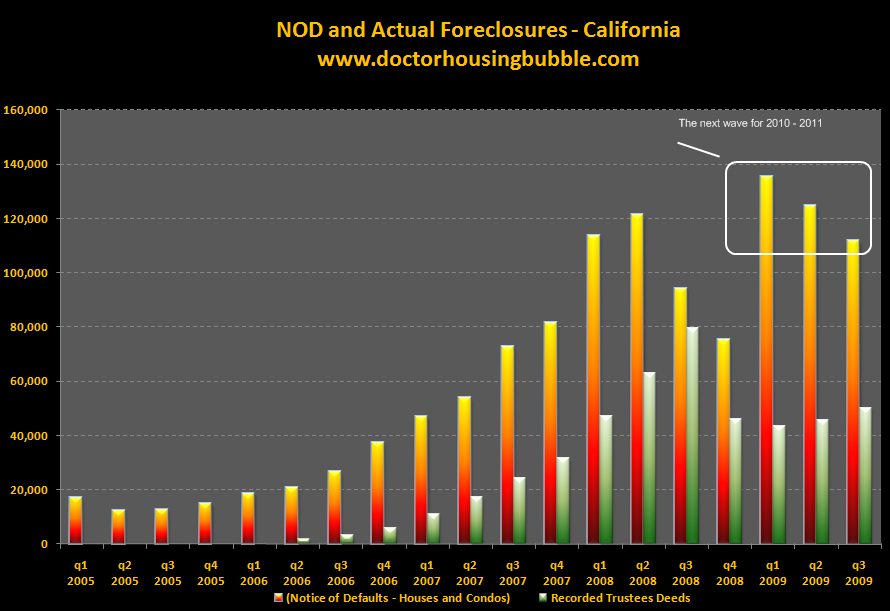 And make no mistake about this, the wave is going to hit and is hitting.  HAMP is a major failure and banks are starting to lose their opportunities to keep these properties off the books with the shadow inventory.  The current yield rate with HAMP for loans to go from trial to permanent modification is 4%.  Since 140,000 or so loans have entered trial mod phases in California, we can expect approximately 5,600 loans to be modified. Great.  We are on pace for 475,000 notice of defaults for 2009.  The moratoriums and can kicking at a certain point will need to stop.  It will start becoming clearer to the public (if it isn't already) that the Wall Street bailout is merely for the crony Wall Street bankers.  After all, even counties like Riverside and San Bernardino with FHA insured loans are now affordable for many families.  Do you think that San Francisco, L.A., and Orange County will have a helping hand when those mega toxic loans come due for adjustments?
And keep in mind the above ratios take into consideration incomes.  So prices will never be equal simply because of the market trends but they have to reflect local area economies.  Even if we strip out the bubble decade and look at San Francisco, using 1999 household income and median home prices the price/income metric comes in at 5.6.  That is a far cry from the 9.3 number today.  Los Angeles County has a price/income number of 4.7 in 1999 and Orange County had it at 3.9.  In other words, prices need to come down further or incomes need to rise sharply.  With unemployment and underemployment at 23 percent there is little pressure for incomes to rise.  So that leaves one option.
And let us put recent home sales in context.  All you hear about is the massive jump in home sales for 2009.  Yes, it has jumped but as we have discussed it is because of lower priced areas making big moves.  Plus, do people suddenly think that we went from a decade of speculators and charlatans to overnight becoming a disciplined and prudent economy?  In Southern California, 1 out of 4 loans is now FHA insured.  19 percent of November buyers were absentee purchases meaning investors.  In other words, half the market is lower end to investors.  How long can this go on?
Let us look at Southern California's recent sales in context to bubble year sales: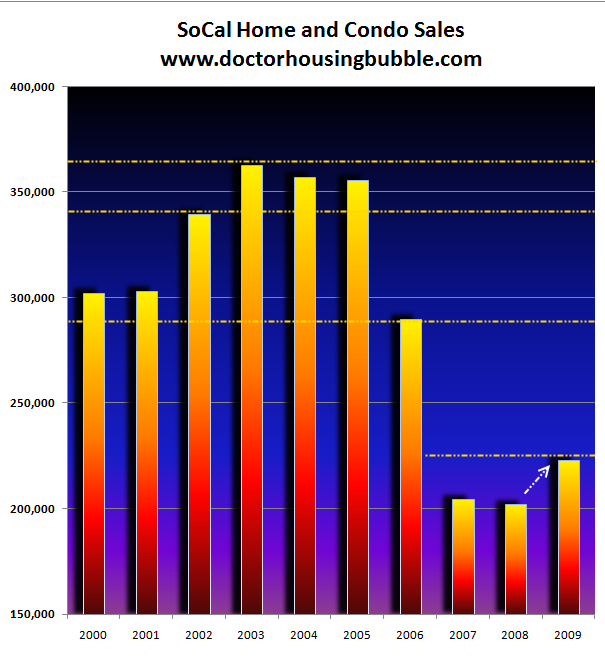 That jump you see there is thanks to massive bailouts, FHA insured loans, the Fed buying down mortgage backed securities to keep rates low, and the lower end selling like pancakes.  It is all artificial and we are not even close to pre-bubble annual sales figures.
Many counties are clearly overpriced.  If the past is any predictor of the future then there will need to be a correction.  The lower priced counties have already shown the way to increased sales.  Lower prices.  Yet the stubborn mentality of banks and those in mid to upper tier markets will be put to the test in 2010 to 2012.  The data isn't pretty but what would you expect with toxic uglified mortgages like Alt-A and option ARMs?  When you party hard sometimes you don't realize the extent of the damage until you sober up.
Did You Enjoy The Post? Subscribe to Dr. Housing Bubble's Blog to get updated housing commentary, analysis, and information.