There is a reason why new home sales still remain in a slump.  New home sales cater to an economy where most family income is rising to support the cost of higher priced homes.  In many markets, new homes cater to first time buyers.  But the first time home buyer market is mired in problems.  In more expensive metro areas you have younger people simply unable to afford rents let alone the cost of a crap shack.  In many other parts of the US families are simply dealing with an economy that isn't seeing across the board wage increases.  Low interest rates have to remain to keep the monthly payment static.  At least that is what the Fed is hoping for.  There was some recent data showing that first time home buyers continue to make up a small portion of all sales.  Contrary to some false narrative, many first time home buyers are coming in with low down payments, not suitcases of cash.  And for the most part, this is being driven because Americans overall don't have much in savings and barely enough to cover a dinner at Taco Tuesday with a side order of guacamole if you are being a big spender.
Low down payments and low percentage of all sales
The first point we should look at is that the percent of first time home buyers is still near historical lows.  First time home buyers as you would expect come from younger families.  Younger Americans came of age during the epic tech bubble and the even more dramatic housing/debt bubble.  Across a span of 20 years wages have remained stagnant yet the cost of debt financed items has ballooned (i.e., housing, college tuition, and even glamorous cars).  But with housing, much of the growth is dependent on government backed low rate loans.
Take a look at the percentage of first time home buyers: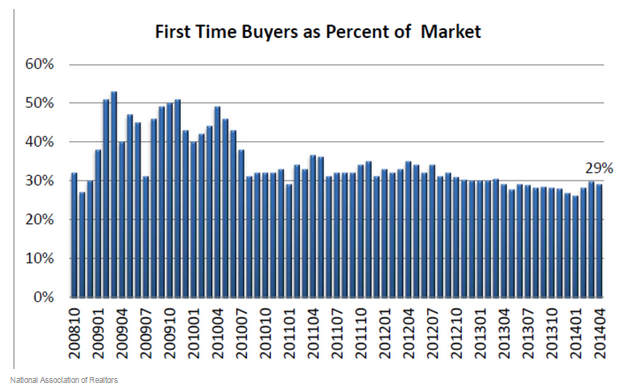 First time home buyers make up 29 percent of all sales.  Compare this to 2009 and 2010 where it was around the 50 percent mark (the bust made prices more affordable for a short window before investors pushed prices higher).  Investors crowded out regular buyers and have pushed this first time home buyer figure lower.  Many American families are on the razor's edge of monthly payments.  Any tiny deviation on interest rates and they are priced out.
Here is a chart of the percent of first time home buyers entering the market with low down payments: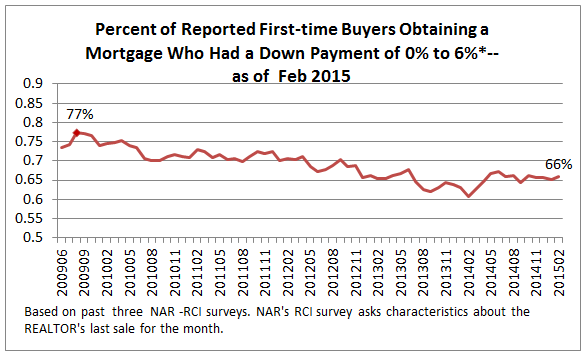 66 percent of first time home buyers are entering the market with low down payment loans.  In 2009 when the chart begins, it was 77 percent.  It would be nice to show more historical data because low down payments were nowhere close to being this common (outside of the housing bubble).  Is this good or bad?  Well in reality, it just means that many recent post-bubble buyers are still in tenuous situations and negative equity is one tiny recession away.  That is why higher down payments, say in the 20 percent range serve more as an insurance policy.  Then again, most Americans are close to being broke.
Where is the wealth?
The most comprehensive data on household wealth comes from the Census.  I think people over estimate the wealth of families in this country.  Take a look at the percent of households that hold any of these asset classes:

Only 19.6 percent of households own stocks and mutual funds outright.  But they have it in 401ks or retirement plans, right?  Let us see:

Okay, well 42.1 percent have a 401k or thrift savings plan.  Keep in mind a paid off crap shack is not going to throw off any income in retirement.  This is why we see many Taco Tuesday baby boomers in million dollar pads in Pasadena or Culver City shopping at Wal-Mart.  That million dollar pad is only going to pay you once you unlock the equity.  And many now are stuck with their adult kids moving back home.  But how about those that own rental property?

Only 5.5 percent own rental property.  Outside of the big investors, rental property isn't all that common because you actually need to save a good chunk of money to buy investment property.  All of the above data should show that most families have a very tough time even saving a small amount for the down payment of their own home.  Which leads us to our final data point.
Low net worth excluding home equity
The median net worth of families in the US is very low (and even lower minus home equity):

The typical American family has $68,000 to their name.  But in reality, they have $16,942 at their quick access since most of the net worth figure is made up by home equity.  I know people like to make up anecdotal stories that their Taco Tuesday habit is merely a carryover from their Beach Boys days.  But when we look at hard data like the all encompassing Census figures, most are living month to month.  And these figures include all households.  The first time home buyer figures are a reflection of even tighter budgets for groups like Millennials, many that have no desire of buying homes (big boost to renting) or McMansions (a hit to new home building).  Low down payments are merely a reflection of stagnant wage growth and the continuation of pretending to be middle class with mountains of debt.  Wealth is having assets that throw income your way.

Did You Enjoy The Post? Subscribe to Dr. Housing Bubble's Blog to get updated housing commentary, analysis, and information.