There is some foolish money swirling in the real estate market.  In particular, there is a growing flood of small time investors trying to enter the market at a turning point and others are simply looking for a quick way to make a buck.  It is amazing how many people are waiving inspections just so they can win a property.  Some people are going to get a dark reality check when they are hit with major unexpected repair bills.  To bring this back to frothy California, the euphoria of 2005 and 2006 is back in the air.  People are trying to tap out equity to leverage into additional real estate.  Keep in mind many of these people have no idea about real estate investing and many wouldn't know how to use a tape measure or a hammer if it hit them over the head.  Emotions are stronger than fundamentals in the current marketplace.  Take a look at some shifting trends.
Bidding wars pulling back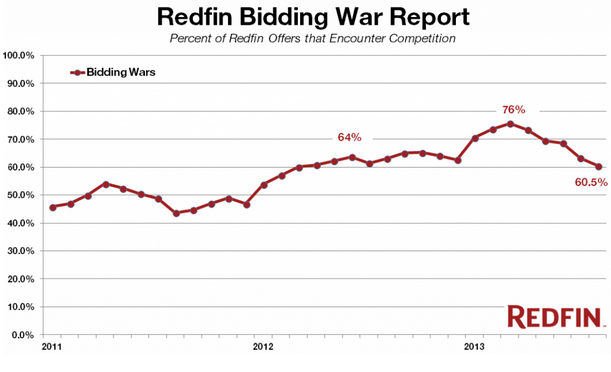 Source:  Redfin
It looks like earlier this year the asylum was fully open for real estate mania.  Some 76 percent of those receiving offers through Redfin stated they were facing competition.  Thanks to inventory increasing and prices soaring because of investors diving in, there has been a cooling off.  Yet this is only the start of this trend.  Recently, the spike in higher rates has cooled down the regular home buyer market.  For investors, not so much.
You know things are frothy when people are willing to drop hundreds of thousands of dollars on something they really have little understanding on (outside of the luck of buying at a certain point in the trend cycle).  This is like betting on 21 on roulette every single time just because you hit the number four times in a row.  Take a look at this post over in the Redfin Los Angeles forum:
"I just got my first place two years ago – luckily just when prices were starting to change. My banker told me that the current market price of my property allows me to borrow an equity line of credit or get a loan. I am told either way I can do whatever I want with the money. Mainly am interested in getting an investment property. However, I am not sure what or how to figure out the numbers and whether this is something I can get into. My current salary pays off my mortgage very comfortably and then some chunk including equity line/loan. What my concern is: paying off the main mortgage of the investment property. Since this is a rental, it would be relying on the rental income and making payments on a monthly basis would be depending on whether or not the renter decided to move out or pay. How do I make a decision – whether to forge ahead or chicken out and stay behind. I am hesitating because I am concerned that I may be missing something… I am interested in 2-4 in glendale, burbank or places with no rent control."
The emphasis above is mine.  This pretty much sums it up.  First, even this buyer acknowledges that they lucked out when they bought.  Next, you begin to see that banks are getting that bubble itch to lend out money at any cost.  This person then goes on to say they want an investment property yet in the next sentence, acknowledges they have little clue on calculating the numbers.  This is not a one-off case.  This is a rather typical mindset in California.  Ride the bubble up.  Milk the equity.  Rinse and repeat.  Of course, this person will have a hard time finding places that produce any reasonable yield on rents in California since the market has done this since they bought: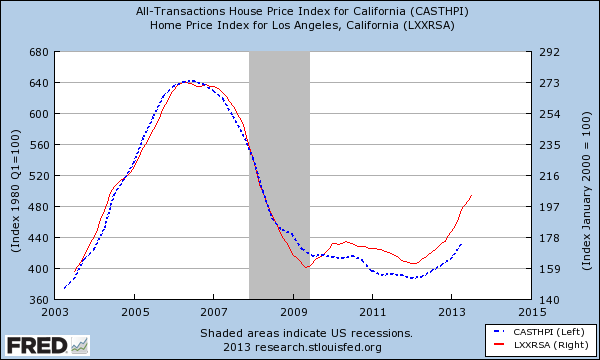 That is to say, the market has ballooned back up and much of this rise is because of an extraordinary amount of investor buying.  I must admit that some free good advice was given to this person on the same post:
"the guy we just bought a condo from had a tenant in there who after one thing and another, didn't pay rent for over 7 months plus she forced him to repair stuff before she stopped paying rent AND she trashed the carpets and smashed the tile floor in the kitchen.  there's a guy on one of the forums who had a tenant who accidentally flooded the place they just moved into, and it cost a good chunk of money to get the floors dried out – i could be wrong, but i believe around $15,000.
my point is if you can't afford to do without rent for several months or to make major repairs, you may run into trouble with rentals."
California is notoriously a renter friendly state.  That isn't necessarily a bad thing but good luck if you get that horrible tenant.  Given how everything is inflated here, good luck trying to fix any repairs at reasonable prices if you are not handy.  As the post above highlights, a simple issue such as someone flooding out your floor (it does happen) can wipe out an entire year (or more) of profits.  Can you carry a mortgage for six to twelve months while pushing out a bad tenant?  I'm not sure if people really think these things through.  When you buy a property as a rental, you are buying a mini-business.  You have expenses.  You have fixed costs.  You have ups and downs.  You have tax issues.  This is no simple matter of buying a place and pretending you are Donald Trump and putting the place on auto-pilot.  If you want good property management, expect 8 to 10 percent off any gross rents.  Make sure to build in costs for vacancies.  I think many people see the big price increases and simply dive in yet rents do not respond quickly because they are based on more underlying economic fundamentals. This person is looking to buy in bubbly Glendale and is aiming for a 2 to 4 units place.  The market for these will be small and the ability to get a decent cap rate is even more remote.
I'm sure some readers have some stories of newbie investors ready to dive into the market as the froth spills over the Pacific Ocean.

Did You Enjoy The Post? Subscribe to Dr. Housing Bubble's Blog to get updated housing commentary, analysis, and information.