There has been some great discussions in the last few posts.  Some comments are worthy of being articles on their own.  One topic that consistently came up was the lack of public protests.  First, Americans historically believe in the system even if it goes into full meltdown mode.  Just look at the Great Depression.  While nations around the world switched to radical ideologies and turned the tables upside down, we simply went forward and elected another President.  This belief is deeply entrenched.  Or go back to the implosion days of 2008 when CNBC was caught off guard as if they were watching Ben Bernanke twerking on a Wall Street trading floor.  Even a full market meltdown did not change things and this certainly wasn't because of a lack of real-time data.  So it is no surprise that we are left with policies that have favored the large banks.  An easy transition from the foreclosed to the investor class.  In truth, all of this has been a subtle bailout of those horrible loans that were made by said banks.  A slow methodical banking chess game yet the impact is being felt on the middle class.  The dirty little secret is that this housing recovery is fully artificial and a roundabout way of bailing out the banks.
If prices are going up so quickly, why are new home sales weak?
Home prices are rising at ridiculously fast levels.  There is no underlying justification for this when you look at household incomes.  New home sales provide an interesting perspective here: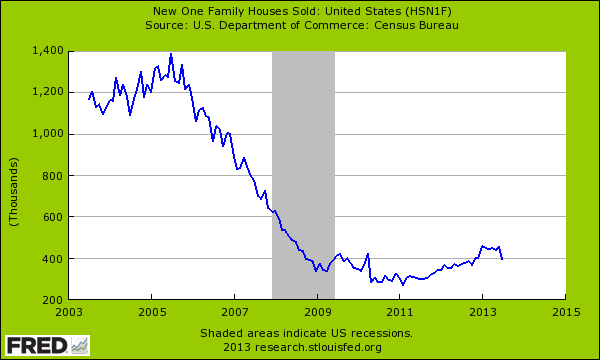 Why is this figure so low?  The large reason is that banks, gobbling up nearly 50 percent of all sales are going after lower priced properties.  New homes are not the lower priced variety.  New home sales typically reflect a healthier economy as well.  New home sales carry a premium (a premium many American families cannot afford even with low rates).
This trend is interesting because existing home sales have been hot since 2010: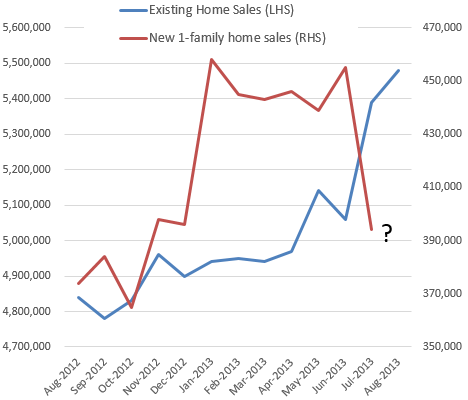 This kind of divergence is unusual but makes sense when you think of the makeup of who is buying here.  Inventory while rising, is still low: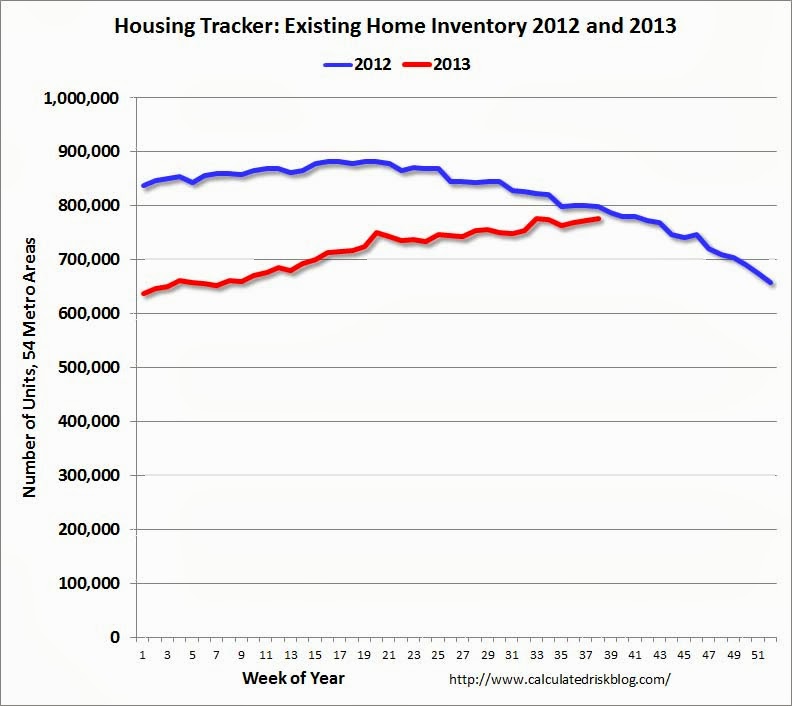 The trend is very clear here and it does look like an inventory bottom was reached in 2012.  As more households shift to renting, it will be interesting if this shift causes any impact on prices and rents.  Supply and demand theory would say yes but it is hard to factor in much when you have the Deus ex machina of the Fed morphing into the housing market and people waiting at their edge of their seats in terms of hearing the words "taper" as if a poet were reading some deeper meaning in the Fed minutes-mumbo-jumbo.
The market has been manipulated.  I actually say this in the most sterile definition possible:
"To control or influence (a person or situation) cleverly, unfairly, or unscrupulously."
In this respect, the Fed has done a stunning job conducting a pseudo-bailout that continues to benefit the banking industry.  In the mean time, the US homeownership rate continues to fall: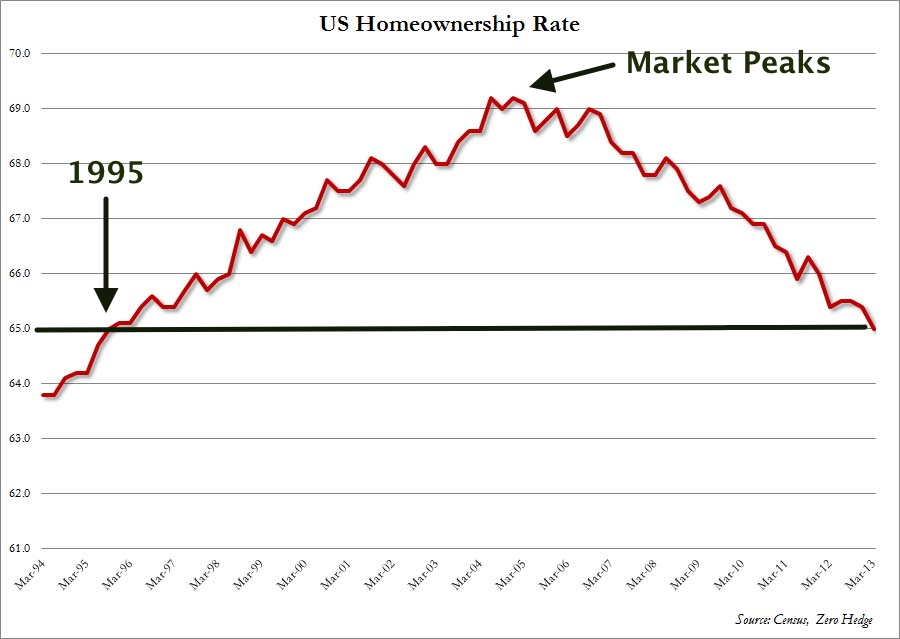 If households continue to see weakening income, if wealth is dwindling away for the middle class, then what real purpose is there in continually pushing for lower rates?  It is abundantly clear that low rates have jacked up prices even higher largely mitigating any affordability that would have come from the low rates (and as we have seen, banks have tapped into large reserves of low rates and simply charge into the housing market like a bull in a china shop).  If you think these low rates are for the public, you are out to lunch.  Just look at student loan interest rates (still very high) but young Americans largely don't vote so screw them is the attitude here.
You are seeing tiny shifts in more premium markets.  For example, take a look at some data on Irvine:
Price reductions

February 2013:                  41

May 2013:                           86

August 2013:                      232

New Listings   

February 2013:                  226

May 2013:                           377

August 2013:                      361
Keep in mind this is for a selective market.  We are seeing more price reductions throughout California but the investor fever is still blistering hot.  The Fed is going to taper like the evaporation of water in the ocean.  The bigger impact will come when the confidence game of the Fed is understood more widely or more likely, when the next rush for the exits occurs.  But when I see people rushing out for the new iPhone I doubt they'll be searching for Federal Reserve info anytime soon: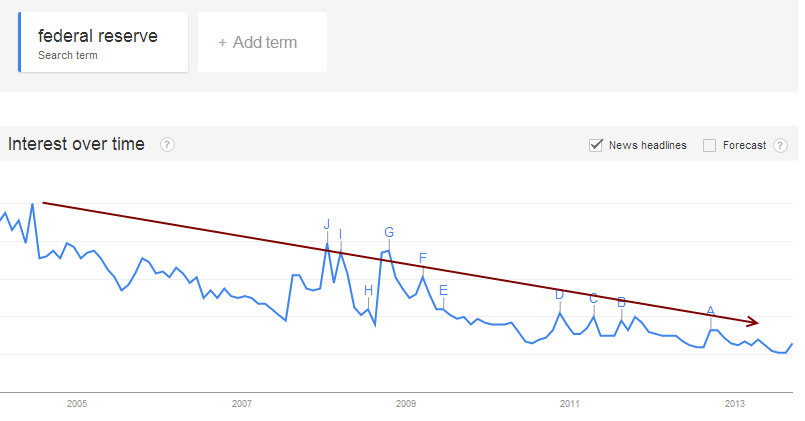 Until then, long live the taper!

Did You Enjoy The Post? Subscribe to Dr. Housing Bubble's Blog to get updated housing commentary, analysis, and information.