The negative year-over-year price trend in Southern California is not surprising.  The overall market is still inflated and delusion still runs rampant.  If you follow previous historical manias the true bottom is usually reached when most of the public concurs that said object of mania is rejected nearly at all price levels.  We are nowhere near that level of capitulation.  The next phase is bottom investors picking up homes in lower priced markets.  30 percent of sales last month in SoCal involved all cash buyers picking up homes for a median price of $190,000.  Yet a fascinating thing that is now occurring is the places to hide are getting smaller and smaller.  There are many psychological trends that have hit in this bubble and the one that seems to remain is the one of selectivity in niche markets.  There are only a handful of people that now say "well that isn't the best part of the 90210 or San Marino will not go down."  Well it will go down but nothing that you will be able to afford!  The other 98 percent of areas where people live prices are adjusting and in many mid-tier markets.  These delusional folks somehow think they are going to buy a million dollar home on a low six-figure salary (or even less).  Champagne taste with a beer budget.  Today we see a home in the 90210 zip code that is now back to 1989 price levels.
Beverly Hills revisiting the peak of 1989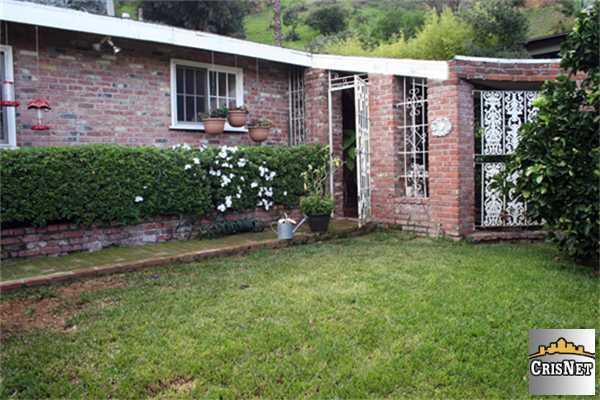 9586 SHIRLEY Ln
Beverly Hills, CA 90210

BEDS:    3

BATHS: 2.75

SQ. FT.: 2,290

$/SQ. FT.:            $402

LOT SIZE:              0.33 Acres

PROPERTY TYPE:              Residential, Single Family

STYLE:   One Level, Traditional

YEAR BUILT:       1956

COMMUNITY:   Beverly Hills Post Office
This home is in the Beverly Hills Post Office area and we've seen some sharp corrections in this market (ht to reader for finding this gem).  We've been highlighting this area because we are now sorting out the super prime from the prime.  Prices are coming down.  This home is a nice place so let us look at the sales history here:

This home sold for $920,000 in June of 1989, a previous peak in Southern California housing.  The home was listed on the MLS on November 8th, 2010 for $920,000 and now has a pending home sale.  Over two decades and the price remained the same in Beverly Hills.  At this price it now has a pending sale which signifies homes are moving if priced right.  If you want to look at what happened in the LA/OC market overall this is the chart: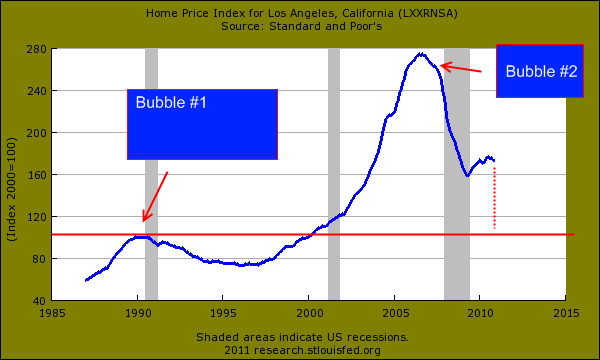 After the bubble peak of the late 1980s prices went under their inflation adjusted baseline for an entire decade.  We haven't even hit the inflation adjusted baseline!  And we have unemployment and underemployment at 23 percent which is much worse than what we experienced in the 1990s.  We did not have the depth of the current budget problems at that time either.  If you also recall California benefitted greatly from the 1990s technology boom yet real estate prices remained under the baseline for this entire time.  This bubble has no comparable in the history of our region.  If you look above you realize home prices are still inflated.
The home above is actually a very nice place: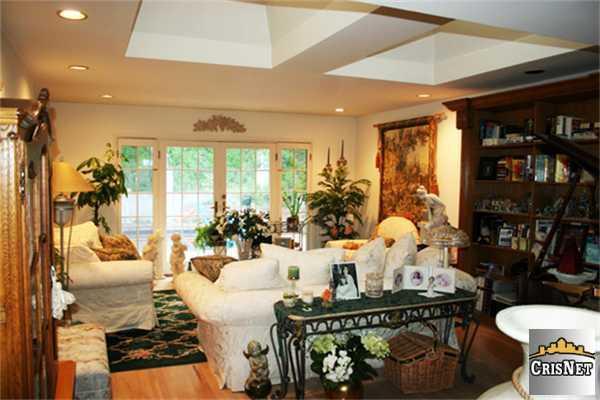 I'm sure you will have your typical handful of delusional folks commenting on how they can't land a La Jolla home for $200,000 but the overall trend is abundantly clear.  Prices are correcting in virtually all areas of Southern California.  This is expected.  The amount of toxic junk floating out in the market is immense.
I've also noticed some people down playing the Alt-A and option ARM fiasco.  Ironically the people saying it is a problem that has gone away forget that much of this bubble was created by a corrupt and unethical investment banking and housing industry.  Yet they now trust their data?  Not sure what to think here but maybe they are just naïve.  For example; 1 foreclosure is listed in the 90210 via the MLS.  Yet 100 are part of the shadow inventory.  Banks seemed to have moved on lower priced Alt-A and option ARM loans but are not sure what to do with the mega defaults.  WaMu and Wells Fargo (from the Wachovia branch) were notorious at making giant crap loans and look at how many of the 100 loan are from WaMu and Wells Fargo: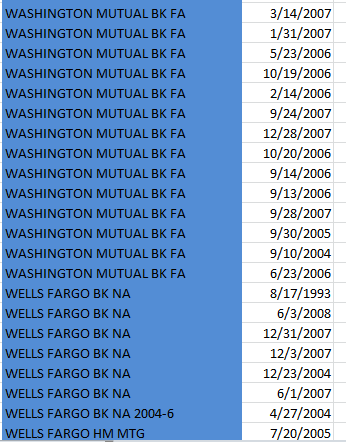 These are for active foreclosures.  Loan amounts range from $600,000 to over $6 million (many are in the millions of dollars).  Yet the Alt-A and option ARM problem is largely gone because some trust banking data.  Sure.  Keep on believing what you want to believe.  This correction is far from over.
Are you noticing any other trends like that in the 90210?

Did You Enjoy The Post? Subscribe to Dr. Housing Bubble's Blog to get updated housing commentary, analysis, and information.