The last week for whatever reason saw the resurgence in mainstream articles covering the option ARM fiasco.  Even those who are purported to be financial experts still miss the bigger picture.  That is, they fail to understand that the category of Alt-A loans covers the vast majority of option ARMs and Alt-A is basically a category assigned to loans that were no-doc or low doc, had weaker credit scores, and low to zero down payment.  In other words, mortgages that make Medusa look like the next Miss USA.  Some of the confusion also arises from the difference between a reset and a recast.  This is like saying dogs and cats are all the same because they are pets.  Resets are no problem in this artificially low interest rate environment (the future is another story).  Recasts are a gigantic problem.  Another issue being ignored is the fact that current owners of Alt-A infested homes have a selling environment that lacks these maximum leverage products.  That is, they bought at a time when leverage was flush in the market.  When I look at current reporting I would ask reporters this – think more like a criminal crony banker.
On the other side, I would ask reporters to also think like a California HGTV granite countertop obsessed housing speculator.  That is why even as far back as February of 2008 it was easy to see that people would be strategically defaulting on their mortgage.  People at the time thought that there would be no way that people would actually stop paying their mortgage if they had the money to do so because people in general were responsible.  Yeah right!  And option ARMs were only for high income actors and doctors that didn't want to disclose the amount of boob jobs they did in the last year on their tax return.  But the no money down world essentially gave buyers a call option on their home with these craptastic mortgages.  If prices go up, you sell and keep the difference between the sale price and the premium.  If the price tanks, then you are out the premium.  But guess what?  Some didn't pay a penny!  These were basically free call options.  The only incentive is a bad credit history but with 1 out of 10 mortgages in the U.S. being delinquent this isn't such a tiny group anymore.  Many saw the chance of a foreclosure as a small price to pay to ride the easy appreciation gravy train if the market shifted into mania part two.
One of the popular articles sent in the last few days was from the San Francisco Chronicle highlighting the option ARM mess in the Bay Area:
"People think option ARMs (will be) a national crisis," he said. "That's not really true. It's just in higher-cost areas like California where you see their prevalence."
Of the 10 metro areas nationwide with the most option ARMs, three are in the Bay Area, according to Fitch Ratings, a New York research firm. They are the East Bay counties of Alameda and Contra Costa, the South Bay area of Santa Clara and San Benito counties, and the counties of San Francisco, Marin and San Mateo.
Together, these areas account for the second-most option ARMs in the country, although they are still far behind the greater Los Angeles area (including Los Angeles, Riverside, San Bernardino and Orange counties), according to Fitch data.
Understated data
First American shows more than 54,000 option ARMs issued here with a value of about $30.9 billion. Fitch shows more than 47,000 option ARMs here with a value of about $28 billion. Both say their data underestimate the totals."
$30 billion of option ARMs are sitting like ugly ducks in the Bay Area.  But we do things bigger here in Southern California.  We aren't given the actual data regarding the LA/OC area but we can extrapolate from the Alt-A loans that we are in a world of hurt in Southern California: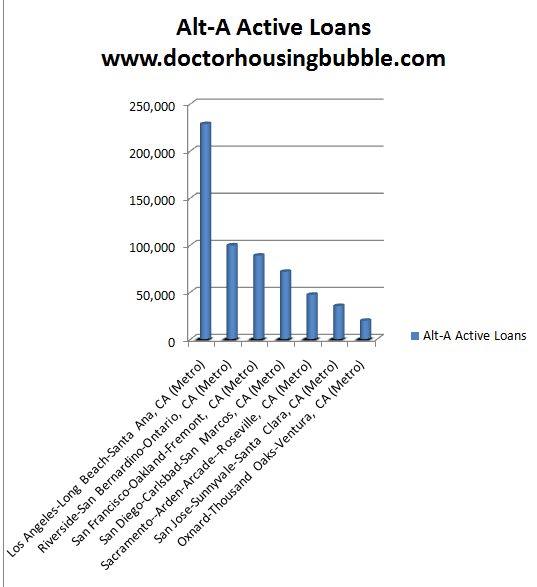 Thankfully, I have some data on this.  We can try and get a figure for Southern California by looking at the Bay Area data.
Bay Area
Alt-A active loans:            136,000
Options ARMs:                  47,000
Ratio Alt-A/Option ARMs:            34.5%
Southern California
Alt-A active loans:            400,000
Option ARMs:                    138,000 (appx)
Now given that Southern California is the birth place of the option ARM, I would venture to say that the ratio would hold for Southern California.  We have various estimates on this data.  Some will say that option ARMs are not that bad, but given that 80 percent of option ARMs were low doc loans, they qualify as Alt-A loans.  Plus, we are only looking at one item and many of these loans can go from current to non-paying over night.  How many were zero down 80/20 loans?  100 percent loans?  So at the low range we know 80 percent will fall under the Alt-A category umbrella.  Bottom line is California is going to have a smack down with these mortgages.  Not only because these mortgages have no shine like Glitter, but we have a 23 percent unemployment and underemployment rate.
And Alt-A loan defaults are spreading like the plague: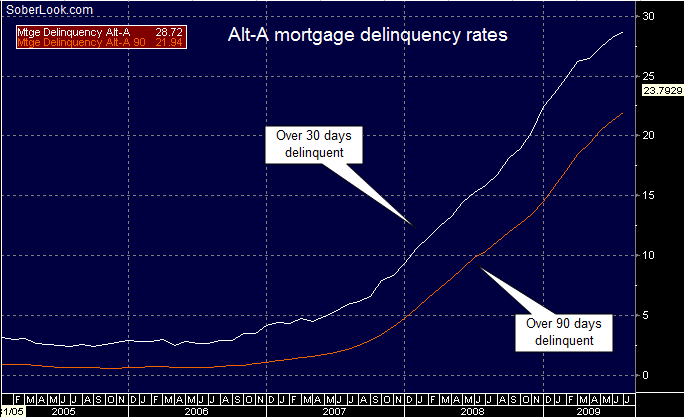 Source:  Bloomberg, Seeking Alpha
Keep in mind the Alt-A universe covers over 2 million active mortgages.  And with 2 million mortgages nearly 30 percent are already at the 30 days late mark.  22 percent are already 90 days late.  Given the size of these mortgage balances, you can rest assured those 90 days late are going to turn into foreclosures assuming banks move on shadow inventory.  If they don't they are going to contend with negative cash flow issues.  But as we know negative cash flow hasn't stopped the crony banking industry!
I want to go back to something that I have been kicking around in my head.  Much of this information has been out there for years.  This option ARM wave isn't any surprise, certainly not to those that follow the housing market closely.  But why is the media suddenly catching on at a point where it really is too late to do anything?  My feeling is the lack of understanding in behavioral economics.  This is an area that I have studied extensively.  A field that also combines the psychology and sociology of human nature into the mix.  Neo-classical economists don't want to hear about this because it interferes with their free market ideology of letting Wall Street do what it wants and the market will right everything.   The only problem is, when the abyss stares at them in the face they quake and suddenly become corporate welfare recipients.  Holding your values is about staying true in the toughest of times.  In good times everyone is a saint.
This would also explain a lot of behavior in the current market with Alt-A loans.  Of course people leveraged to the max on these loans.  It was a premium free call option on the biggest housing bubble in the world.  It was like buying a lottery ticket.  You won't feel so hurt if you lose $5 but if you win, you better believe you'll be running in the streets in your underwear.  But what if you had to pay $500 for that lottery ticket?  Or $1,000?  With housing, it is so vital to have a down payment because it makes the borrower take a place at the gambling table.  That is why anyone that even spends time with friends and family in California and talks about homeownership realized that if things imploded, many would simply walkaway.  This was the psychology.
Also, I'm not sure I like the term walkaway.  It is more like "stop making payments, save the cash, let the moronic banks sit back for more bailouts, and wait months until they even pay attention to your file" since that is a more accurate description.  Many aren't walking away.  They are not paying and playing chicken with banks.  Those who are paying and want a modification usually find an incompetent boob who really has no idea what to do and can only follow the "higher crony" orders if you are 3 months behind.  Alt-A loans  and option ARMs are the mortgage version of Russian Roulette.
Now some people might think strategic defaults are only a minor problem.  588,000 strategically defaulted in 2008 and most happened in you guessed it, California and Florida:
"(LA Times)
* The number of strategic defaults is far beyond most industry estimates — 588,000 nationwide during 2008, more than double the total in 2007. They represented 18% of all serious delinquencies that extended for more than 60 days in last year's fourth quarter…
* Strategic defaults are heavily concentrated in negative-equity markets where home values zoomed during the boom and have cratered since 2006. In California last year, the number of strategic defaults was 68 times higher than it was in 2005. In Florida it was 46 times higher. In most other parts of the country, defaults were about nine times higher in 2008 than in 2005.
* Two-thirds of strategic defaulters have only one mortgage — the one they're walking away from on their primary homes. Individuals who have mortgages on multiple houses also have a higher likelihood of strategic default, but researchers believe that many of these walkaways are from investment properties or second homes."
I bet if we drilled down deeper into the data, you would find that most of these strategic defaults are attached to Alt-A loans.  The problem (and rest assured there are many) with option ARMs isn't the interest rate.  Resets are no problems here.  The issue is the recast.  The rate can be rock bottom and it is, but this doesn't help someone making a $1,500 teaser payment on a $500,000 mortgage.  Even at the 5 year mark with a 5 percent interest rate the payment will virtually double because of negative amortization (90% made the minimum payment only) and the fact that you now have a 25 year time horizon to pay off your mortgage with no negative amortization option.  Basically the option ARM becomes a no option mortgage.  These mortgages are the absolute epitome of the crisis we find ourselves in.  Financially reprehensible mortgages that had no checks and played upon the greed and cynicism of Wall Street and the herd mentality of the get rich quick population.  Didn't we learn any lessons from the Great Depression?
Did You Enjoy The Post? Subscribe to Dr. Housing Bubble's Blog to get updated housing commentary, analysis, and information.