California has now reached Great Depression unemployment levels.  Many are now calling the end of the recession but there is no sign that California is inching closer to prosperity.  Last month the unemployment rate shot up to a post-World War II high of 12.2 percent.  This is only the official headline number.  The unemployment and underemployment rate is up to 23 percent putting California into its own mini depression.  The great housing bubble is still beating down on the state economy.  Alt-A and option ARM products are staring us squarely in the eyes for 2010.  Many of the banks and lenders were probably assuming that somehow by this point in the cycle that the economy in California would be bottoming out.  It is not.  What this means is housing will take another leg down.
When will California see peak housing prices again?  According to Moody's, not until 2030: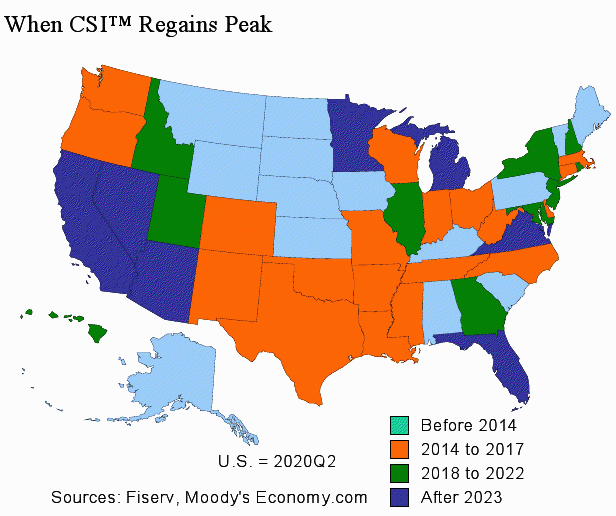 If that is the case you probably shouldn't hold your breath on going back to the bubble halcyon days.  Let us first look at the unemployment rate: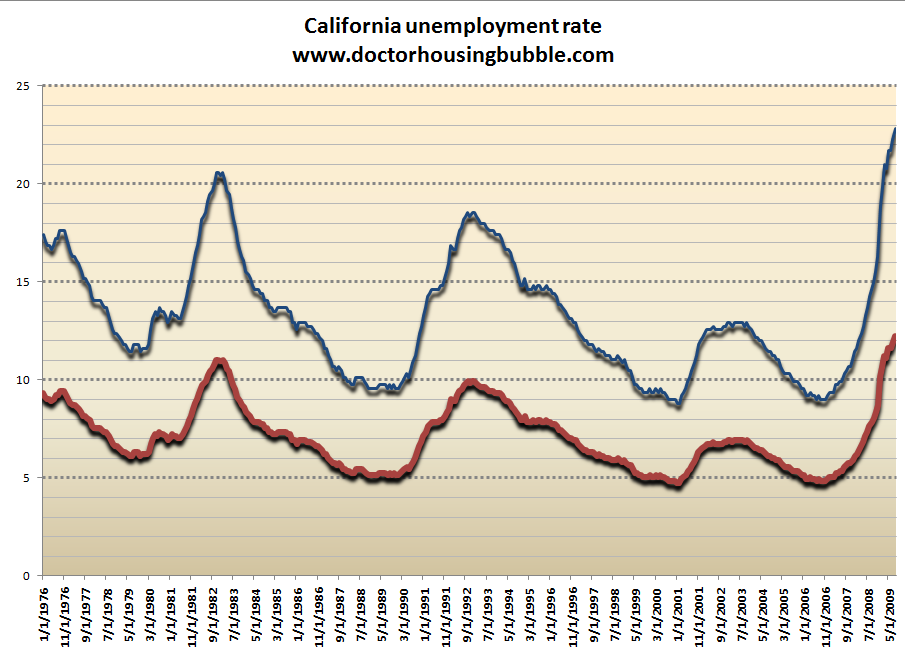 The only data that we have for California is the official headline number.  However, we are also able to access U-6 data from the BLS for previous quarters to arrive at our current U-6 figure.  Officially 2,248,000 Californians are out of work completely.  That is where the 12.2 percent figure is derived from.  But how many are working part-time for economic reasons?

Source:  OC Register
Add these two groups together and you will find that 3,603,000 California are either fully unemployed or are working part-time for economic reasons.  These are levels reminiscent of the Great Depression.  If you factor in those who are discouraged and have left the work force it is readily easy to see why the U-6 figure would be at 23 percent.  Yet those in the housing industry are quick to say this is a housing bottom.  This notion is simply misguided.  They are focusing completely on the buying and selling side of the equation.  What many fail to understand is that much of the bubble was also related to the selling, flipping, manufacturing, and finance side of real estate.  Those industries are still bleeding jobs:
This makes perfect sense.  If 50 percent of homes being sold in the last year are foreclosure resales in the state, these are homes that are already built and chances are will only turn out one transaction.  Meaning?  These are one and done sales.  In more normal markets you will typically see someone sell a home and then, purchase another.  Each sale in effect created two transactions.  That does not occur with first time buyers and investors who have been lured into the market with gimmicks like the $8,000 tax credit.
Take a look at this chart showing new permits and construction employment: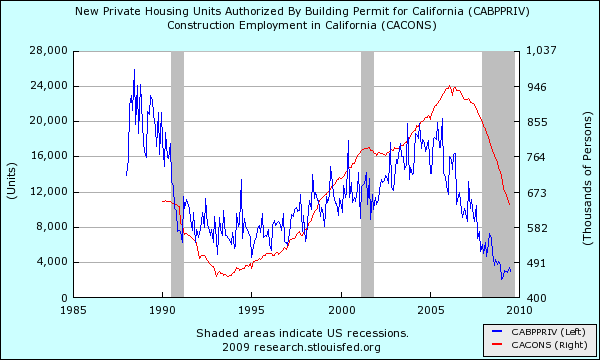 We are now working the years of bubble excess out of the market.  California is still seeing record amounts of foreclosure activity.  So even though sales got a temporary boost, employment in these sectors is still at a bottom.  And keep in mind that we have hundreds of thousands of mortgages in the Alt-A and option ARM category that will go bad from 2010 to 2012.
If you want to look even closer, let us look at jobs in the financial sector:
The trend is very clear here.  We are losing jobs in sectors directly linked to housing.  Many times, these were the same people buying the mid to upper tier market homes.  So you are losing customers as the months roll along.
And we are already seeing some gas running out of the California buying spree.  Here is recent California sales data:
July 2009 Sales:            45,079
August 2009 Sales:       39,811
This includes resale homes and condos.  This is a drop of 11.7 percent.  This is incredible especially the amount of homes being sold at lower prices.  But again, you are selling homes in a state that is in a financial depression.  And for perspective on those sales figures, the August peak was reached in 2005 with sales at a stunning 73,285.  The average August sales figure for the state going back to 1988 is 49,467.  So even with a 50 percent price drop in the state, the $8,000 tax credit, and real estate pundits cheerleading home sales the market still can't make a 21 year average.  Now we enter the fall and winter selling seasons that are slower and exhaustion is creeping into the markets. Add the Alt-A and option ARMs into the mix for 2010 and you can understand why we are starring at a second leg down.  For last month, the median price dropped to $249,000 but keep in mind, when you see many of those mid to upper tier markets taking hits you might see the median price creep up even though prices are falling.
But a simple thing anyone should understand is that anyone that is unemployed or underemployed is not in the mood to buy a home.  The state is borrowing money from the Federal government to pay out unemployment insurance since it has gone broke in its fund: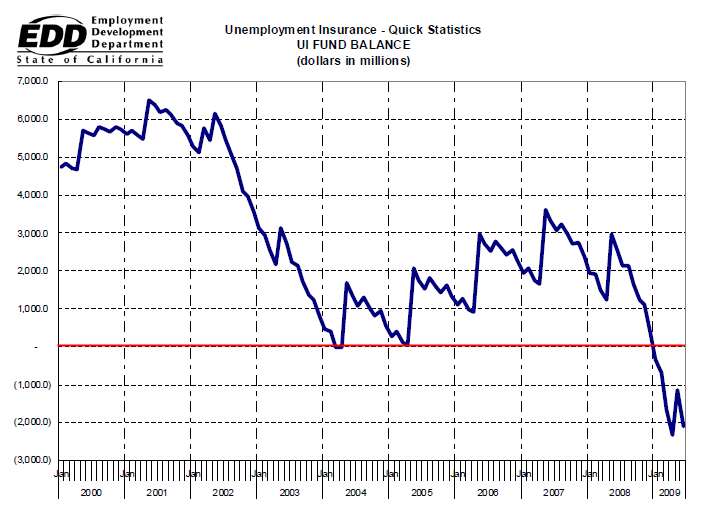 And if you think this trend is reversing, it isn't.  A senior job fair in Irvine pulled in 700 people.  The parking lot was over filled.
"(OC Register) Seniors seeking jobs increased 40 percent this year, the Pew Research Center reports. Sixty-eight percent of research participants said they work because they want to, and job satisfaction was cited even when jobs were "dumbed-downed".
But that leaves 32 percent of seniors who work because they have to. Sandie Monnier, 62, said she has been out of work for more than a year and her unemployment benefits expire soon.
"I will probably work until I am 70," she said. "I've lost my 401-k."
While the Census Bureau's poverty rate for seniors was revised this week from 10 percent to nearly 18 percent, Pew's data say adults 65 and over have already downsized their lifestyles and are dealing with the recession better than any other age group.
Peter Chiarle, a general contractor, says he's doing all right since his construction company closed it doors. But he is not ready to retire.
"I've built thousands of homes and worked my way up through the trades. Plumbing, electrical, you name it. But I'm not finding jobs that require construction skills," Chiarle said."
This is impacting all age groups.  So the Pollyanna talk from the housing and financial industry is unwarranted.  The only reason we are seeing minor moves up is due to the U.S. Treasury and Federal Reserve juicing up the market with easy credit and every other imaginable gimmick.  Let us run down a brief list:
-HOPE Now
-Stimulus Bill (~$700 billion)
-Tax Rebate #1 (~$168 billion)
–  TARP (~$700 billion)
–  Banking Bailouts and Backstops (~$12 trillion)
–  Cash for clunkers (~$3 billion)
–  Home tax credit (~$15 billion)
Yet unemployment is at record levels and foreclosures are still sky high.  If you haven't caught on after two years, the pretext of the bailouts was to help the American public especially the homeowner but all this money was laundered into bailing out the crony Wall Street financial industry.
So as California is experiencing its own depression we have a group of people trying to sucker people back into buying homes.  The rhetoric seems eerily familiar to the bubble days.  "If you don't buy you'll be priced out!" or "you'll miss the next move up!" and people jump on this.  Many are going to be shocked as 2010 rolls around.  Anyone can logically understand that an economy with depression like unemployment is not a good place for a housing market.
Did You Enjoy The Post? Subscribe to Dr. Housing Bubble's Blog to get updated housing commentary, analysis, and information.