Allen Stanford, the Texas billionaire is now under investigation by the SEC in what looks like more market shenanigans.  The SEC is now stating that the fraud is of "shocking magnitude" and spans the world and involves $8 billion in securities that were allegedly falsely marketed to customers.  Of course, the SEC is probably now turning up the fire on Allen Stanford even acknowledging that Stanford had been under investigation for "sometime" because of the major flak it is taking over uncle dubious, Bernard Madoff who operated a $50 billion Ponzi scheme that has now come to captivate the imagination of many Americans.
Yet the story of Allen Stanford is only shocking in the light of denial and downright naïveté that many had when the story of Bernard Madoff hit only a few months ago.  Many were saying that this was the "fraud of the century" and nothing else could compare.  Well guess what?  Here we are at the well again.  The SEC now feeling that it needs to make up for lost time, is now going to start pulling out a few sacrificial lambs to placate the masses.  Make no mistake, the true fraud is what is being perpetrated by the Federal Reserve, Wall Street, and the U.S. banking industry.
At the heart of the Allen Stanford story is high-yielding CDs.  Of course as we all know many banks and institutions that have now gone into the graveyard like WaMu and IndyMac were offering competitive rates on CDs only days before their demise in a last ditch effort to raise capital.  "Sir" Allen Sanford is estimated to have a net worth of $2.2 billion and is 58 years old.  Stanford is the chairman of the Stanford Financial Group of Companies.  Ironically this guy made his first fortune in real estate in the early 1980s when he was based out of Houston, Texas.  What a stunner.  In 1983 Stanford had a default judgment of $31,800 slapped on him for back rent on a failed health club in Waco.  Since that time Stanford has expanded on the greed that has fed this crony capitalistic enterprise and branched out to insurance and real estate.  And now Stanford is showing us how to do the bezzle dance:
"(MarketWatch) Stanford's Antigua-based bank, Stanford International Bank, sold roughly $8 billion of certificates of deposit to investors through a network of financial advisers by promising "improbable and unsubstantiated" high interest rates, the regulator said in a statement.
The rates were "supposedly" earned through the bank's investment strategy, which "purportedly" allowed the bank to achieve double-digit returns on its investments for the past 15 years, the SEC added.
The agency also charged Stanford International Bank's Chief Financial Officer James Davis and Stanford Financial Group's Chief Investment Officer Laura Pendergest-Holt. "Stanford and the close circle of family and friends with whom he runs his businesses perpetrated a massive fraud based on false promises and fabricated historical-return data to prey on investors," said Linda Chatman Thomsen, the SEC's enforcement-division director, in a statement.
A U.S. District Judge entered a temporary restraining order, froze the defendants' assets and appointed a receiver to marshal the assets, according to the SEC."
This kind of stuff has been going on for years.  So the first myth that we should dispel is that these are isolated cases.  No.  The system is rotten to the core and Stanford and Madoff are only the tip of the iceberg.  We have other small time players like Art Nadel running around all over the country.  The crony capitalistic system set this ecosystem up for them.  Cases like that of Stanford only highlight the corruption embedded in the system.  No country can survive on a debt enterprise and one where those in the financial industry can reach the pinnacles of stardom of being called "Sir" when you have people like Bernard Madoff running made up numbers and what is worse, people believed it because they too aspired to be part of the crony elite.
Second Half Financial Recovery
Where are all the delusional folks calling for a second half recovery?  This mantra was going around for the last few months of 2008 with no basis in reality.  Here we are, only a few weeks into 2009 and we are now back testing the market lows of November:

This is an incredibly fast drop.  In fact, the NASDAQ is down 6.7% for the year, the S & P 500 is down 12.6%, and the Dow is down 13.9%.  And we're only in February!  Keep in mind all this is happening with trillions and trillions of dollars being but at risk for the corrupt banking and finance industry and a $789 billion stimulus plan being signed.  Even with all this, the market is now back to the lows seen in November!  What do we need to do to get a brief recovery?  Announce a $100 trillion bailout plan?  I mean we are now in silly season here.  The problem is our economy was dependent on a frat like force of financial wizards who didn't care about the financial long-term stability of the nation.  They built models to make a small select few richer and richer at the cost of the American taxpayer.  After all, this money we are funneling to them is basically the insurance policy they bet on while feeding both Republican and Democratic legislatures.  Their bets have paid off.  Why else would such a inane plan like the TARP even get off the ground?  Well if you leave it to a former Goldman Sachs crony to write the legislation, guess what is going to happen?
Even if there is a second half recovery it won't feel like it for 90 percent of the American population.  Those claiming and preaching a second half recovery are those already in these albatross industries and are getting bailout funds.  Why not bailout Circuit City when we had the chance?  Why not send Burger King some extra money?  Just look at who is receiving bailouts and you'll understand who is running the show.
The current phase we are in is what John K. Galbraith calls the "bezzle" stage.  That is, we are now in the process of discovering the Madoffs and Stanfords and what they have been doing for years if we only had competent enforcers and politicians who would have had the guts to take a stance.  Only now after things have gotten so rotten, do we take action.  Yet the deed is done.  I liken this to many California homeowners thinking their home was "worth" $600,000 only to realize that when they go to sell, they can only get $300,000.  They lived a life of phony money and are now coming to terms with a brutal contracting economy.
And how can there be a second half recovery?  The stimulus plan will take some time to get into the economy.  Let us look at some of the key points:
-$1,000 child tax credit for low income families
-Middle-income and wealthy taxpayers will receive help from the Alternative Minimum Tax
-First-time homebuyer tax credit of $8,000
-Those receiving unemployment insurance won't pay federal income taxes on the first $2,400 they receive
-Millions will receive an extra $13 a week in their paychecks starting in June
-$90 billion to infrastructure projects like repairing roads, waterlines, and bridges
-$42 billion to energy related investments
-$54 billion to help states with education expenses
-$25 billion for No Child Left Behind and other such programs
-$4 billion for the Head Start and early education program
These are only a few key points but all the above does is blunt the economic tsunami coming our way.  How is this a second half recovery?  What the above does is keeps us from going to soup lines and homeless shelters but a second half recovery it is not.  The financial and real estate industries have hurt our country and economy so deep, that it will take years before we see a healthy economy.  At least in this bubble, we have homes which are more valuable than tulips if you want to find to find a tiny silver lining.  Needless to say, there will be no second half recovery.
Decoupling is Now Proven Wrong
Japan's Finance Minister Shoichi Nakagawa has figured out how to deal with the current financial crisis.  Get plastered: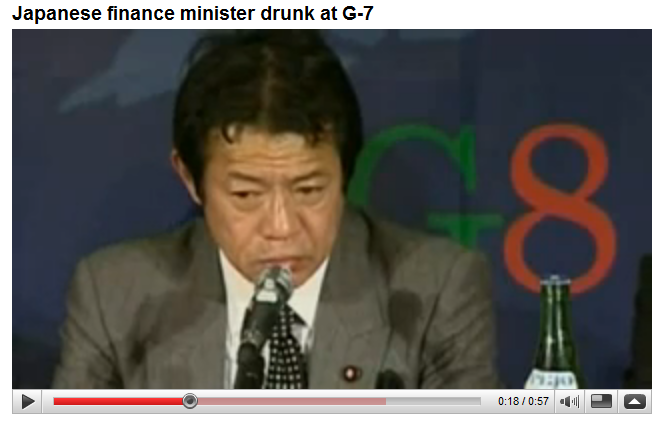 Well shortly after his drunken news conference Mr.  Nakagawa called it quits.  Honestly, who could blame the guy?  Japan is in a massive recession and last week, we learned that GDP contracted at its largest pace in 35 years.  Why is this important?  Japan is the number 2 economy in the world and you already know where we stand.  Germany is also in a recession.  And what about China?  Let us look at their stock markets: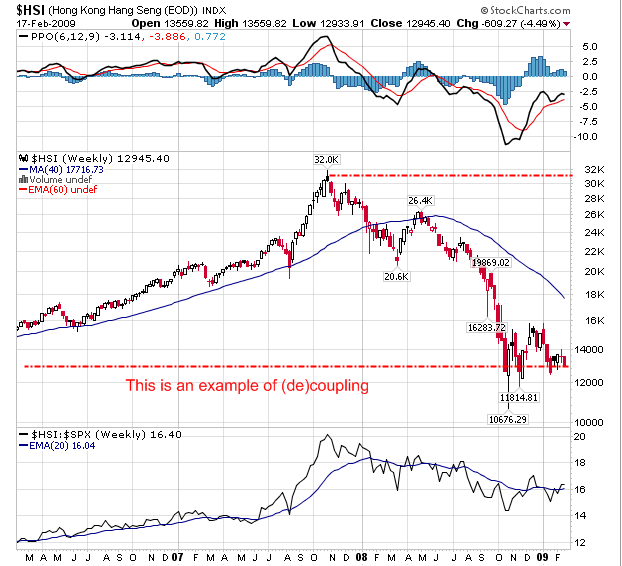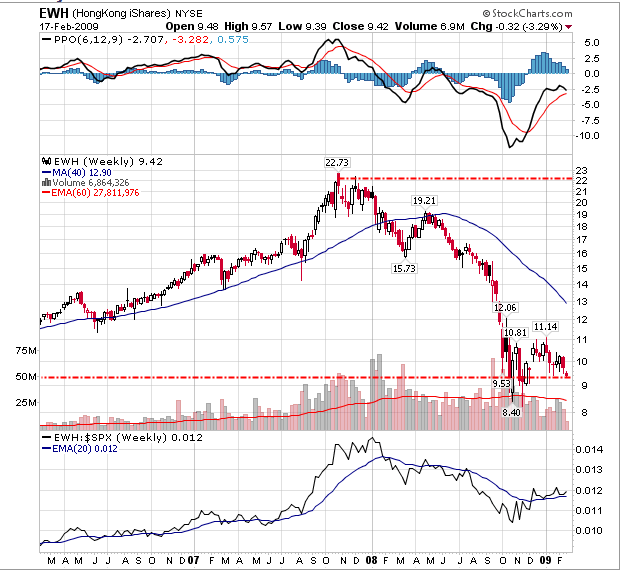 In fact, China is having more trouble in their markets!  After all, the U.S. was the consumption machine for much of their exports.  Europe was supposedly a backstop but they have bigger housing bubbles than the U.S. which is amazing in itself.
So this notion of decoupling is proven false.  What other proof do you want?  Take a look at the global stock markets and they are in tatters.  The last time we had such synchronized global wealth destruction was during the Great Depression.  People forget that the Great Depression was global in reach and wasn't only isolated to the 1929 Crash on Wall Street.  It was much larger and more complex than the Fed simply not stepping in.  We had conflicts in Europe with Germany drowning in war reparations.  You had a collapsing commodities market.  You had rising unemployment in supposedly stable countries.  So all these things entered into a perfect storm.  It took us nearly a century to come back to something similar to that time and here we are again.
Did You Enjoy The Post? Subscribe to Dr. Housing Bubble's Blog to get updated housing commentary, analysis, and information.