Many people reading this blog from states with moderate housing prices have a very hard time understanding how a family earning $100,000 a year is having a challenging time staying in the middle class ranks. The idea of a six-figure income certainly doesn't connote the same wealthy status as it did a decade ago. But where is all the money going then? Now that we are quickly approaching the great Wal-Mart voucher stimulus revolution and will see our accounts increase by $600 to $2,400 depending on our family situation, once we look at the cost of monthly items we realize that this money is a drop in the bucket for most Americans. In fact, there is so much debt out there that many are now saying they'll use the money to pay off current debt or save; certainly not the intention of what the current government has in mind. They would love nothing more if you went and blew your stimulus check on a new laptop or stove and one month later, are back in the same spot.
This is the problem with deficit spending on many levels. At a certain point debt will crush an economy if it is not handled properly. We have done an abysmal job managing debt over the past few decades and now we are seeing the after effects of this. Today I want to put out a hypothetical budget for a family with 2 kids earning $100,000 a year and show you how easily it is to go into debt. This data is conservative and I will talk about a few of major line items later in the article. So now I present to you going broke on $100,000 a year:

We'll go into detail on a few line items. First, I want to show you that the above family is running a deficit of $1,076 per month. Nothing unusual from the above profile. Family bought a modest home in Southern California, has 2 cars, and has many of the items we would associate with middle class living. They also save a modest amount for retirement in their 401(k) and pay taxes unlike Blade. They have additional expenses with healthcare, feel the pinch of higher gasoline, and are seeing their grocery bill increase.
We are assuming that the above family purchased a $385,000 home here in Southern California with a down payment of $35,000. As many of you may know, over the past decade many families bought with zero, 3, or 5 percent down so we are in fact being conservative with the above number. If we were to use a smaller down payment the actual monthly debt would increase. $385,000 does not buy much home in Southern California. In fact, only until 2008 and the ongoing correction in prices, was $385,000 considered chump change and you'd be lucky to get a condo for this price in a safe neighborhood with good schools, something a family with kids would be concerned about. Where did I get this $385,000 number? I simply pulled it out of data from March 2008 sales:
"The median price paid for a Southland home was $385,000 last month, the lowest since $380,000 in April 2004. Last month's median was down 5.6 percent from February's $408,000, and down a record 23.8 percent from $505,000 in February 2007. That peak median of $505,000 was reached several times last spring and summer."
You'll also notice that prices for Southern California are now back down to April 2004 levels. Of course prices at this point were in a bubble so assuming we are at a bottom is naïve and ignoring the actual foreclosures and trends that we will be seeing for another few years. California property taxes are capped at 1 percent of the assessed value of the home plus local area bonded indebtedness:
"In 1978, California voters passed Proposition 13, which substantially reduced property tax rates. As a result, the maximum levy cannot exceed 1% of a property's assessed value (plus bonded indebtedness and direct assessment taxes). Increases in assessed value are limited to 2% annually."
In the above we are using a 1.25% tax rate which includes local area bonds, again a somewhat conservative assessment. I want to point out that I've been hearing on the radio companies looking to help you reassess your property to lower your rate. Through Proposition 8 (not to be confused with Preparation H) you can do this on your own:
"· You must demonstrate that on January 1, the market value of your property was less than its current assessed value.
You must file a claim form for a Decline-in-Value Reassessment Application (Prop.8)with the Assessor between January 1 and December 31 for the fiscal year beginning on July 1. If December 31 falls on a Saturday, Sunday, or a legal holiday, an application is valid if either filed or mailed and postmarked by the next business day."
So save yourself some money and do it yourself. Just run the numbers, in the end you are probably saving a few hundred dollars to maybe a thousand a year. Why not use your rebate check to reassess your property! The ironic fact about this is you are still going to pay an appraiser to tell you your property is worth less which if you own a home in Southern California and bought in recent years, is probably the reality.
The next item we are looking at closely is fuel prices. People drive around a lot in Southern California especially in Los Angeles. The current Los Angeles average is $3.85 a gallon: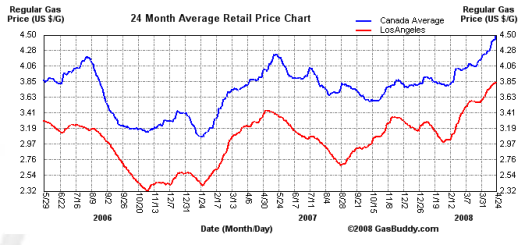 We'll assume that you tack on 15,000 miles per year per car. I put on a bit over this and your numbers of course will vary. We'll assume that both cars get 25 miles per gallon. So how much money are you spending a year on fuel?
(15,000/25mpg) = 600 gallons x $3.85 = $2,310 per car X 2 = $4,620 per year or $385 per month
I'll leave the $300 per month fuel cost since you may have more economical vehicles and may also drive less but the above equation is simply to give you an idea that we are being extremely conservative here. Plus, how many mega gas guzzlers do you see on the freeway or streets in your neighborhood? Clearly the price can go much higher.
You know many people forget to include the additional costs of owning a home. When plumbing goes bad you have to pay to get it fixed. If your roof needs to be replaced, that comes out of your wallet. What about lawn services? Garbage pickup? There are many other unforeseen costs associated with owning a home which many people simply do not factor into their budget. They simply assume the principal and interest is all they'll need to worry about. Also, which impacts both homeowner and renter, is the rise in energy costs for homes. Again this eats away at your bottom line. That rebate check makes no impact for the average American because the above line items seem like they are here to stay for the foreseeable future.
What if you want to send your kids to college?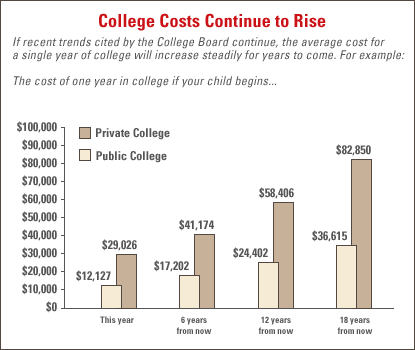 *Source: State Farm Insurance
Where are you going to save for that given that the above hypothetical family is already running a $1,076 deficit? If you pull back on say cable that will create job losses in certain areas connected to this field. Maybe you cut back on clothing. Retailers are already seeing this pain. And in fact, that is what we are seeing even with the recent announcement that Target is seeing an increase in their charge-off rate:
Calculated Risk: "Target Corp., the second-largest U.S. discount chain, said it wrote off 8.1 percent of its credit-card loans in March as consumers grappled with job losses and the biggest housing slump in a quarter century.
Defaults during the month totaled $55.5 million, the Minneapolis-based retailer said in a regulatory filing today. The charge-off rate was 6.8 percent in February."
And there you have it. Going broke with a $100,000 income. And these people aren't the folks leasing BMWs or Lexus cars but living a more modest middle class lifestyle. The fact of the matter is, life just got a whole lot more expensive because your green dollar in your wallet is magically disappearing and we don't need David Blaine for that kind of magic. You can thank the true magicians on Wall Street and Washington D.C. for that.
Did You Enjoy The Post? Subscribe to Dr. Housing Bubble's Blog to get updated housing commentary, analysis, and information