The market is on a major run.  You have to give credit where credit is due.  The S&P 500 is up an astonishing 17.4 percent from the low only reached on March 9th which is incredible.  Just to give you a perspective on how ferocious this jump is, the median annual return for the S&P 500 since 1988 is 10.88 percent.  We've nearly doubled that in less than 2 weeks.  That is the extent of volatility in our market.  Yet make no mistake that this rally has been fueled because of the speed of the fall and a rush by those feeling that this was the bottom.  Even after this run up, the S&P 500 is still off by 50 percent from its peak.  The U.S. Treasury and Federal Reserve are doing everything they can to siphon off money into the financial sector of this country including a push to redo mark to market accounting by ripping off the U.S. taxpayer.  It is now clearer why Bank of America and Citigroup mentioned that they would be turning a profit in the first quarter of 2009.
Some of the most vicious bear market rallies occurred during the Great Depression.  When you have fallen so fast even a slight glimmer of light looks like a beaming ray of sunshine.  Given how much money has been pumped into the system, it should be no surprise that we will see movements in the markets.  Trillions of dollars are floating in the system but where are they landing?  That is yet to be determined (aside from bonuses and capital to insolvent banks).
In bear market rallies any news that isn't bad is seen as warranting a massive rally.  Take for example the unexpected jump in housing starts.  The media was playing this up like some gigantic move.  Keep in mind housing starts have fallen at rates last seen in the Great Depression so a move up is expected.  Let us see this massive move on a chart shall we?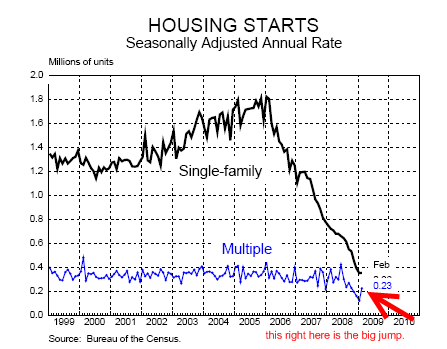 Did you catch that?  Let me go ahead and zoom in for you to show you this market moving data: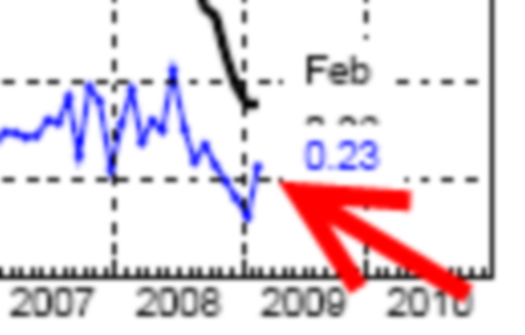 Some reporters like to spin data.  On a percentage basis, it was a nice bump but look at the above charts.  The jump was largely anchored in multiple unit housing starts.  That is, apartments and places for rent!  This is like having a panic attack of happiness because Citigroup moved up 40+ percent in one day even though it translated to a 40-cent move.  I wouldn't read too much into this data.  Even if we see mild and sustain growth here, the market has been so viciously pounded that it will take years for it to get out.  How much lower can we go any how?  It wasn't like we were expecting it to hit zero.  Single-family starts are still off by 80 percent from their peak levels.
The Southern California numbers were released earlier this week and prices are still moving lower: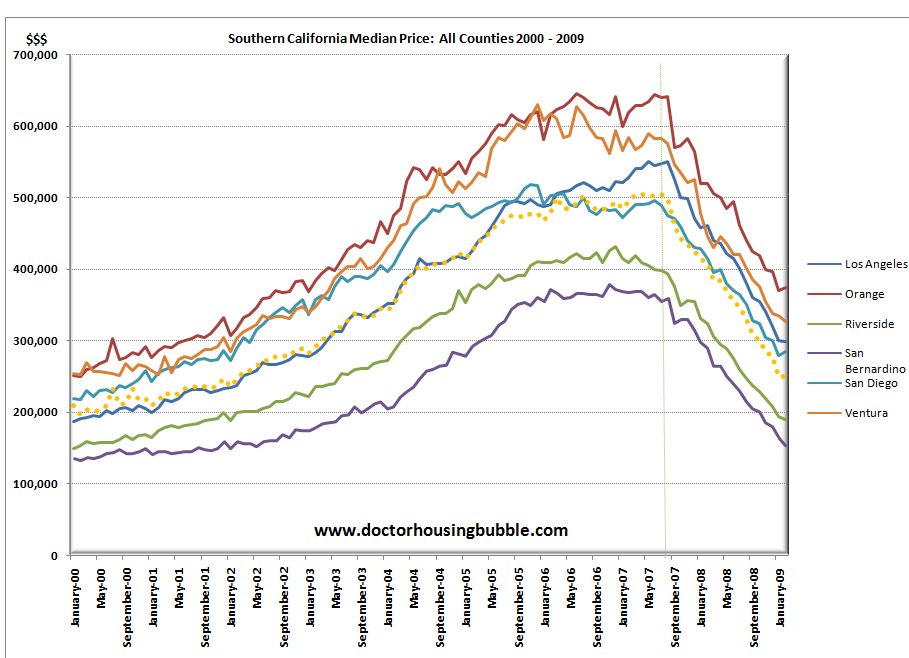 The median Southern California home is now at $250,000 and for the first time since the bubble has burst, Los Angeles County has cracked into the $200,000 range coming in at $299,000.  This is significant since L.A. County is the most populated county in the region with 10,000,000 people living here.  If you look at the chart, you'll notice that both San Diego and Orange County perked up a tiny bit.  I will say this again that there are many bottom callers rushing to buy right now thinking that this is the bottom.  It is not.  California will bottom out sometime in 2011 given all the regional and market factors affecting our market.  But like those rushing back into the stock market for another beating, they will realize within a few months that structural problems are still largely present.  Unemployment in the state is at 10.1 percent and rising.  Home prices are still out of sync with local family incomes.  Yet people still having the taste of those peak bubble prices look at a $400,000 home in a once $700,000 area and think "wow, $300,000 off!"  Just because an asset has fallen dramatically in value does not make it worth buying.
As I discussed in detail in a previous post, the state is now back only a few weeks after a major budget passed and is anticipating another $8 billion gap.  This is becoming a comedy of errors and is based yet again on Pollyanna projections.  Look, there will be a point when it will make sense to buy in California.  In fact, there are many states in the country where it does make sense to buy today.  So we are not anti-buying homes.  Yet as I have been saying for years, prices do not make sense based on the following reasons:
a.  Local family incomes
b.  Employment projections
c.  Neighborhood factors
d.  Quality of homes
e.  Schools and education
Normally, these are factors that all interplay in creating a price for a home.  It is astounding how simplistic the current system is in arriving at a home's value.  In essence, they take 3 similar homes sold in the neighborhood and find an average square foot price and arrive at a price for the home for sale.  Normally, they will tweak a bit for additional amenities but that is the extent of the pricing model.  Well you can see the flaw with that model especially in a bubble.  If homes are selling at bubble prices then you taking 3 bubble priced homes will only give you a 4th bubble priced home.  There are more nuanced ways of home valuations and we will eventually get there.  Yet we are not there yet.  Right now we have a rush to buy from investors and bottom callers because prices have fallen so dramatically.  Prices falling by 50 percent will get your attention.  Yet they are still over priced based on historical and more conservative pricing assumptions.  If you buy right now the only reason to do so is because prices have fallen so quickly.  That is it.  Don't try to justify that it is because they are now "cheap" and it is a good deal.  Prices will continue to fall.
Many are somehow thinking that we are once again in the glory days of the California housing mania.  Let us take a look at Southern California home sales and prices: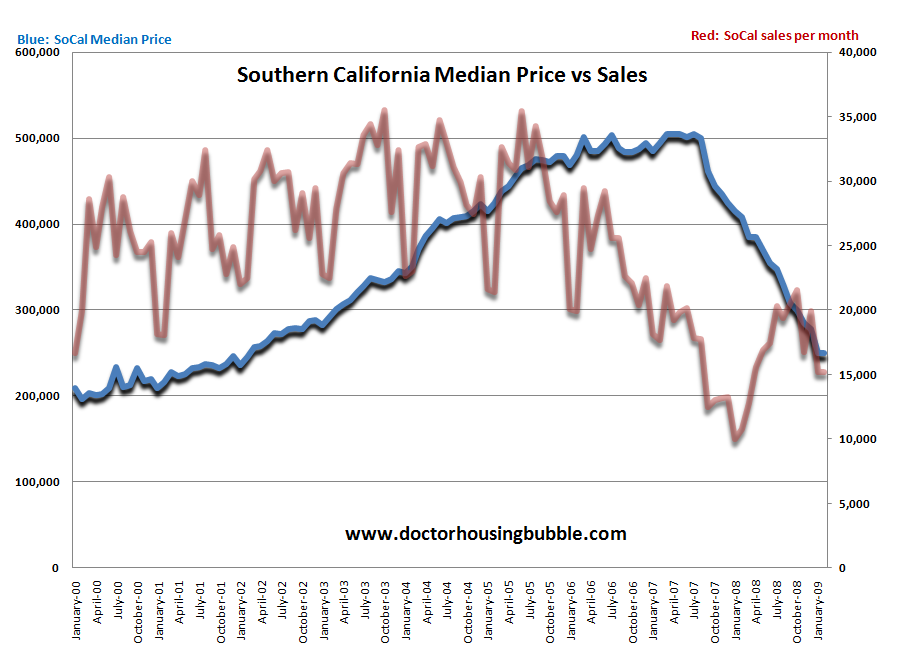 As you can see, we have yet to broach the 25,000 sales per month reached in 2006 when it was the last leg of the Southern California housing bubble.  And once again, we are coming off massive lows so any movement up will look gigantic from the lows in 2008.  Yet keep in mind for last month, 56 percent of all homes sold were foreclosure resales.  So we are still seeing many bargain shoppers and investors picking up homes thinking this is the bottom.  Given that you need to come in with 10, 15, and sometimes 20 percent down to buy a home, it is a bad move because without a doubt, home prices will fall by at least another 10 percent in the region.  And the next leg down is the collapse of the middle to upper income areas.  If we look at San Bernardino and Riverside counties, we can already find homes for $100,000.  So those areas are getting close to their bottom.  Yet we have prime and semi-prime areas that are still resistant because there is a significant amount of money on the sidelines and many are simply deciding to jump in.  How much money is on the sidelines?

We have not seen this much money on the sidelines in a generation.  So there is money out there to buy especially since many people are freaked out by the casino nature of our stock markets.  In fact, real estate is now looking like a conservative investment compared to some stocks.  If you are buying right now in California you should plan on staying in your home for 7 to 10 years because there will be another push to lower prices once the Option ARM and Alt-A loans come to confession en masse.  It is nearly impossible for the government to bailout these loans with a straight face but given the suspension of mark to market coming online soon, we can bet that we are going to have our own lost generation just like Japan.  Keep in mind one of the large fundamental problems Japan had was that it did not come to terms with bad assets and did not put to rest insolvent institutions.  So the new novel approach is to get the bad assets off the books and onto the U.S. taxpayer.  How does that solve the problem?  The assets are still bad yet now the cost has shifted completely to the taxpayer.  With the push to suspend mark to market, we are virtually assuring ourselves a lost decade.  Are you going to trust the earnings of Bank of America, Citigroup, Goldman Sachs, and other financial institutions in the first quarter of 2009 now that we know that they can value long-term assets however they please?  Wouldn't we all love that power!  Heck, I think all of us would like to think that our 5-year-old cars are worth the amount we paid for them off the dealer lot but if we tried to sell them on the market, good luck getting that price.
All I can offer you is caution in this bear market rally.  It would be one thing if we were rallying on awesome and fantastic earnings and the unemployment at 4 percent.  That is not the case.  Unemployment is rising and earnings for the first quarter will be dismal even with the alchemy of suspending mark to market.  It is a sham and I think most Americans have opened their eyes sufficiently to see the massive contradictions embedded in the system.  Just take a look at the money pulled out of the markets above.  Some are jumping back into the markets but be forewarned, there is much more to go before we hit the true bottom.
Did You Enjoy The Post? Subscribe to Dr. Housing Bubble's Blog to get updated housing commentary, analysis, and information.