What constitutes a bubble?  It is always difficult to call a bubble while you are living deep in one.  For housing, a good metric was looking at local area incomes and what those in the immediate area were able to afford.  But in a place like San Francisco where foreign demand is incredibly high, a high percentage of demand is coming from abroad, in particular from China.  You also have big investors jumping in.  Sure, if you want to qualify for a mortgage you will have to demonstrate sufficient income to purchase a home but what if you come in with cash?  While the LA/OC area is the most unaffordable real estate market in the nation based on local area incomes, the San Francisco market is the most insane based on market prices of homes.  Home values in San Francisco are up a stunning 72 percent from Q1 2011.  Incomes don't even remotely come close to keeping up with this.  In fact, people in the San Francisco market are having a very tough time making their rents, let alone trying to chase after million dollar crap shacks.  San Francisco makes SoCal look relatively mundane when it comes to real estate.
The unstoppable run up
Tech and San Francisco go hand and hand.  The heart of the Silicon Valley and tech companies are here to stay.  But many smaller companies being funded with private equity actually go around the public funding model.  From many sources in the tech know, there does seem to be some frothy behavior going on with the private equity funding of start-ups.  It does seem to be more of a black box than in the last tech boom and bust when the public got in and got slammed.  It is ironic that housing is following a similar pattern.  The first housing bubble allowed the public to play and the result was more than 7,000,000+ foreclosures since the bubble burst.  The latest run has been largely fueled by large investors and foreign money.  All the public has to show is 10,000,000 new rental households and 1 million fewer actual homeowners over the last decade.  The margin players have better incomes but still need to leverage up (this is why volume has been so low but with tiny inventory, prices have moved up).
It is interesting to see that home prices in San Francisco are going hand and hand with the NASDAQ: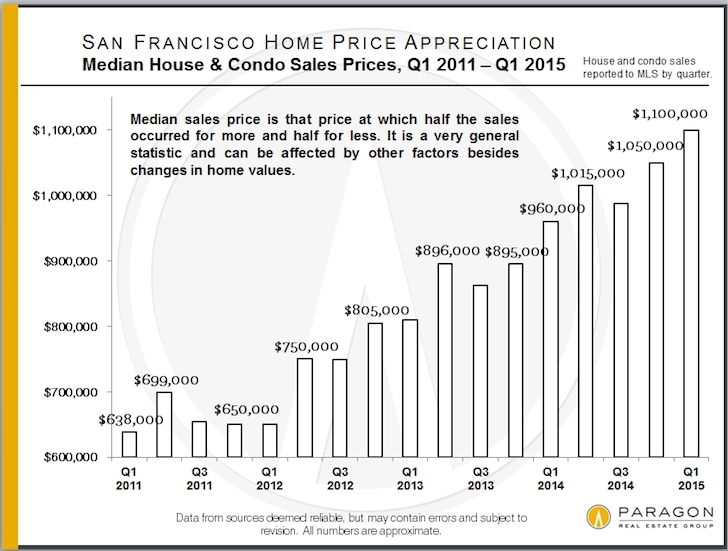 The median home and condo sale price in San Francisco is now a whopping $1.1 million.  This is up 72 percent from the $638,000 figure back in Q1 of 2011.  Do incomes justify this run?  Absolutely not but with low inventory and investors/foreign money coming in prices can go up as long as a buyer is present.  But with flippers in the game, many are looking for a quick in and out.  This is definitely a sign of bubble like behavior.
But take a look at how the NASDAQ has done over this same period as the housing chart above: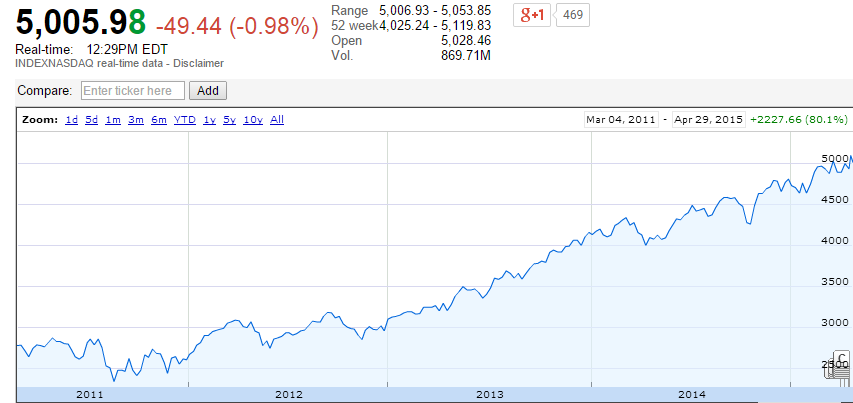 The NASDAQ is up 80 percent from Q1 2011.  Coincidence?  Probably not.  We've had a very solid run in the stock market starting in 2009.  It is hard to tell what will occur when the next correction hits.  But in reality, how many people can actually compete for a $1.1 million crap shack in San Francisco?  I've had many e-mails from high income tech folks talking about sky high rents and having to shack up with roommates.  They are certainly not looking to buy.
Want to see what $1.1 million buys you?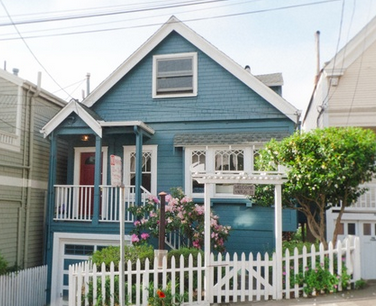 4369 21st St, San Francisco, CA 94114
2 beds, 1 bath, 1,106 square feet
Sure looks like a millionaire home.  Take a look at the price history: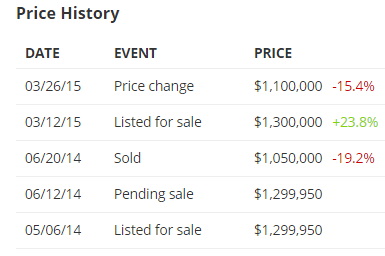 So this place was listed for $1.3 million on March 12 and two weeks later it was dropped to $1.1 million.  What happened in two weeks were $200,000 in "value" evaporated?  Sure sounds like steady pricing moves here.
For those in other high priced metro areas, you can always take solace that San Francisco is in another dimension.

Did You Enjoy The Post? Subscribe to Dr. Housing Bubble's Blog to get updated housing commentary, analysis, and information.