The rental revolution continues unabated in this country.  While everyone is now trying to be on the home buying train, sales figures don't really reflect a major shift.  Desires don't always coincide with what the market is doing.  Prices are largely being driven by tight inventory, investors, and low interest rates.  Prices can be boosted by low rates but rents need to be paid out through real earned income.  This is important to understand especially in Los Angeles County with 10 million people and the majority of households actually being renters.  The reality is, today's renters are worse off than their parents.  Over the last decade we've added 10 million renter households while homeownership has been stagnant – largely by 7 million completed foreclosures.  How bad has the rental situation gotten?
Renters are worse off today
Too poor to buy or even rent.  At least that is the case for millions of Millennials living at home with parents.  Unable to afford even rents, many are staying home.  The data backs this up in a dramatic fashion.  You have anecdotal stories of Taco Tuesday baby boomers sitting on big bucks giving out gifts to kids to buy homes.  While this of course happens, this completely ignores the reality of 2.3 million young adults living at home in California.  Many recent buyers are investors and high income households chasing the low amount of inventory on the market.  For those looking to rent, the market is also intense.
Take a look at rent growth and income growth since the 1960s: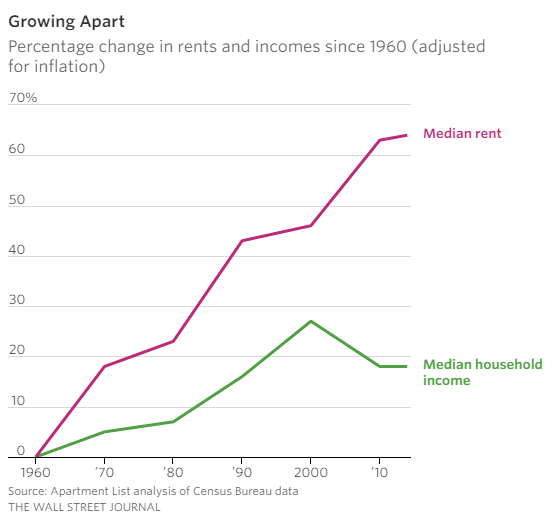 Inflation adjusted rents have gone up by 64 percent since 1960.  During this same period real household income is up 18 percent.  What this means is that more net household income is locked up by rents.  In places like Los Angeles it is not uncommon for households to spend 50 percent of their net income on rent.  In San Francisco you have many high paid tech workers shacking up with roommates just to get by.  On a nationwide scale this trend has been happening consistently.
So this bodes well for home buying right?  Not at all.  Home prices are up as well.  In high priced areas, the barrier to entry is the down payment – so that $700,000 crap shack would likely require a 10 or 20 percent down payment for you to be competitive – $70,000 or $140,000.  And this is absolutely common in competitive markets.  Looking at sales data for the past couple of years on some crap shacks you find the buyers coming in with 10 or 20 percent down (at least).  In other areas you have cash buying still being a big player.
So renters with stagnant incomes are basically treading water.  Millennials, the next batch of potential buyers are stuck between living at home or renting.  The home buying trend for this group is not actually showing some amazing pent up demand.  The idea of 3.5 percent down payments in high priced areas is just not happening.  But also, those buying are squeezing in.  Take a look at this home we featured when it was for sale in Culver City: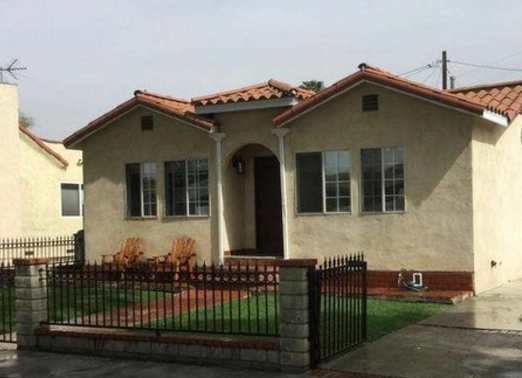 3130 Reid Ave, Culver City, CA 90232
3 beds 2 baths 1,415 sqft
We initially covered this home back in March.  Here is the list price and history: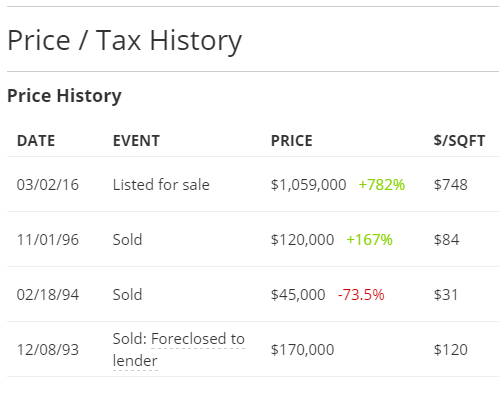 It sold in May of this year.  And they sold it for the asking price of $1,059,000.  All cash buyer?  Massive down payment?  No.  The buyers put down $106,959.  The place now has $950,569 in loans active.  Nearly $1 million in loans on this place.  And this is supposedly in a prime market where buckets of cash are being thrown around.  People are still going into massive debt to buy.  So instead of doing some hypothetical rent/buy math here – we have a real world buyer making this happen.  This place would rent for $3,800 to $4,000 a month.  The current monthly nut?
$4,000 a month in rent or $6,202 for the monthly nut – plus they now have nearly $1 million in mortgage debt?  That is a pretty big difference even for a high income household.
So renters are worse off today.  This argument has now been used as reason to leverage yourself into the grave on a crap shack.  Pick your poison. Or move out like many people are doing in high priced areas.  There are many choices on the table.

Did You Enjoy The Post? Subscribe to Dr. Housing Bubble's Blog to get updated housing commentary, analysis, and information.