We are now in a "bull" market everyone!  A "leaked" Citigroup memo discusses a word that has been foreign in the banking sector for much of 2008.  Profit.  The market enjoyed that even though it is based on the same fantasy of those that believe in elves and other mythical creatures.  At least we enjoyed the Lord of the Financial Rings on Tuesday and the market shot up like it was flying on the next NASA rocket.  Next, we have Boom Boom Helicopter Bernanke talking tough about how to solve the market and how we can prevent this mess from ever happening again (as if we are in the clear now).  So today's rally was based more on technical resistance and mere exhaustion of the market being so incredibly down for 2009: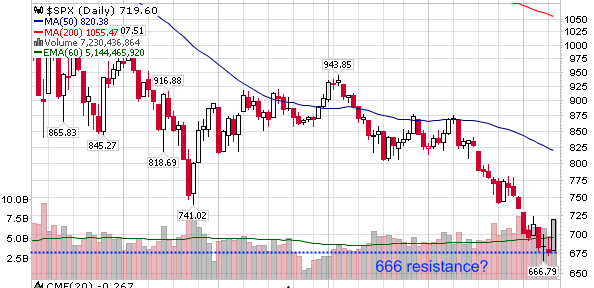 So it looks like we have support at 666 which of course is interesting to say the least.  The market shot up bouncing off resistance like a basketball.  The Dow was up 5.8%, the S&P 500 up 6.37%, and the Nasdaq shot up 7.07%.  It would be one thing if this bounce was precipitated by good news but it wasn't.  It was purely a technical bear market rally.  Plus, throwing the book at Bernard Madoff probably helped a bit as a catharsis but there are higher criminals out in the markets operating.  I know the pundits are salivating and we may in fact have a run up for some time but it will not occur because the fundamentals of the economy are sound.  In fact, even after this historic rally the markets are down for 2009 by:
Dow:                     21%
S&P 500:              20%
Nasdaq:               13%
Today's home is another piece of evidence why the California housing market will not be bottoming out until 2011.  This home is located in Inglewood California [hat tip HG] and includes a new variation of marketing.  The new technique is called shopping cart technology version 2.0.  Why would someone use such a technique?  Think about the psychological implication of this for buyers; there is a deep connection of a shopping cart and buying stuff!  Today we salute you Inglewood with our Real Homes of Genius Award.
Inglewood – Real Estate and Google Come Together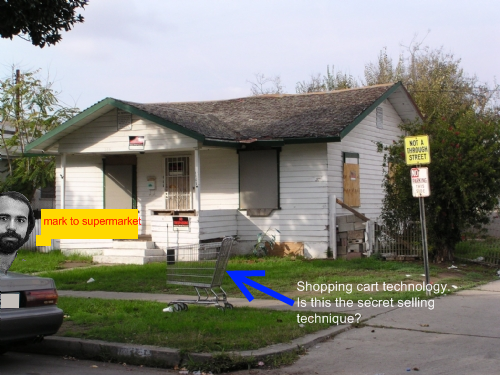 I'm always curious as to why people take pictures like this when they are selling something "worth" hundreds of thousands of dollars.  In other Real Homes of Genius we have seen people leaving trash cans on their lawn as if this was a symbolic gesture or garden gnome.  Yet I had not seen a home with a shopping cart in the real estate ads I have looked through.  There is always a first for everything.
This home is 832 square feet with 2 bedrooms and 1 bath.  The ad tells us that this is a "tear down" and that it is being sold "as-is."  You would think that if you were trying to sell a home like this you would at least remove the shopping cart from the picture but hey, this is California and anything can sell including homes with shopping carts parked on the front lawn.  Or was that the mantra for 2005?
Nothing highlights the decline in prices in Inglewood like this chart: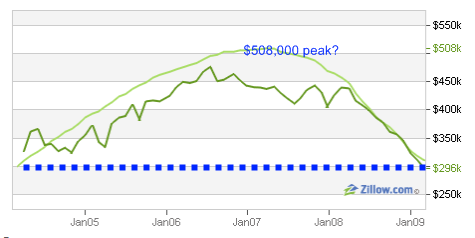 According to the above chart, the peak reached in Inglewood was $508,000 which is downright nutty.  I went ahead and pulled up the zip code data and the median price for last month was $365,000 which tells us nothing since the sample size is one home being sold.  There is no sales history on the place so the angle here is that this place is being sold for the land.  So what is the asking price?
$250,000
That is right.  $250,000 for an 832 square foot home in Inglewood.  And people think the bottom is here.  We have yet to factor in the ominous wave of Option ARMs and Alt-A loans that'll be hitting the market in 2009 through 2012.  And thanks to Google Street View technology, we can get an idea of what we are buying here for $250,000: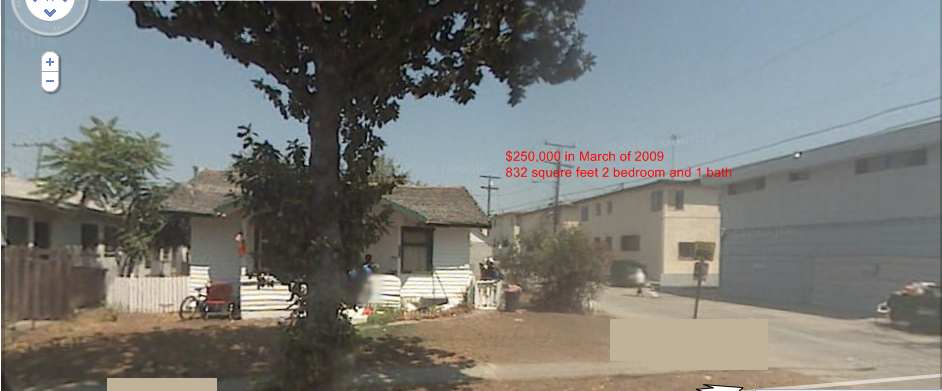 Now this gives you a much better perspective right?  You can see that this home is situated right next to an alley.  You can also see all the additional amenities that you will get when you buy this place.  Let us get another perspective of the neighborhood: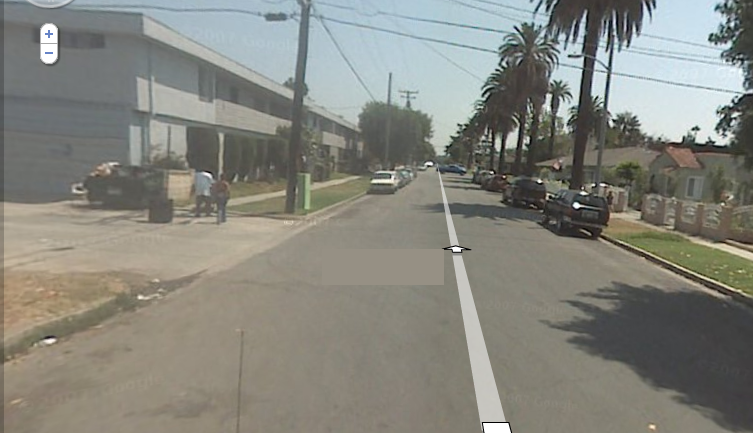 As you can tell, one side of the street is full of apartments.  So to buy this place to live in would seem extremely expensive.  But let us put on our investor hats and see what we can come up with.  We are told in the ad you can possible build "10 units" but are then told to check with the city so who really knows.  Let us just assume that we will be building four units on the lot.
First, let us do some searching on local area rents: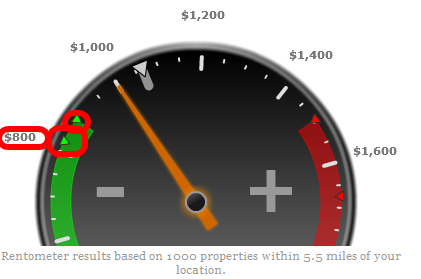 Okay, we are simply doing a quick check here and it looks like we can build 1 bedroom places and rent them out at approximately $800 per month.  So in total, we will be receiving $3,200 in cash flow simply from the rents assuming we manage the properties ourselves and have them occupied at all times.
But that is only one side of the equation.  You need to remember that given how tight the credit markets are right now, you will need to go in with 30% down for investment properties:
$250,000 x 30% = $75,000 down payment
And this merely gets us the property.  How much to tear down the home?  Also, how much is it going to cost to build each unit?  We are talking hundreds of thousands more.  You think it is hard to get a loan for an investment property?  Try getting a loan for demolishing and building more housing especially in California!
So even on the home alone, you will be carrying a mortgage of $175,000 probably at 7% or higher since it will be an investment property loan.  Let us do the math on this note alone:
PITI:  $1,424
And that is simply the cost to buy the home as is with doing nothing and going down with $75,000.  Try factoring in the building cost and everything else and that $3,200 is gone.  10-units?  If that is the case you are talking about years down the road before you turn a profit.
So instead of listening to those pundits telling you we are at a bottom, just do the math and you'll realize we are still far away from any bottom at least here in California.
Today we salute you Inglewood with our Real Homes of Genius Award.
Did You Enjoy The Post? Subscribe to Dr. Housing Bubble's Blog to get updated housing commentary, analysis, and information.