Back in June of this year, we talked about the financial difficulties facing Ed McMahon. At that time, Ed McMahon was in arrears on his Beverly Hills home by a stunning $644,000 on his $4.8 million dollar home. As we worked out the math on the place, we approximated that the carrying cost alone on the home was $30,000 to $35,000 given the size of the mortgage. The home has been on the market for 537 days.
In what has to be the largest one day decrease in price, the home on August 7 was reduced from $6,500,000 to $4,600,000. A $1,900,000 price reduction in one day: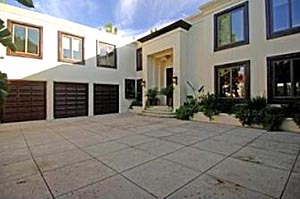 *Source: ZipRealty
Clearly even prime area zip codes such as the 90210 are having their difficulties in this housing market. What is stunning about the price action is during the financial turmoil, the price of the home was lifted by $500,000. I'm not sure if they thought given the media coverage of Ed's financial difficulties that someone would be feeling bad enough to dish out $6.25 million.
The problem of course was that as it turns out and as time went by, living beyond your means doesn't only apply to middle class workers. It is possible to be a "millionaire" and live beyond your means. This home had a second mortgage and was maxed out.
Let us do some quick math on the home:
First mortgage: $4,800,000 at 5.25% principal and interest = $26,505 per month
Taxes and Insurance = $5,200
Total monthly nut = $31,705
Yearly housing cost = $380,460
The yearly carrying cost of the first mortgage on this place is higher than the price of a median priced home in California! The Wall Street Journal reported that Ed was $644,000 in arrears back in June. Mr. McMahon unfortunately was injured 20 months ago and has been unable to work. So if we are to break the math down:
$644,000 / 20 = $32,200 per month
Too bad the Zestimate on the place has it much lower even after the nearly $2 million price reduction:

So we are close in estimating the monthly payment. Here are the details from the Wall Street Journal Article:
"(Wall Street Journal) ReconTrust, a unit of mortgage lender Countrywide Financial, on Feb. 28 filed a notice of default on a $4.8 million Countrywide loan backed by Mr. McMahon's home. The notice was filed with the Los Angeles County Recorder's Office but hasn't previously come to light. According to the filing, Mr. McMahon was then about $644,000 in arrears on the loan. It isn't clear whether Countrywide still owns the loan or is acting on behalf of investors who acquired it. Public records also show that Mr. McMahon had a separate home-equity line of credit from Countrywide of up to $300,000 secured by the same house.
Mr. McMahon's home has been on the market for about two years, his real-estate agent Alex Davis said. Mr. Davis said the price had been reduced, but he couldn't immediately provide details. The Christie's Great Estates Web site, which includes homes listed by Mr. Davis, lists the asking price at $5.75 million and says it has a canyon view and a master-bedroom suite with his and her bathrooms."
So as you already know, Countrywide is now owned by Bank of America so what was once Countrywide's problem is now Bank of America's problem. So let us do a quick recap:
1st mortgage: $4,800,000
2nd mortgage: $300,000
Total mortgages: $5,100,000
Current price as of August 7th 2008, $4,600,000. You can kiss that second mortgage goodbye. This is the problem that in order to get the home to sell, they need to make drastic measures. Since this home has been on the market for such a long time it looks like Bank of America is going through the junk on Countrywide's books and is simply cleaning house. Dropping the price by nearly $2 million in one move will get anyone's attention. This may be the move that was needed to move Ed McMahon's home.
Today we salute you Bank of America with our Real Homes of Genius Award.
Did You Enjoy The Post? Subscribe to Dr. Housing Bubble's Blog to get updated housing commentary, analysis, and information