The economy and stock market definitely go in cycles.  Real estate was largely immune to this up until the late 1990s when creative financing was introduced into this largely boring sector.  Aside from pocket bubbles and localized frenzies, real estate was a fairly drab and reliable asset class.  That of course has dramatically changed.  People forget about cycles and I am consistently reminded of Black Swan events.  Over 7,000,000 people lost their homes to foreclosures over the past decade.  1,000,000 of these were in California yet somehow, the nonsensical drumbeat that buying a home is always a good deal is being echoed by house humpers.  Back in the last cycle there were investors from Nevada and Arizona and they were simply adamant that no bubble was possible.  "These places rent out and cover the loan!"  Until local economies got hit.  Or they were able to flip in a short period and make a good amount of money.  Until prices went down.  Some seem to think banking is fantastic again and fail to look at what just happened with Wells Fargo.  Yeah, everything is Kosher.  That time was different.  Yet this time, it is a stable market even when magnificent crap shacks in the Bay Area are going for way above one million dollars.  Cycles in real estate are now a thing thanks to the massive debt fueling this machine.
The housing cycle based on various markets
Someone sent over a really interesting chart in terms of housing markets and what stage they were in based on market cycles.  I like to think of real estate as a massive cruise ship.  To turn a ship from its current course takes a lot of time.  And also, like a cruise ship, people get lazy and simply follow the herd and eat themselves into a coma of nonsensical information.
At this point, it is safe to say that the previous bubble is a long gone memory for most.  All those "losers" that lost their homes simply did not have the winning formula.  And here is the thing, say you bought a home for $600,000 and it is now worth $800,000.  You only get that money when you close escrow and tap the money out.
The chart is interesting because it still shows room to go for some markets.  So do you buy based on this?  Jump on the cruise ship before heading back to port?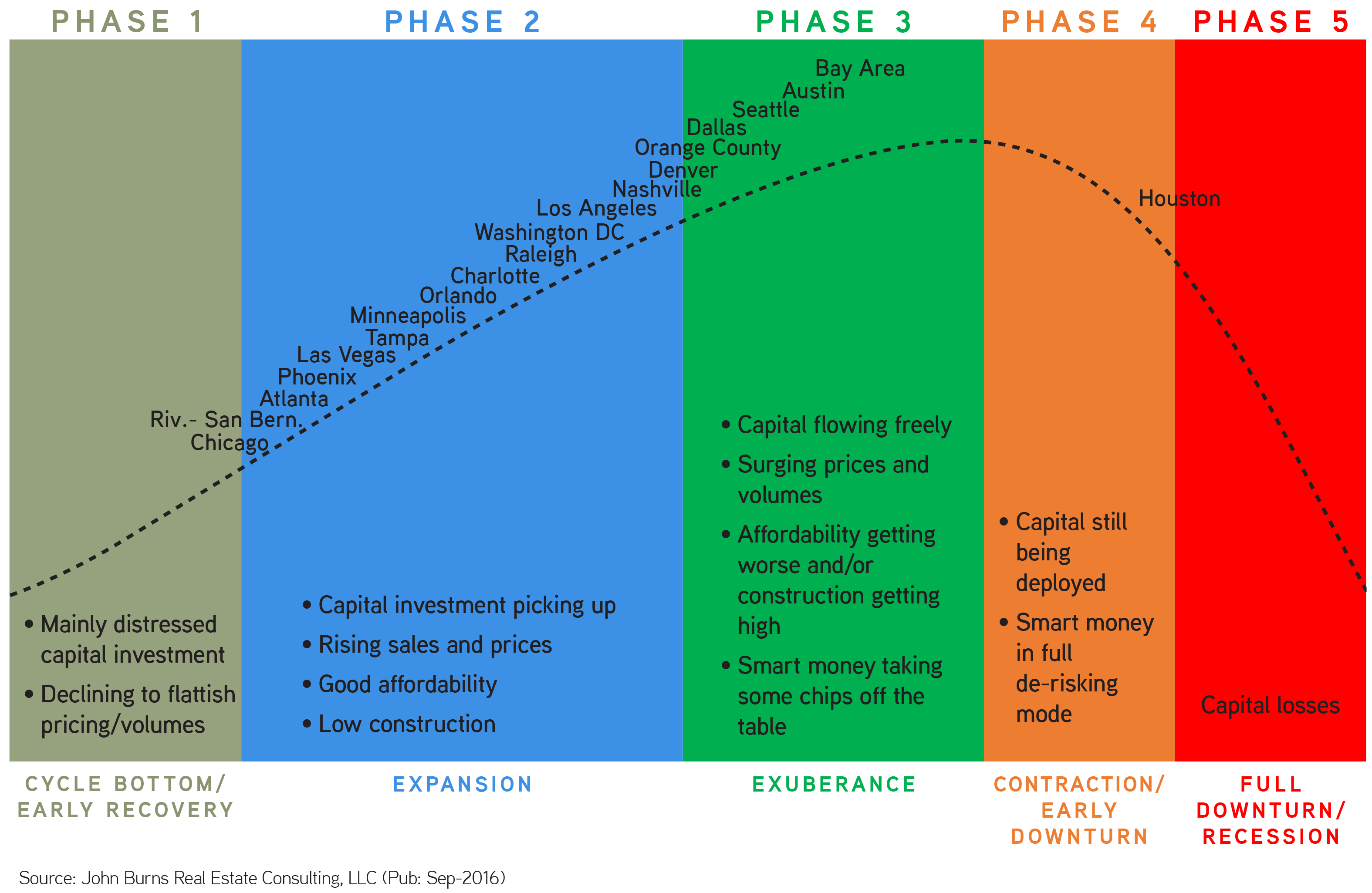 I don't fully agree but I do like how it is laid out.  You want to buy when many people are saying real estate is a bad investment.  Right now, you have every Taco Tuesday baby boomer telling you real estate is a great deal!  Rents are going up so you always win! You have to live somewhere so why not mortgage yourself into your next life and buy a crap shack?  After all, every area is the next Newport Beach or Malibu.
What is interesting is that the chart above shows that the Inland Empire is still in expansion mode.  For places like Los Angeles and Orange County things are frothy.  Austin and the Bay Area are pretty much hitting a peak based on their listed criteria.  Smart money has been pulling back in the last year for sure.  Affordability is already pathetic in practically the entire state of California.
The only market that is in bad shape above is Houston and even then, home prices are still strong there.  Pretty much every housing market is doing well at this point because access to debt is still cheap.  Just look at interest rates.  But if there is such a thing as market cycles, when does the turning point hit?  L.A. and O.C. are deep in exuberance.  In Orange County new construction and building is taking place everywhere.  But things can and typically do change.  The real estate market is now largely tracking the stock market since big money is looking for alternative investments.
Here is an example:

This is year-over-year changes in California income and home prices for the LA/OC metro area.  In 2014, real California household income went down by 2 percent yet housing prices in the LA/OC area went up by 20 percent.  You can see the late 1980s bubbles, followed by the largely stable 1990s, and the wild ride we have been on since.
The market cycle chart does seem to be calling it on some markets.  Look at San Francisco: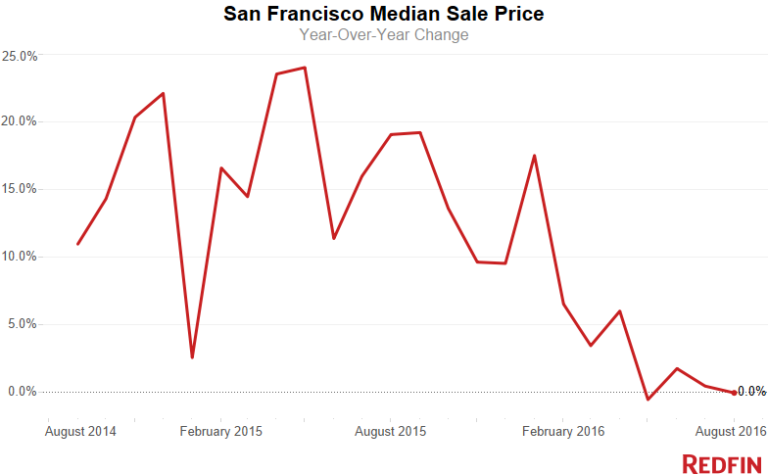 It definitely looks like prices are hitting a peak.  What about home sales?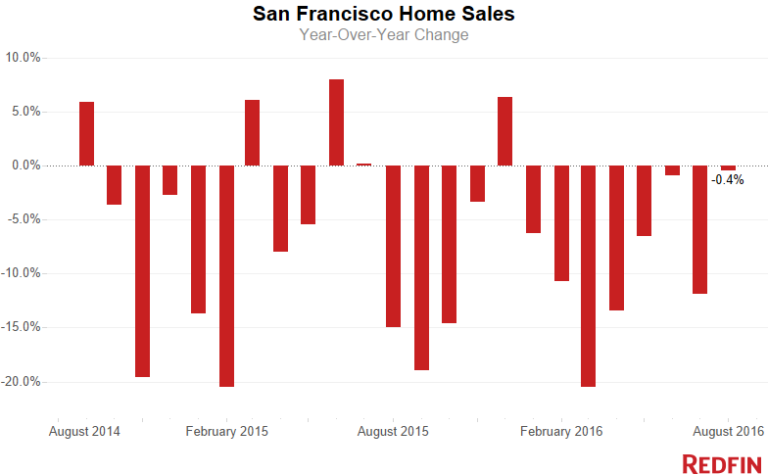 Looks like a slowdown for sure.  What about time on market?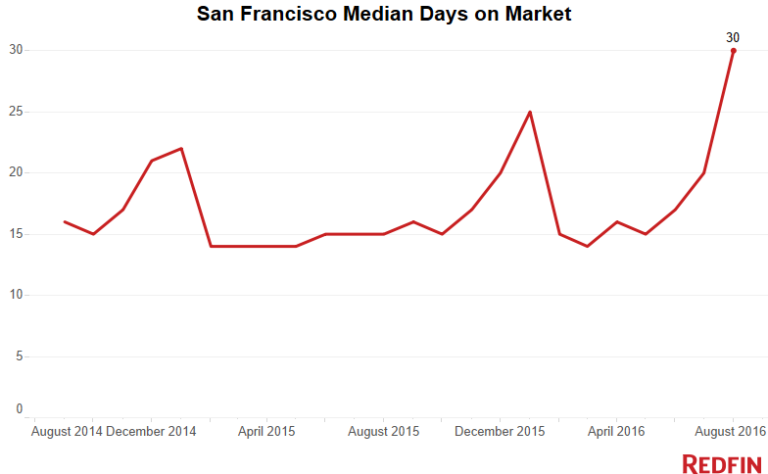 All of these are pointing to a slowdown in California's hottest market.  But of course SoCal is different.  Seattle is different.  Boulder is different.  Portland is different.  China is different.  Everyone is immune to market cycles until they are not.  Things just slowly start changing and when you exit a mania like this, there is always a hangover.

Did You Enjoy The Post? Subscribe to Dr. Housing Bubble's Blog to get updated housing commentary, analysis, and information.