California's housing affordability is once again in an unreachable level for most working professionals.  You get Taco Tuesday baby boomers jawboning their children to purchase a modest home but that turns out to be a rundown crap shack costing $700,000.  So many California adults live at home with mom and dad since rents are also high.  Redfin put together some data showing that only 17 percent of homes in California are affordable to an average teacher with an annual salary of $73,536.  When looking at the data you will see that the coast is becoming an even more expensive enclave and many homes are being bought by investors, foreigner buyers, and dual income households.  The last group is the one that is in the position for a large shock since they are buying in many cases to pop out a brood and largely don't factor in the cost of childcare once the little ones come into the world.  But like most things in California, people live on the absolute financial edge and that edge just got much closer.
Lesson for today:  Your teacher lives in a van by the river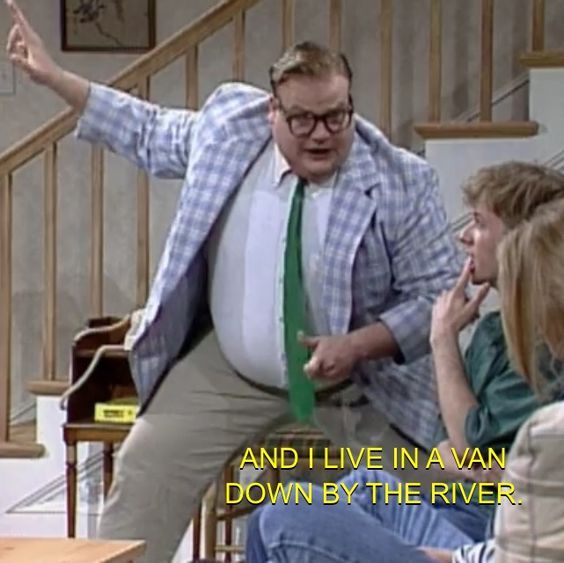 Your typical California home now costs for $500,000.  That is $200,000 more than your typical teacher can afford.  Rents eat up a lot for many workers so coming out with that fantastical down payment that makes the numbers work so beautifully is largely done by the bank of mom and dad.  Of course this is doable for a professional working couple.  There is no doubt about that.  You can also get six-pack abs but it takes wicked discipline on diet and working out and that is something most don't have.  I mean think about it for a second when the typical crap shack costs $700,000 in an area that has OK schools and looks like a toddler's rendering of a home.  So that 20 percent down payment is $140,000.  House humping beer belly HGTV fanatics act as if this was super easy to come by, especially for broke Millennials.
Redfin's recent report is somewhat comical in terms of how unaffordable most of California is for the typical worker: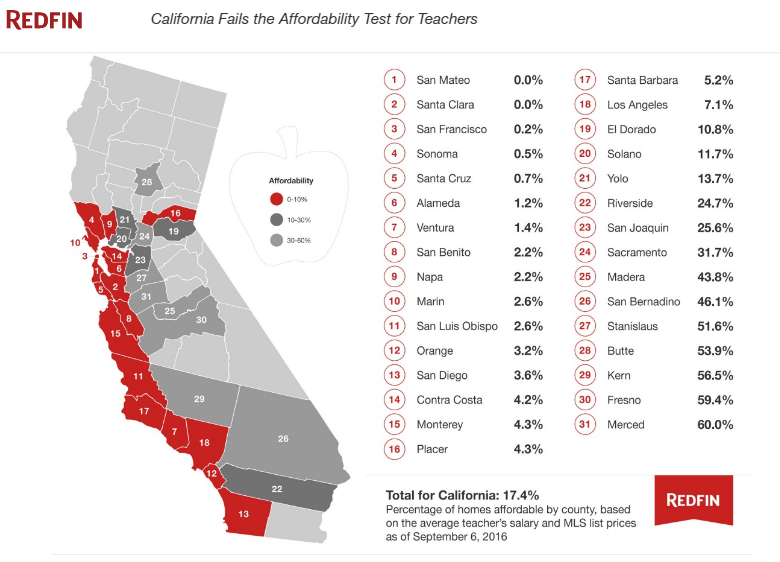 Here are 5 areas where less than 1 percent of teachers can buy a home:
-San Mateo

-Santa Clara

-San Francisco

-Sonoma

-Santa Cruz
But look at how it is for SoCal too.  Orange County is at 3.2%, San Diego is at 3.6%, and Los Angeles comes in at 7.1%.  The only reason L.A. is higher is because there are many more markets that have horrible schools and older homes that need lots of work.  In these cases, you would need to plunk down $500,000 and hope things work out.
But there is a glimmer of hope.  The inland areas are much more affordable.  However we have talked about the health destroying commute millions take just to afford their McMansion in an area that might as well be in Arizona or Nevada.  I'm sure that you've heard that sitting is the new smoking right?  But who cares!  You get to own a home and have the privilege of being stuck in god awful traffic for 1, 2, 3, or even 4 hours a day.
People are cutting it extremely close.  So you might say, "screw the average teacher, let them live in a van and have them teach my kid."  That might work until you have kids.  Then you get desperate for good schools and those areas cost an arm or a leg or you buy in a "transitional" neighborhood and put your kids into private school.  You notice that the house humping brigade doesn't bother talking about childcare when doing a home analysis but most that buy do so because of family pressure?  In California in expensive markets childcare can cost anywhere from $1,000 to $1,600 per month and that is per kid.  Many want the standard 2 kids, 2 European cars, 2 pets, and 2 paychecks to cover the massive mortgage.
So maybe that is the lesson we are learning here.  Teachers have a big responsibility in our society yet somehow, can't buy in many areas.  And now many older Californians are wondering why millions of their adult kids are stuck at home unable to buy.  That is an interesting lesson many are learning in real time when housing becomes so unaffordable even to working professionals.

Did You Enjoy The Post? Subscribe to Dr. Housing Bubble's Blog to get updated housing commentary, analysis, and information.