California's credit rating is now the lowest in the country as the state's rating was just downgraded.  On top of that great news, the option ARM spigot is now open.  We've been warning about the financial destruction that option ARMs would cause once they started recasting in full fury.  Well now we do not have to speculate.  These loans are imploding like their subprime siblings.  The curious notion that option ARMs were "prime" products rested on the fact that these loans were made to folks with higher FICO scores.  This is simply absurd.  I knew people making $30,000 a year with 700+ scores.  Does that warrant a person like this buying a $500,000 home?  I keep remembering an article that I highlighted on May 3rd, 2007 where someone making $14,000 a year was able to qualify for a $720,000 loan.  The real estate agent told the buyers that they would be able to refinance the loan with more affordable terms.  Listen, you can offer them a 0 percent 50 year mortgage and the math still wouldn't work.
Yet this is the mentality that permeated with the subprime and option ARM snake oil salesman contingent.  There was always a belief that you would be able to refinance or sell off your modified plywood granite countertop holder to some other schmuck for more money.  Agents and lenders believed this and even if they didn't, that commission check was a strong enough reinforcement for many to blur the ethical and fiduciary lines.  Either way, one good thing is that delusional psychology is taking it on the chin and that is now gone probably for a few decades (until people forget and want to start another bubble).  Before we examine where we are with option ARMs, let us first see how we got here through a series of pictures: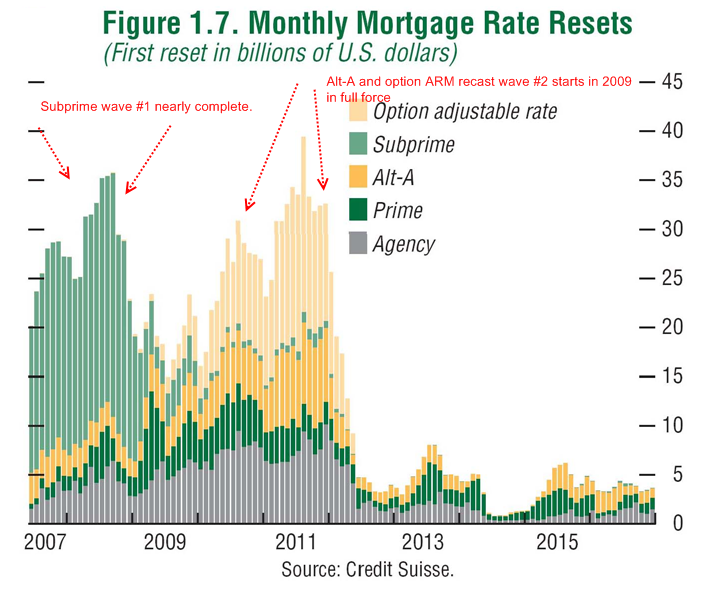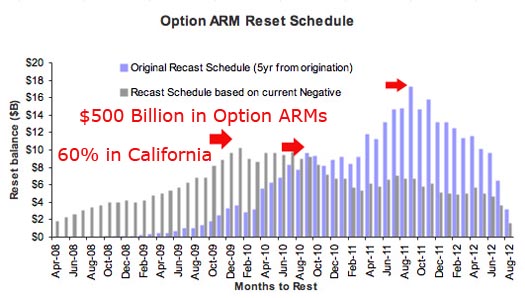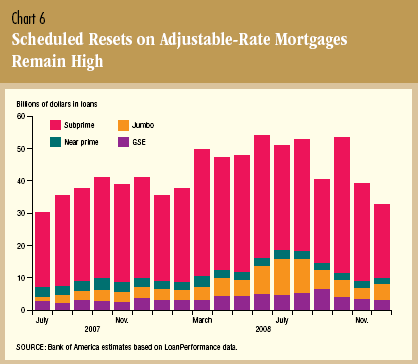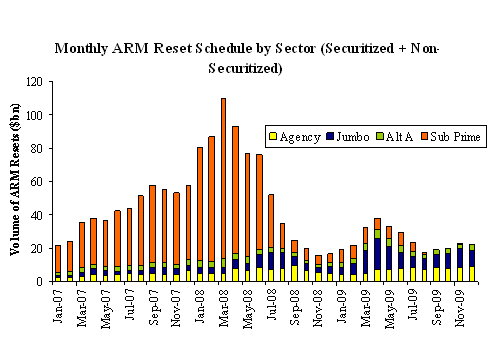 Now I'm sure many of you have seen these charts multiple times in the past but it is important to study them carefully in the context of where we are at today.  We are dealing with the actual mess instead of looking at charts dumbfounded and wondering what the impact is going to be when payments skyrocket.  Well first, many payments are now jumping significantly which is not exactly a good recipe for success in our current beaten down economy: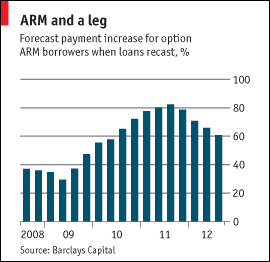 We've only started the first round and it is game over.  In total approximately $750 billion of option ARMs were originated from 2004 to 2007.  What is even more troubling is that 55% of borrowers with option ARMs owe more than their actual home is worth.  And this data is conservative since it comes from the banking sector which didn't even see the recession coming even while they were standing knee deep in it.
Now here is where the data becomes more recent.  As of December of 2008, a stunning 28% of option ARMs were delinquent or in some stage of foreclosure.  We haven't even seen the major recasts and already over 1 in 4 of these loans is imploding.  Can you say subprime redux?
In recent reports I have been seeing that people are saying this won't be as bad as subprime since just over half of subprime loans were delinquent or in foreclosure in December.  To those people I say, come back in December of 2009 and it will be a very different ball game.  50 percent is optimistic for the option ARM game.
According to a report from Bloomberg, $200 billion of the original $750 billion in option ARMs are outstanding.  They also list the following:
2009:  $30 billion will recast
2010:  $67 billion will recast
Further data points to an even more troubling picture.  The average option ARM monthly payment is going to go up by 63 percent or $1,052!  While the employment situation sours and people are losing jobs or getting hours cut back, many are going to see their monthly payment skyrocket.  With these loans we have a silent bomb just waiting to go off.  What I can tell you is that you are going to need to get ready for a lot of people moonwalking away from their mortgages.  What do I mean by moonwalking?  This is a very important point and warrants a psychological analysis.  People tend to forget that subprime loans already started out at higher interest rates to begin with.  So many of these people actually had a chance to refinance if they wanted to.  Many didn't because they couldn't even afford their payment – that is why they were subprime to begin with!  Most simply defaulted since they were already a poor risk to begin with.  The subprime game is basically done and was only the tip of the toxic mortgage iceberg.
Yet with option ARMs and the legendary "prime" FICO borrower, you might have a situation play out like this.  We'll focus on California since the vast majority of that $200 billion is here.
(a)  You have a couple making $100,000 buy a home in California for $600,000 with an option ARM in 2005.  Let us run the numbers: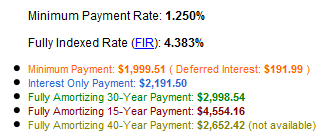 Not bad.  We have a $600,000 home for only $1,995 a month.  Now, we aren't factoring taxes and insurance which will probably add another $625 a month.  So let us see how our budget looks:
Monthly Net Pay:  $6,010
PITI:   $2,620
Okay, so we're okay with the current payment.  But let us now fast forward to today:
(b)  The same couple is now making $70,000 because of cut backs and the employment situation in the state.  The home is now worth $350,000 and the payment has jumped up since it is 2009.  What does the crystal ball show us?
Monthly Net Pay:      $4,499
PITI:   $3,876 (with average 63% jump on PI)
Game over.
It is simple as that.  So these people are flying under the radar right now.  And this is assuming that the income is still coming in.  So technically these people are still current on their teaser rate because in many cases this is probably cheaper than renting.  But once the rate recasts, all of a sudden you get recast shock syndrome (RSS).  At that point, you moonwalk away and that is why we are already seeing a default rate of 28%.  We will see 70% plus of the current loans implode (that is, if the government doesn't jump in with some other cockamamie idea).  And instead of running some complex macro economic analysis, just look at the above numbers.  Anyone can see that this was going to happen and those that are "shocked" to see 28% defaults already are simply smoking delusional crack laced with happy go-lucky real estate PCP.
So this is where we now stand.  California and Florida have the majority of these option ARMs and they will have to deal with the brunt of these loans.  The irony is these loans are good until they go RSS and then it is missed payment after missed payment.  Get those ruby slippers ready because there is going to be some serious moonwalking from option ARMs in 2009.
Did You Enjoy The Post? Subscribe to Dr. Housing Bubble's Blog to get updated housing commentary, analysis, and information.