To say that we are living in a financial moral hazard period is probably the biggest understatement of the century.  The banking industry has ignored every sensible and prudent approach to lending and has turned finance into a giant vacuum that is draining every ounce of productivity from our system.  Our economy is in a giant malaise because most of the money is going to the incredibly unproductive financial and real estate sector.  In the last few months, word has gotten out that banks have been doing very little to help small businesses, the supposed life blood of our nation.  Don't you think this is something that the U.S. Treasury and Federal Reserve should have figured out first before shoveling out trillions of dollars to the toxic banking sector?  Things are so bad in the system that I have now heard from many readers about people having loan modifications that effectively allow home borrowers to stay in their homes at below market rents.  In other words, another subsidy to an already incredibly subsidized market.
Take for example this Chase modification that recently occurred here in Los Angeles County: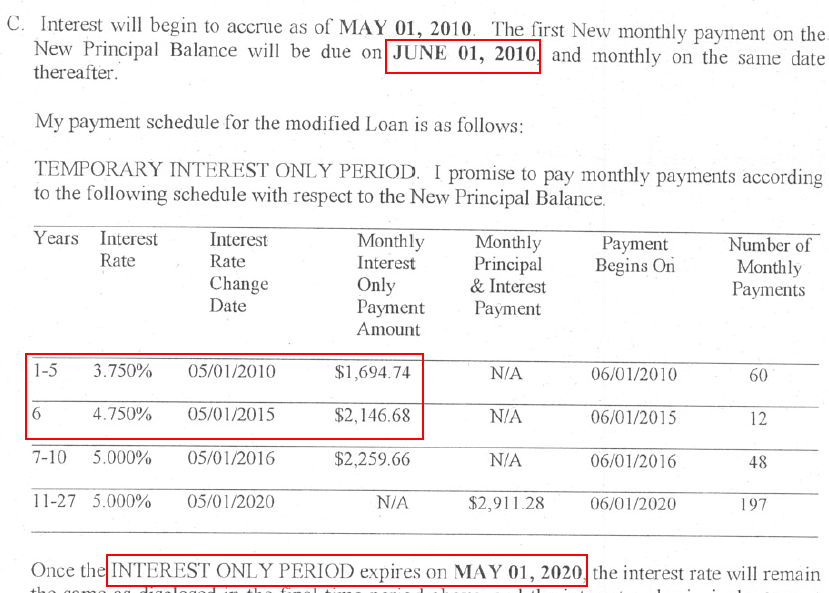 This loan modification occurred in the 91306 zip code of Los Angeles County.  The current median price for this market is $355,000.  Remember those horrific option ARMs?  Well they are now morphing into other products.  Here are the original terms on the note:
Option ARM payments
Negative Amortization:                 $1,754
Interest Only:                                    $2,265
P&I:                                                       $2,905
The "real" monthly cost on the mortgage is closer to $3,000.  Yet with this new modification, the borrower can stay in the house paying $1,694 per month all the way until 2015 with a 3.75 percent interest rate.  This is someone that took out an option ARM from one of the former option ARM kingpins.  The borrower who speculated wins because they get to stay in the home and the bank has already won with all the taxpayer money they have stuffed into their pockets.  Oh, and what is the new principal balance?

So the bank can assert that they have a $542,000 asset in a market where the median home price is closer to $355,000.  What do they care?  They already have taxpayer money to speculate on Wall Street and basically allow these mortgages to sit fertile for as long as the borrower can string by a few payments.  Moral hazard?  We are beyond that point.  I'm surprised we don't have tens of thousands of people marching down Wall Street but as long as those iPhones have new apps each week then I guess all is well.
If you look at market rents in this area, it actually turns out that this borrower is making out big time: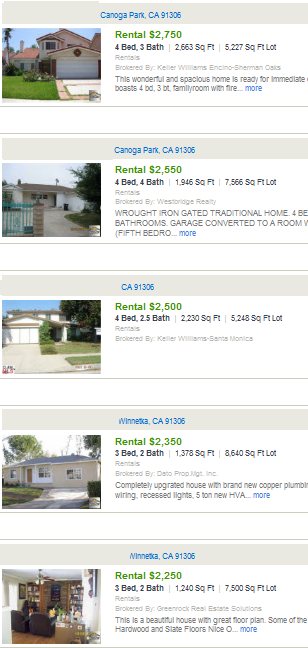 Hard to tell the size of the home but assuming the basic 3 beds and 2 baths home, rents can range from $2,300 to $2,400.  Keep in mind that the borrower can write-off on their taxes the interest portion of the note (100% for the next few years) plus taxes.   Ultimately, banks and borrowers are being rewarded for bad behavior.  And this hurts everyone especially the prudent majority.  Keep in mind that if this home was added to the market even as a rental, overall rent prices would go down.  So by funneling money into the banking sector, what is occurring is we are favoring one group over another.  In this case, the vast majority of the reward goes to the bank while the borrower shares in their dirty little secret.
This is only one example of many of the option ARM reworks that are currently happening.  Make no mistake, the vast majority are failing and going into default but there are also many loans like the above that are being reworked through hocus pocus and subsidizing another group that made a very bad bet.  And enough with the keeping people in homes argument.  There have been modifications of toxic loans in million dollar neighborhoods!  These people will be renting in top of the line areas if they lose their home so don't go sobbing about that especially here in California.  We've already analyzed top priced areas and you see that the stats show a very peculiar trend.  Why not say that we won't allow modifications that go above the median nationwide home price of $170,000?  I think most can live with that.  But that isn't exactly what is happening.
Shocked yet?  Well how about a 40 year IndyMac loan modification?  A reader sent over this interesting example:

Remember IndyMac?  They were the bank that fell flat on their face and had a large number of people here in Southern California doing bank runs that looked similar to the Great Depression.  Keep in mind that this is a giant loan amount.  The national median home price is close to $170,000 as we just mentioned.  In California, the median price is $278,000.  Who are we really helping here and how do banks have the money to make these kinds of deals?  That's right, we're in a crony banking system that basically operates to funnel money into the completely unregulated (actually, regulations are there but no enforcement) and wild west banking industry.
This absurd behavior goes on because both Democrats and Republicans (especially in the Senate) are owned by corporate lobbyist and Wall Street.  Until people demand real change, the same beat will go on and banks will continue to suck every ounce of real wealth from our economy.  The fact that it is cheaper to live in an option ARM financed home today than to rent responsibly tells you a lot of where things are.

Did You Enjoy The Post? Subscribe to Dr. Housing Bubble's Blog to get updated housing commentary, analysis, and information.