Foreclosures are characterized by the media as a financial downfall that only hits the poor in our society.  Recent media stories have focused on the higher end market and it shouldn't come as a shock that many who appeared to be living in the new gilded age were merely mortgaged to the hilt with toxic loans.  In fact, the data reveals that those with higher mortgages are all the more willing to walk away from their underwater properties than those with lesser means.  Here you have the government berating people for strategically defaulting while the wealthiest among us run from their mortgage commitments as soon as their best rendition of Dallas fails.  Instead of taking it at face value, what better place to examine the million dollar foreclosure market than here in Southern California?
I wanted to closely examine the Los Angeles County market and see what is going on with high level distressed property.  Let us first look at zip codes with median sales prices of $1 million or more: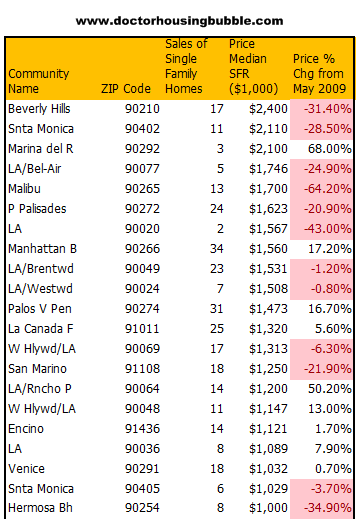 309 homes were sold in the above zip codes.  This doesn't mean 309 homes sold with a price tag of more than a million.  Take for example Hermosa Beach.  The median is $1 million meaning half of the homes sold above that price and half sold below it.  The above however gives us a good sense of what is happening out in the market.  We know at the very lower end, that at least 154 homes sold in L.A. County for $1 million or more last month.  But look at the price changes listed above.  Many of the cities have seen drastic cuts in their median price.  For example, the famous 90210 zip code has seen a median price drop of 31 percent.  The most dramatic is Malibu with a 64 percent price drop.  These markets are highly volatile (look at Marina Del Rey with a 68 percent year over year price increase).
The idea that there is little trouble in the high priced market is absolutely incorrect.  In fact, we are seeing a lot of properties entering into problems.  The wealthy have more money by definition but many also bought into the housing propaganda and over paid for homes: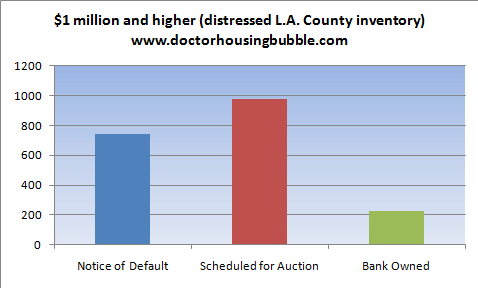 In total there are 1,947 homes in L.A. County valued at one million dollars or more with at least 3 missed payments all the way up to being bank owned.  If these homes were valued at higher prices, you would expect that the owner would simply sell the home and take whatever equity remains and move on with their life.  Yet that is where the conflict arises because many of these homes are massively underwater like millions of other Americans.  Unlike most Americans facing housing trouble, these homes can be underwater in the millions of dollars.  It would appear that many of the rich were only rich in their ability to access debt to purchase the property and lease the European make of car.  A large number of them really lived a life of all hat and no cattle.
1 in 7 homeowners with a loan in excess of one million dollars is now seriously delinquent.  This is compared to 1 in 12 for mortgage values of fewer than one million dollars.  The assumption would be that those working class and middle class Americans would have a harder time paying their mortgage in these economically challenging times.  Yet as it turns out the zip code rich on a per capita basis have more trouble paying their mortgage than the majority of Americans (or better put, have more means to selectively not pay their mortgage).  In L.A. County appearances can be absolutely deceptive.  Let us look at total MLS inventory and compare it to million dollar listings: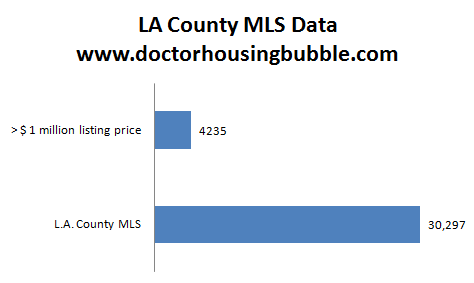 14 homes out of 100 are priced at $1 million or more in the county.  This is really where you still see evidence that California in many areas is still showing signs of a housing bubble.  In order to purchase a $1 million dollar home, you would need a substantial income.  Let us assume you buy at this price range with 20 percent down:
Home price:                       $1 million
Down payment:               $200,000
Mortgage:                           $800,000
PITI:                               $6,097 (30 year fixed 6.5% jumbo loan)
As a good rule, you should not take a loan out that exceeds 3 times your annual gross household income.  So for this purchase, a household would need to bring in at least $266,500 a year.  This is the lower end.  Here is where the bubble is evident.  Only 7 percent of L.A. County households make $200,000 a year or more (so those that make $266,000 or more is less).  Yet current MLS listings show 14 percent of all inventory priced over $1 million!  And you wonder why housing is still in a funk.
Let us look at a direct example in the glitzy 90210 Beverly Hills zip code: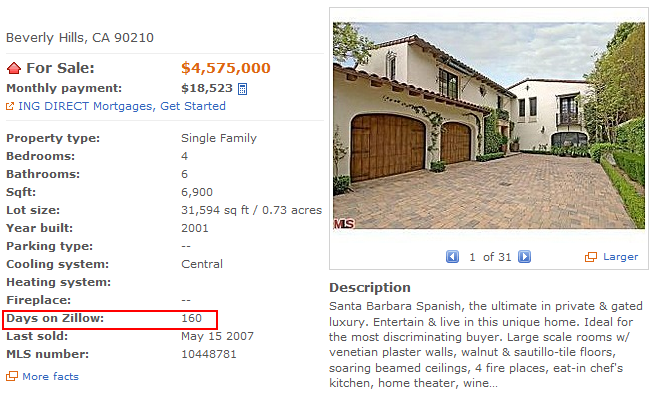 The above is a bank owned home that is currently listed for sale for $4,575,000.  It is a 6 bedrooms and 4 baths home in a very exclusive neighborhood.  That by itself does not seclude this home from jumping into the toxic mortgage world that engulfed the region for years.  The home was taken over in late March but has been listed for 160 days.  Let us look at the actual note history: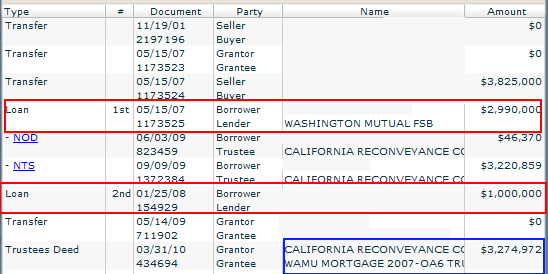 Washington Mutual made a loan back in 2007 for close to $3 million on this place.  Not even a year later, a second mortgage was secured on the property for $1 million.  All it took was another year and in 2009 the notice of default was filed in June.  Three months later it was scheduled for auction.  Even though it is listed as bank owned it is showing up as being postponed due to mutual agreement.  This is probably why the home is up for sale for the current price.  How many people do you think are ready to shell out $4.5 million in this market?  Whoever is selling this home is trying to have a safe exit in the worst housing market since the Great Depression.
When I look at the data it is amazing how many of these homes are secured with Alt-A and option ARM products.  Banks are hoping and praying the market will turn around but they are fooling each other.  Many of the people that bought these places never were wealthy enough to own the home.  Sure, their incomes were higher than the average but it is another level to afford a million dollar loan.  Apparently the "rich" strategically default as well and have deep housing problems like millions of Americans.  Still think it is a wise idea to push home buying for everyone before we patch up these massive kinds of loopholes?  Keep in mind tax dollars are going to bailing out these owners indirectly by funneling money to the banks that made these absurd loans.  After all, even the rich need a bailout to keep the Jacuzzi running.

Did You Enjoy The Post? Subscribe to Dr. Housing Bubble's Blog to get updated housing commentary, analysis, and information.