It is no secret that investors are pouring money into the real estate game.  What is interesting is the kinds of investments being taken on are highlighting a bolder more aggressive approach.  For example we are seeing more money flowing into flips in Southern California since rentals are unlikely to cash flow in many prime areas of Los Angeles and Orange County.  The appreciation trade is back on.  With supply at record lows and sentiment near a point of giddiness, money is being made in many different ways.  Early on many of the flips we were seeing involved very minor cosmetic work and most of the gains were made on the low purchase price.  Today, some flippers are doing some major work and are going for giant gains.  Let us take a look at a potential flip in Boyle Heights.
The Boyle Heights Flip
One of the great things about Google Maps is that you can take a look at a property prior to any work being done.  Google Maps only updates at longer intervals so you can see older pictures.  Let us first take a look at this Boyle Heights flip: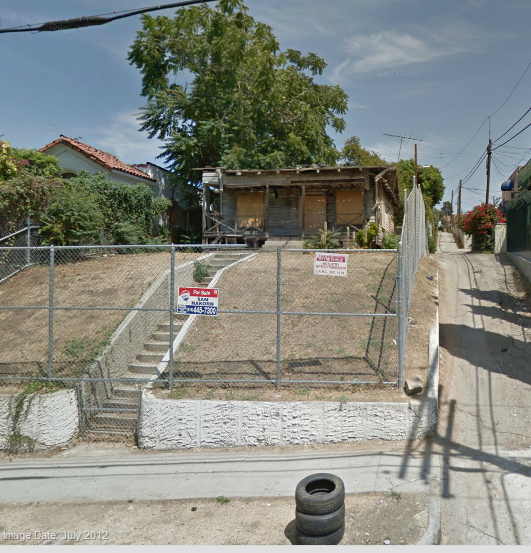 Not exactly a home that will pop up on Lifestyles of the Rich and Famous but someone was able to snag a deal on this place last year for $94,000.  Nice touch with the three stacked tires in the front sidewalk.  Some major work was done on this place: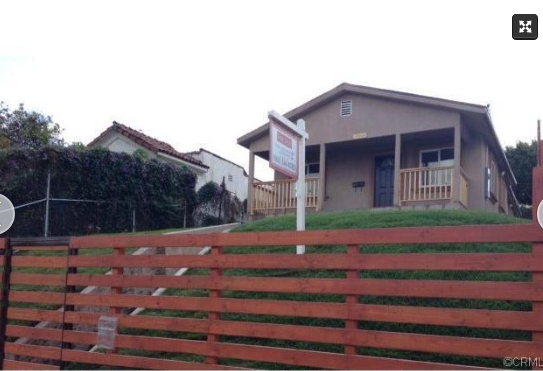 748 South MOTT St

Los Angeles, CA 90023

Beds:                     4

Baths:                   2

Square feet:       1,281
Clearly some investor put in a lot of work here since the place is not even recognizable anymore.  Let us take a look at the current listing for the place:
"Completely remodeled house – the entire property was down to the studs. This home is 95%+ new. Completely new plumbing (including water main from the street), new electrical, new flooring, walls, windows, cabinetry, even a car port – everything! An additional 499 sq ft was legally added with permits to bring the sq ft to almost 1300. Master bed has a large walk in closet that is approximately 6 x 10. Close to transportation, downtown and schools. Must see to appreciate."
The original place was built in 1917 and from the first picture, it doesn't look like much work had been done prior to the purchase last year.  If they legally added 499 square feet the original place only had 782 square feet.  What is interesting is the big gamble being taken on this place since clearly a good amount of money went into this investment.  Let us take a look at the sales history here: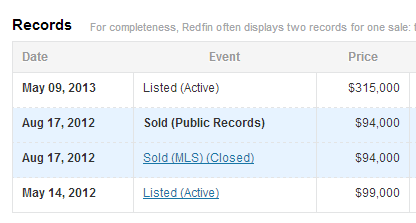 The current list price is $315,000.  Do you think $221,000 in value was added over the last few months?  Hard to say but the fact that this kind of investment is being made in Boyle Heights is showing that investor money is flowing to all areas of Los Angeles.
It'll be interesting to see what the eventual sales price on this place ends up being.  $315,000 is nothing to sneeze at here.  Local area 2 bedroom rentals go for $1,000 to $1,200 in this market.  The nearby schools are not exactly the best in Southern California: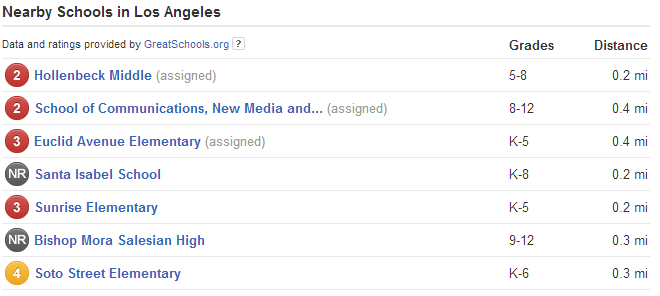 What I do find fascinating is the willingness for many flippers to go after these kinds of deals.  Only the investors really know how much money was sunk into this deal and how much of a buffer they have to play with here.  At $315,000 there is definitely a lot of profit to be had.  The question is, will someone bite at this price point?  The reemergence of the flip for appreciation was a hallmark of all the SoCal flipping shows where buying and flipping was done into a momentum of manic euphoria.  If you read many of the housing forums people seem to think that they missed the boat on the true and final bottom and now must capitulate and do whatever it takes to buy in this current market.  Having lived through the booms and busts of California, it appears that short-term memories are abundant and real estate reaches deep into our emotional core.  I've started seeing ads connecting family "wellness" with purchasing a home.  I was wondering how long it would take to start seeing these.  Yet these are still rare given that sales volume is still low in comparison to the former boom days.
Are you seeing more flips in certain neighborhoods?  Do you think this place will fetch the asking price?

Did You Enjoy The Post? Subscribe to Dr. Housing Bubble's Blog to get updated housing commentary, analysis, and information.