The spring and summer have reinvigorated the housing market nationwide.  In California sales are up and so are prices.  A combination of low inventory, better quality properties selling, and historically low interest rates are propelling sales.  Yet a bounce in sales and prices always occurs given seasonal factors during this time.  The sustainability of this trend is the bigger question.  The California economy is still struggling.  The recent budget that passed on time hinges on voters approving tax increases in November.  Hard to tell how things will play out given how polarized the nation is and how discouraged people have become with their representatives.  In California, new data shows that modifications on mortgages were largely a stalling effort as predicted.  Most of the bounce has been manufactured behind the scenes.  The figures on modifications are particularly fascinating.
Modifying the inevitable
A recent study conducted by TransUnion found that over half of all modified loans re-defaulted within 18 months: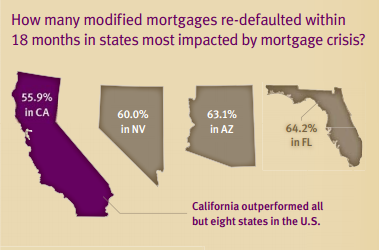 Source:  TransUnion
This is not a positive rate.  Keep in mind that if you looked at re-defaults say out to 36 months the rate would skyrocket even further.  Yet what this does is takes more inventory off the market in conjunction with banks leaking out shadow inventory.  In other words, in the dark rooms of banking balance sheets, you have at the latest count 2.8 million Americans that are now 12 months or more behind on their mortgage payments (if we add in those 90 days behind the figures jump even higher).  These properties are very likely to end up as foreclosures.  Even if stalling efforts are made, many will re-default.  This is still an incredibly high figure.
There was a recent analysis that stated that housing for the next few years will go up in down in spurts.  The logic was that as prices rise, those on the sidelines will jump in including putting online more inventory.  More inventory will likely drive prices lower with additional distressed properties hitting the market competing with other inventory.  Those with the option will pull back and we'll be left with the current market where banks essentially control inventory.  Also, with so many people with a foreclosure on their credit report each year we are removing over 1.5 million potential home buyers from buying for at least a few years.
Distressed properties do sell for much lower prices: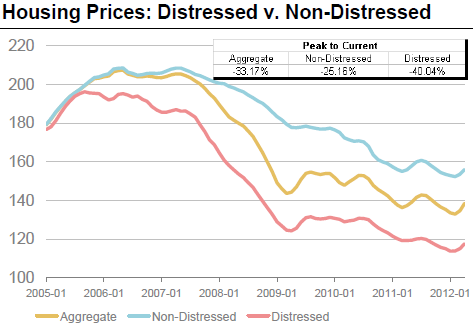 Source:   Morgan Stanley Research.  SoberLook
These are interesting figures.  Distressed property is down roughly 40 percent from the peak while non-distressed property is down 25 percent.  Yet underlying this data is that many who are not in a distressed position are likely to have pulled back from selling even if they had this in mind.  So the sales that do occur are pre-selected to be favorable for these sellers.  Even in this segment, prices have fallen.  The distressed figures simply highlight what we already know and that banks are slowly realizing prices will not bounce back and have become more aggressive with pricing action including approving more short sales.
The ARM-less California
During the heights of the bubble nearly 80 percent of all loan originations were part of the ARM variety in California: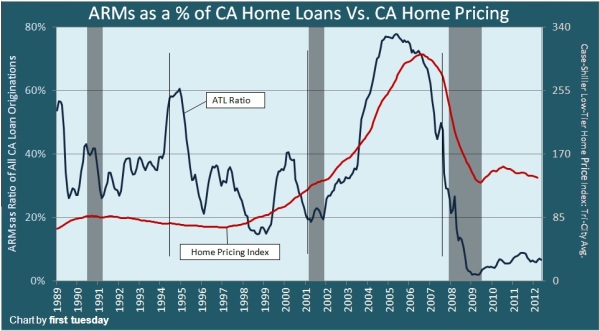 Even in more stable times, ARMs would typically make up 20 to 25 percent of loan originations.  Today it is in the single-digits even though ARMs have some outstanding terms.  A 5/1 ARM has a rate of 2.6 percent!  These are all time low rates and these aren't your no-doc NINJA loans either.  Since many outwardly talk about their starter home, why not buy a place with an ARM and wait 5 years to get on the property ladder train again?  The reality is most of these loans require strong income and a good down payment which very few actually have.  So the market is virtually dominated by investors buying lower priced distressed properties and other buyers using FHA insured loans with 3.5 percent down.  Yet these are 30-year fixed mortgages.
This is very telling about how people view the future.  If you really thought prices were stabilizing or moving slightly up, why not take on that ARM and when you go to sell in 5 to 7 years you saved yourself some dough in that monthly payment.  Of course home buyers for the most part lack anything resembling a 20 percent down payment and are essentially taking what they can via government backed loans: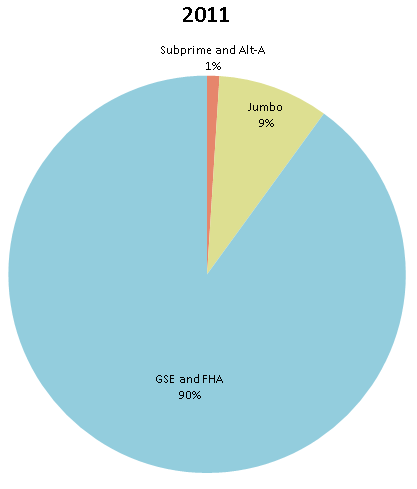 Those that believe rates will stay low for a long time and believe the market will move up in the next few years should jump in head first into ARMs.  The above chart demonstrates that people will simply follow the short-term trend without even realizing what kind of signaling behavior they are performing.  Would you consider using an ARM in today's market?

Did You Enjoy The Post? Subscribe to Dr. Housing Bubble's Blog to get updated housing commentary, analysis, and information.