First, I want to thank everyone that participated in the discussion about the hypothetical family making $100,000 a year with 2 kids and showing how $100,000 doesn't go as far as many would expect especially in high cost areas. I also noticed that most of the comments that went something like, "cut out the entertainment!" or "brown bag it!" or "why give to charity when you need it?" were from folks that simply are not from high cost areas. I thought most would quickly see that combined housing costs from the mortgage payment, taxes, and maintenance were eating up over 47 percent of their net take home income. Keep in mind that this is on a home that was bought for $385,000 which I know seems absurd to anyone not from the area; but for all of you out of state that is enough to buy you a Real Home of Genius here in California. The purpose of the article was to highlight that this couple wasn't your typical Southern California so-called "upper middle-class" couple with a Range Rover and Lexus in the driveway. In that case, they would have a car payment of $700 or higher on each vehicle and adjusted insurance rates and higher fuel costs.
Anyone here in Orange County and Los Angeles understands that many people think of being middle class as having two luxury cars, all rooms remodeled, and every upgraded gadget that'll make your entertainment system seem like NASA central. How many friends and family do you know that have similar budgets yet drive ridiculously expensive cars and are still struggling with debt? Not only that, how many jumped into this absurd housing bubble bonanza to keep up with the Joneses and have now seen 10, 20, 30, or even 40 percent of their equity evaporate? Is it any wonder why folks are moon walking away from their mortgages as if they were contestants on Dancing with the Stars? I was a bit perplexed by the comments. I think the majority of people realize that the reason middle class Americans are feeling the pinch is because of a few major reasons:
#1 – The Crashing Dollar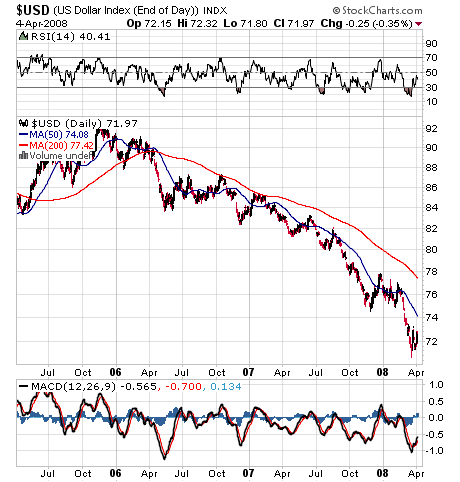 During the past two years the U.S. Dollar Index has declined by a stunning 21.7 percent. So who cares right? Well the fact that everything is now costing more, you should be concerned. Nothing drives this point deeper than traveling abroad. Anyone that read the comments saw that many were angry over the $250 a month (or $3,000) for vacations but do your realize that for a family of four, this probably means 4 to 5 days in Europe (if that) or a trip to Disneyworld in Florida? If you were to go outside the country you will see how savagely beaten the dollar is but guess what? Not many Americans travel outside the country:

Source: Phil Gyford's website
The author of the article references a few different articles and studies and arrives at an optimistic conclusion that 20 to 34 percent of Americans have passports. How many of these people actually travel beyond Mexico and Canada is another issue altogether. But nothing will drive the point faster and harder that your greenback is no longer worth as much as you would think. Another major factor now slamming the American budget is rising fuel costs:
#2 – Spiking Fuel Costs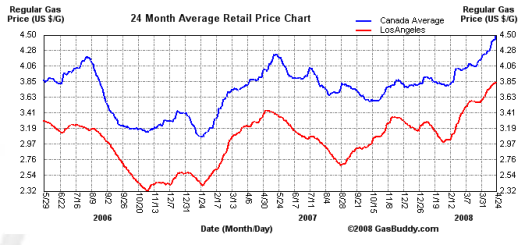 For a gallon of gas in Los Angeles, since October of 2006 the cost has increased a stunning 64 percent. Now beyond the fact that fuel is used for your automobile, rising food costs are directly correlated to this rise since many transportation companies simply push the additional cost of the fuel to the end user. So this impacts the bottom line of your budget as well. And here in Southern California especially, as highlighted in the previous article housing costs are what totally ruin your budget:
#3 – The Housing Bubble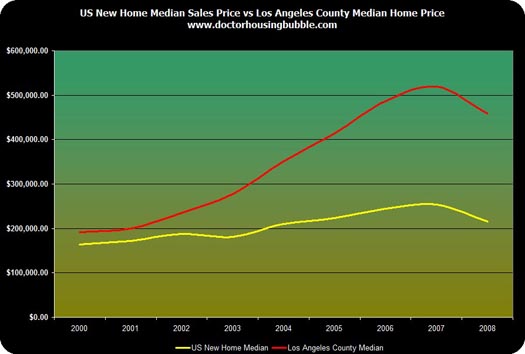 Just take a look at that graph. The cost of a median priced home in Los Angeles County went from $200,000 in 2000 to a peak of $550,000 in August of 2007. That is a stunning 175 percent rise in 7 years! It almost tripled in value and this is something that many states (fortunately) did not have to go through because the correction is now coming fast and furious. As of last month in March, the median price is now at $440,000 for Los Angeles which amounts to a drop of $110,000 in 7 months for a county with 10,000,000 people!
This would be no problem if wages kept moving up but they have not. So what does the breakdown of household family income look like in the United States?
Household income (overall percent of US households over):
Percent of Households over:
$65,000 34.72%
$80,000 25.6%
$91,705 20.0%
$100,000 17.8%
$118,200 10%
$166,200 5%
$200,000 2.67%
$250,000 1.5%
$1,600,000 0.12%
So even that hypothetical $100,000 family is in the company of only 17.8 percent of all U.S. households. What about the other 82.2 percent of people? Wages haven't even come close to keeping pace with a declining dollar and the rising costs of pretty much everything else.
So with that said, let us now look at living large with $25,000 in Southern California.
Living La Vida Loca with $25,000…Per Year!
You may think this is some kind of perverse joke especially after talking about a six-figure family but 35 percent of people in the United States live off of $25,000 or less: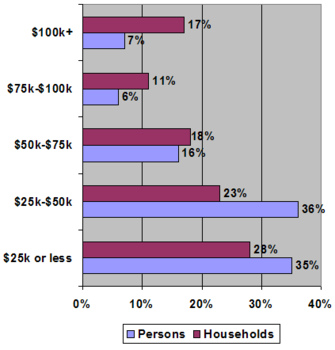 So in such a high cost area such as Southern California we are going to need to tighten our belts but let us put together a budget for someone making $25,000 or less: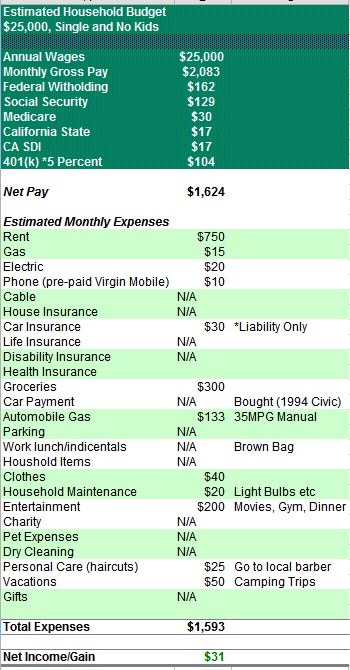 We'll use the previous budget line items as reference points. In this instance, however we are assuming this is for a single person with no kids, which does make a difference. The first thing you may be wondering is, "where in the world can I rent a place for $750 a month in Los Angeles?" Not only will I show you a place but I'll put you close to downtown baby!

This is for a single unfurnished place with 1 bath and a minimum 1 year lease. You have paid water, gas, and electricity but we'll leave the above $35 in case the apartment you rent doesn't have these amenities. So we've already taken care of the most expensive item for many people in California which is housing. Not only that, we've put you right in the middle of the entertainment so you can attend any free events (which are many) right in your neighborhood.
You don't need a landline. We'll go with Virgin Mobile and get a pre-paid cell phone that requires you to put in at least $30 each 3 months. With this, you can make enough calls and if you are making $25,000 or less you probably won't be calling all over the country. This will be sufficient to keep you connected to the real world.
If you work near downtown, we can eliminate the cost of the car but we'll assume that like most people in Southern California, you'll need a car to get around. We'll be paying cash for an excellent fuel economical car, a 1994 Honda Civic with manual transmission: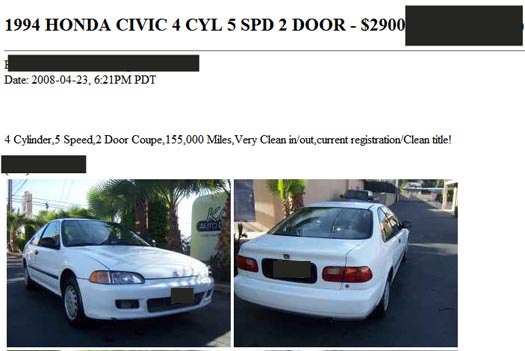 For $2,900, you can get yourself a car that with manual transmission and careful driving will get you anywhere from 33 to 35 MPG. Assuming you drive 15,000 miles per year, you'll only be spending $133 a month on fuel even at the current $3.85 average price per gallon in Los Angeles. So far it doesn't seem we are being thrown back to Great Depression like living. You hear how much people are complaining about fuel for their car yet they drive 10 MPG tanks designed for wilderness driving. We are also putting away a modest 5 percent into a 401(k) assuming our work place allows this.
In regards to food, $300 for a month is sufficient for a single person if you know what and where to buy your groceries. Los Angeles is great since we have stores that are not your Vons, Ralphs, or Trader Joes that actually cost quite a bit. You can go to your local neighborhood market and buy fruits and vegetables at a very low price. Also, you can go to the local 99 Cent Store and load up on the following:
2 Loaves of Bread ($2)
Sandwich Meat ($2)
Condiments ($3)
Pringles ($2)
Granola Bars ($2)
Yogurts ($3)
2 Boxes of Cereal ($2)
Half-Gallon of Milk ($2)
Pasta and Sauce ($4)
2 Salad Bags ($2)
Juice ($2)
Frozen Chicken Breasts ($2)
Total for the above? $28 bucks and this should be enough for your brown bag lunch. You'll have a sandwich, some healthy juice, a granola bar, and a yogurt. For breakfast you can have a bowl of cereal or some fruit that you'll buy at the grocery store. You can buy a good amount of veggies for about $20 to $30 at your local market. For dinner, you can have a nice pasta dinner with a salad and mix it up with some chicken breasts which are easy to prepare. All in all, you'll be spending $60 to $75 a week keeping you within the $300 budget. This suddenly takes me back to my college days!
For entertainment, you better find something to do in downtown Los Angeles! Free museums, people getting rid of Dodgers tickets on the cheap, movies, or simply renting a few movies to watch. This is the kind of entertainment you'll need to adhere to given your budget. You have enough allocated for a few nice camping trips during the year since these are extremely affordable and most of your cost will go to buying the right gear and equipment. Some ideas for example include making a day out of going to the Getty which I absolutely love and is free aside from the parking fee which isn't more than $10. In regards to healthcare, we'll assume you have a job that covers that cost or join the ranks of the 47 million uninsured.
For clothes you can shop at Ross and get nice clothing on the cheap. If you work in a business environment you simply cannot go in looking like Swampthing so this is where you'll shop. In regards to haircuts, simply go to your local barber and keep the hairstyle to something average and not your typical E! television styles. Most local barbers charge $12 to $15 for a regular haircut.
So there you have it. Living large on $25,000. We are in the lower 35 percent of all earners but we do not come close to living a life similar to those in the Great Depression. In fact, we have a car, a place in one of the most expensive places on Earth, and eat relatively well. I suppose this is the difference we are now facing. It is possible to live on a lower income as long as you manage your expectations. The above budget won't even come remotely close to handling a mortgage payment or even a higher priced home which was the point with the six-figure family. Even they couldn't afford that home yet they psychologically feel that this $25,000 person is living a bachelor life and they want the "middle-class" lifestyle and why wouldn't this expectation be there? With their income they are in the top 17.8 percent of all households so clearly it is beyond the "middle" if we are to look at the raw numbers. Many homes in Los Angeles will rent for $1,500 to $2,000 depending on the area so this is not in the cards for the $25,000 earner but clearly many that make that $100,000 have elected to do so and many readers on this site fall in that category.
The bottom line is housing prices have become so distorted here in Southern California and that is why they are fiercely correcting. Anyone thinking we'll be back at peak prices is as delusional as a earner making $25,000 and thinking they'll be able to buy a home. But if you manage your expectations and don't chase the crowd, you can have a good healthy life here in sunny California.
Did You Enjoy The Post? Subscribe to Dr. Housing Bubble's Blog to get updated housing commentary, analysis, and information