Las Vegas is a fascinating case study of a market that can boom, then bust, and then boom again all within the timeframe of one decade.  It is telling that for the first time in history we are living in a global real estate market where booms and busts follow one another like a giant game of telephone.  We seem to rise and fall together.  Of course this makes sense since there is one major player largely behind the financing of this system in the US.  Easy money is flowing like the Amazon and visions of quick wealth in real estate pepper the mainstream press.  Flippers are back with a vengeance and investors have become the market in many areas.  Las Vegas is one of those specific locations.  The share of all cash buyers is stunning and even more astounding is the resiliency from this group sustaining multiple years of all cash buying.  Many came for the rents while now many are staying for the flips.
The valley of real estate dreams
It is hard to claim that Las Vegas is now a distressed market given that the majority of sales are now "non-distressed" transactions:

All you need to do is go back to last summer and 60 percent of sales were coming from the distressed pipeline.  Today, it is only 36 percent and of this, only 8 percent are foreclosure re-sales.  We wrote in a previous article that Las Vegas had a large number of vacant homes.  According to a study from the University of Nevada at Las Vegas found that 40,000 homes are vacant.  This is an incredible number given that the latest month of sales figures produced 4,739 sales.
Prices continue to soar even though rents have held steady since 2010 (and have dropped in the last quarter):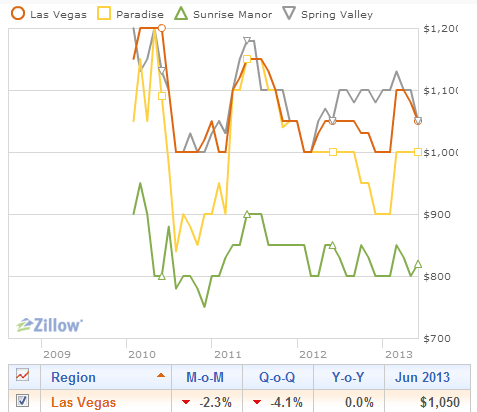 So rents are down 4 percent over the last quarter yet the median price is up a whopping 35 percent year-over-year.  Forget about buying homes to rent, it is time to buy homes for flipping.  Clearly the rental yields are not warranting a 35 percent jump so something else has to give.
What is astounding is the amount of all cash buying and the resiliency behind it: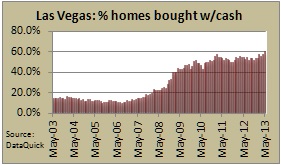 Source:  DataQuick
Since 2008, the amount of all cash buying has remained above 40 percent (over 50 percent since 2009).  This is a first for the Las Vegas market.  Half of the market has been all cash investor dominated for the last half decade.
While home prices are up and percentages seem spectacular, we are bouncing off a very dramatic low: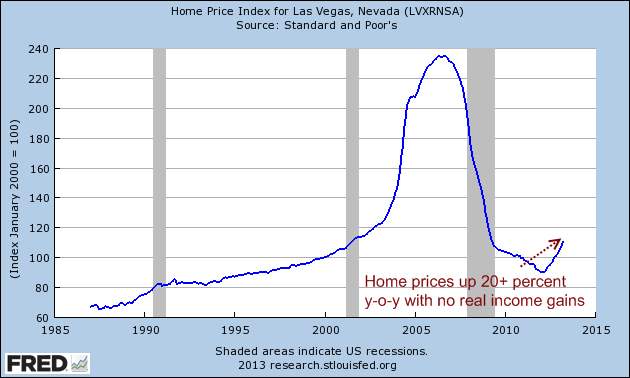 With these low rates, I bet many out in Las Vegas have utilities bills that are larger than their actual principal and interest payments.  For a place like Nevada, the end of cheap energy is going to make it difficult to sustain solid growth.  You devalue the purchasing power of many and you see real estate values go up yet you also see energy maintaining a new plateau: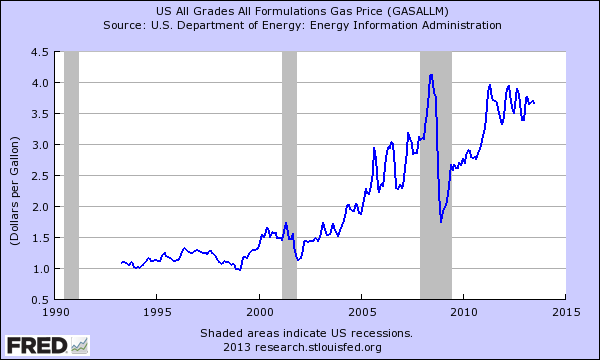 Why does this matter?  Well look at the rent chart.  The typical rent payment is $1,000.  If you are spending $200 to cool your home and another $200 to $300 on gas, a large part of your budget is going to these items.  This is what is missed by the flood of investors.  For the moment, it is another game of musical chairs with investors selling homes to one another.  Yet the underlying fundamentals are still weak and wage growth in Nevada is not great.  It is certainly not enough to justify a 35 percent jump in prices.
Las Vegas is definitely experiencing a mania.  Over half the market is dominated by investors.  Yet you might be exchanging one mania for another.  After all, some may rather have an investment home in Vegas compared to hanging onto their money in a bank earning 0 percent thanks to the Fed.  It is actually very understandable why those with money are flooding the real estate market so aggressively.  However the euphoria mixed in with the underlying disconnect from local economics is very familiar.  Dust off that history book regarding manias and put on your amateur psychologist hat for a moment.  Does Las Vegas seem like a normal market to you?

Did You Enjoy The Post? Subscribe to Dr. Housing Bubble's Blog to get updated housing commentary, analysis, and information.