The mortgage markets had one of their biggest moves in US history.  According to Freddie Mac, the 30-year fixed mortgage rate posted its largest move in more than 25 years.  No doubt this got the serious attention of the mortgage market.  What is interesting is that each piece of good economic news nationwide is likely to add fodder to the Fed exiting QE.  Yet moves like this make it much more expensive for inflated markets that completely rely on easy money flowing in and are built around crazy low rates.  The Las Vegas market is one of those fascinating markets where hedge funds and investors have been going in hand over fist for the last few years.  Yet when you look at the data, what you find is a market that is essentially trading homes to one another in a large game of musical chairs.  I think it would be useful to examine why Las Vegas home prices have boomed in the last couple of years.
Step 1 – Make it harder to foreclose
There was a law, AB 284 in 2011 that essentially made it much more difficult to foreclose in Las Vegas.  While good intentioned this law actually created a massive moral hazard that of course, did the exact opposite of its underlying mission:
"(Review Journal) What's so astonishing about those figures is there is no real shortage. There are 50,000 vacant homes in the valley and average owner-occupants have slim to no chance of winning their offers.

After the passage of AB 284, many homeowners realized they could live for free for long periods. Thousands of homeowners are on years three and four without making a mortgage payment. Lender Processing Services reported a few months ago that the average person who stopped paying has been in his home more than 24 months." 
The above article was written in March but is definitely worth a read.  Another study from the University of Nevada at Las Vegas found that 40,000 homes are vacant.  However you dice it, there are plenty of homes that can be sold.  According to Zillow, you have 9,500 homes for sale.  Prices have done this in Las Vegas: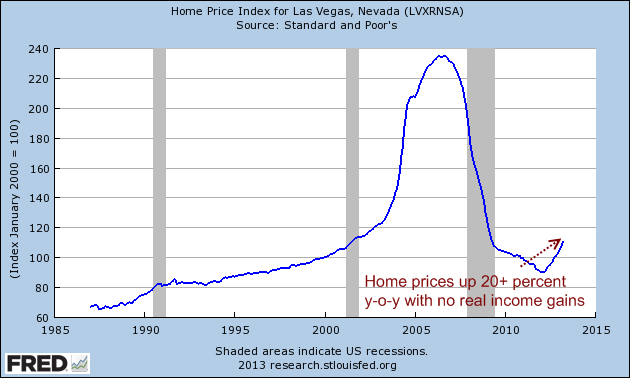 Yet over half of all purchases are happening from arms distant investors.  The underlying economy doesn't exactly look like it is booming to justify a 20+ year-over-year gain.
Step 2 – Stop paying on mortgages
This is where the moral hazard issues come out where people stop paying on their mortgage:
"The flip side of the coin? Las Vegas is enjoying a miniboom again. Having close to 80,000 homeowners not paying their mortgages has given a big boost to our local economy. Approximately 80,000 x $1,200 (average rent or mortgage) = $100 million a month going into our economy. This money ordinarily would not be disposable income. That's $1.2 billion a year being pumped into our economy, and that is far more efficient than any government stimulus. It goes directly to retail, new cars, restaurants, etc. No red tape in the way."
I find this very interesting.  Even today, nearly 60 percent of all buying activity is going to investors (at record levels).  Just look at the crazy level of all cash buying: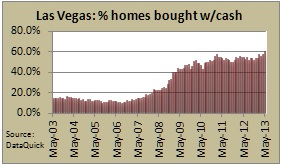 Source:  DataQuick
Investors are hungry for yield.  Returns just got much more lucrative outside of real estate with rates going up dramatically in the last few weeks.  Is it still worth it to chase these yields?  It hasn't been for a year or so outside of flipping to others for appreciation but we know how that game will turn out.  Many are pulling back.  The employment market doesn't seem to justify this boom: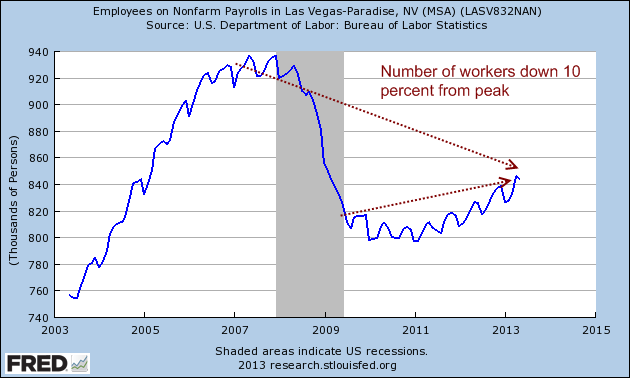 While it looks like it is slowly picking up, wages are not and for people that actually need a paycheck to pay their mortgage, it just got that more expensive because of higher rates.  But did it really?  Ex-investor demand prices would likely be more modest even with higher rates if investors weren't crowding out average buyers looking for a place to live.  Was the intention of low rates to create entire regions of flipping activity for big hedge funds and to punish regular buyers and renters?  That is the end result.
Step 3 – Exit
I think this article sums up the next steps:
"It's not rocket science to predict what will happen next. We will see another 20 percent appreciation in prices over the next nine months. AB 284 will be amended, the national settlement servicers will have sold most of their loans to new servicers who don't have to follow the same guidelines. Vacant homes and delinquent loans will be converted to available inventory in the second half of 2014. The second bubble pop in less than a decade will begin.

And what of those hedge funds that are buying up homes with cheap money? Well, with tens of thousands of homes being converted to rentals, rents will drop, making the rent-to-price ratio fall. Housing yield will become far less attractive. The funds will find the homes are not generating the cash flow they had told their investors they would. The next step will be to sell off quickly and cash in on the higher price and 40 percent capital appreciation. Nobody wants to be holding the last bag when the sell button is hit."
We're already seeing major pressure on rents in Las Vegas.  Rents are paid via actual net income from a paycheck (yes, those pesky incomes do matter).  With home prices skyrocketing, yields are already unattractive so why dive in?  The move in interest rates will definitely have an impact.  Las Vegas is an exaggerated case of what went down with stalling foreclosures, subsidizing Wall Street funds with low rates, and basically punishing those that saved and are trying to buy a home to live in versus flip, hedge, or convert into some income stream for a REIT.  The fact that investor demand is still feverish and the economic fundamentals stopped making sense a year ago this market is safely into mania mode.  Will anyone step in?  Absolutely not.  Our economic system seems to be "ride it until the wheels fall off" so put on your helmets because the RPMs are starting to redline.

Did You Enjoy The Post? Subscribe to Dr. Housing Bubble's Blog to get updated housing commentary, analysis, and information.